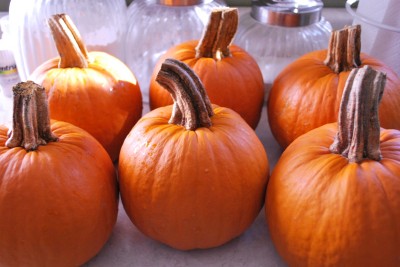 Well, it's that time of year when pumpkins abound! I just love them. They're so pretty…..and tasty! Barry loves pumpkin pie (gag attack!) and I like putting pumpkin in breads, cookies, and stews. It can get pretty expensive if you use a lot of pumpkin – unless you make it yourself. Then it becomes pretty cheap. So, in the line of keeping things cheap and learning how to do more things yourself, I thought I would blog about how to make your own pumpkin puree. You'll be able to use this for any recipe that calls for canned pumpkin. Please do not confuse this with canned pumpkin pie filling. They are very different. The filling already includes the spices and a few other things, while canned pumpkin is pure pumpkin. Trying to substitute the two won't work. I wanted to make a good batch, so I went with 6 pumpkins. You can use this method with however many you want……six, sixty, or only one. Now, you want small pumpkins. Yes, I realize that it's very tempting to go to the farmer's market and picking up a 25 pounder and drag it home. I mean who wouldn't want to have the biggest pumpkin in the neighborhood. "Have you seen Mr. Smith's pumpkin? It's GINORMOUS!" You want something in the 3-4 pound range. They're commonly referred to as Pie Pumpkins. Genius, huh? Large jack-o-lantern pumpkins will be too stringy.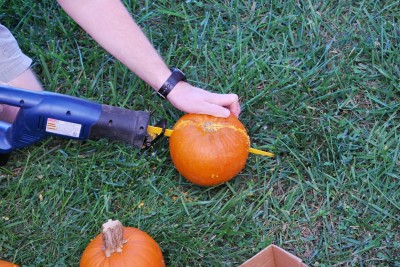 Ok, I'm not very good at judging weight (I couldn't work at the circus guessing peoples' age or weight)……so I brought these home thinking they were the right size. Well, I was wrong. Barry says they're about 7 pounds each. Oops. Do you know I spent about 30 minutes trying to cut ONE? Yes, one. I made a knick in it….barely a knick. By the time I was done, I was stomping around the kitchen. I texted Barry. "Should it be this stinking hard to cut a pumpkin!?" He was nice and told me to wait until he got home. So, since mine were so big they were very difficult to cut. Barry had to cut them with his reciprocating saw. If yours are too big, pray that your husband has a useful saw that he doesn't mind getting pumpkin innards on. After he sawed them in half, I brought them inside and gave them a good washing. Oh, and make sure your blade is clean first. 🙂 If you are normal (what's that feel like?) and buy the correct sized pumpkin, you can go here and see how a normal person cuts a pumpkin.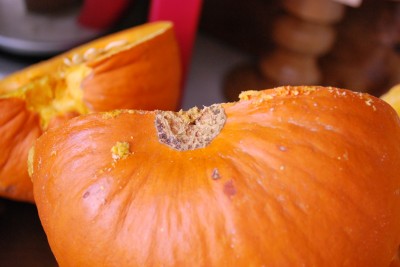 You need to remove the stem. You can do that by cutting it off or beating it on the ground until it comes off. The beating method is very therapeutic when you've spent 30 minutes making a knick in a pumpkin.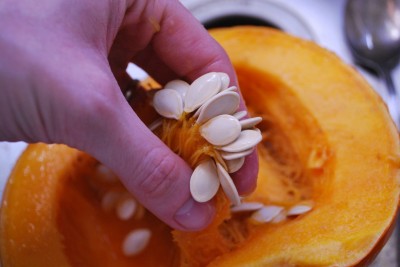 It's time to scoop out the innards! Admit it. You like saying innards just as much as I do. You can use your hands to scoop them out. I usually use my hands to get out the seeds. Keep the seeds!!! Tomorrow we're going to learn how to roast them. Yum!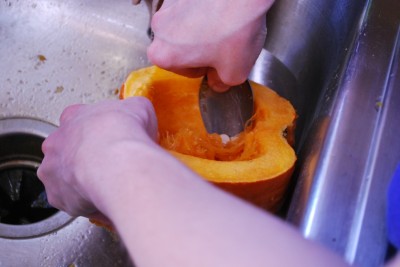 I've found that the best way to get innards out is by using a spoon. I take the spoon and scrape around the outer edges and everything comes out pretty well. Scrape, scrape, scrape! Don't leave any stringiness.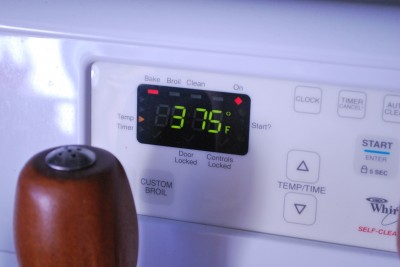 Preheat your oven to 375 degrees. Yes, it's going to get hot in your kitchen. Do this on a cool or cold day, not an 85 degree day like we're still occasionally having. Thank you, Al Gore, for Global Warming awareness.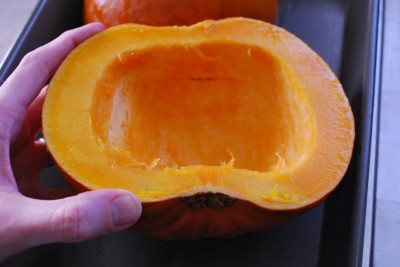 When you get all the seeds and innards out, it will look like this.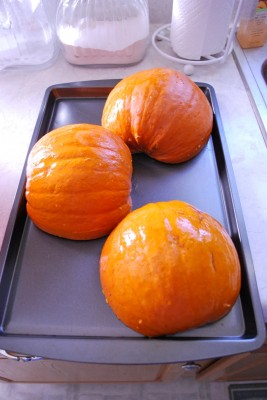 You'll put your pumpkins, cut side down, on a cookie sheet or in a baking pan. I could fit 3 on a cookie sheet and only 2 in a baking pan…..but remember my pumpkins were larger than usual. How do ya like THEM pumpkins?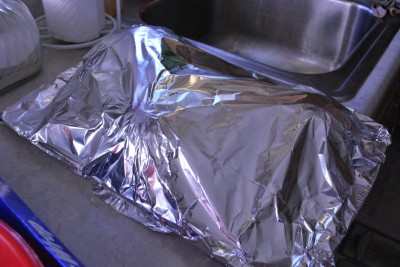 Cover your pans with foil. I used the extra wide kind, but you could use the regular kind and just have two sections worth. We're covering them with foil so they don't burn. They'll bake a long time!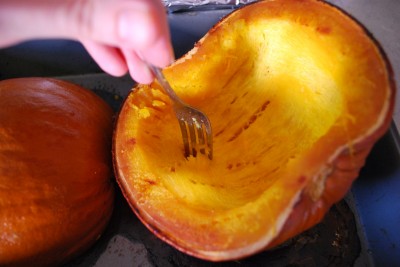 Now, you'll bake 4 pounders about 90 minutes. Mine also baked for 90 minutes and they were done. So, I'd just check after that amount of time and see if they were done. If they are not fork tender, like this one, then just stick them back in to bake a little longer.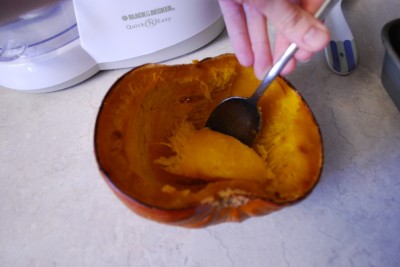 Now, use the same spoon you scooped innards out with and scoop out the pulp. It will be really easy to get. Make sure and scrape all the way down to the skin so you don't miss any goodness. Waste not, want not…….I don't waste shoes, but I still want shoes, so I guess that doesn't always apply.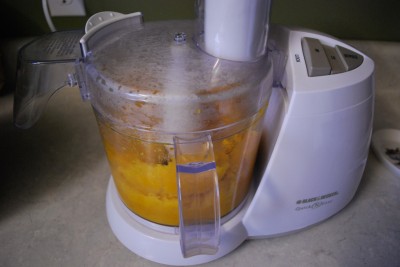 Dump your flesh into a food processor and process until it's nice and smooth. You can also use a blender, but I'm not crazy about my blender.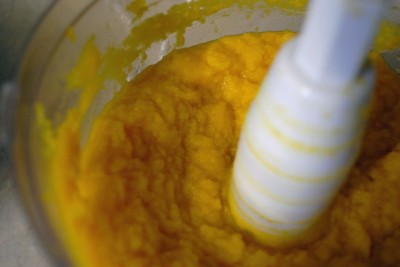 See how pretty! It looks just like the stuff out of the can, and at a cheaper price! I think I paid $1 each for my pie pumpkins at Walker's Market in Seven Mile Ford.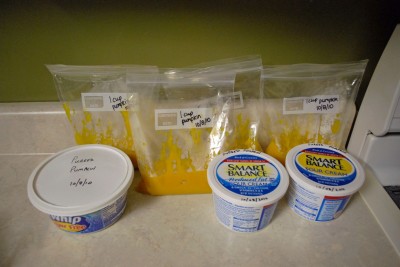 I only wanted to keep a little out for Annie to eat, so I knew I needed to freeze the rest. I measured some out in 1 cup increments and put them in Ziploc baggies. The rest I put into Cool Whip and butter bowls. Barry labeled them for me and now they're residing in my freezer waiting for Thanksgiving. I use pumpkin all year long though, so it won't take long for me to plow through it.
See how easy that was? You know you can do it.