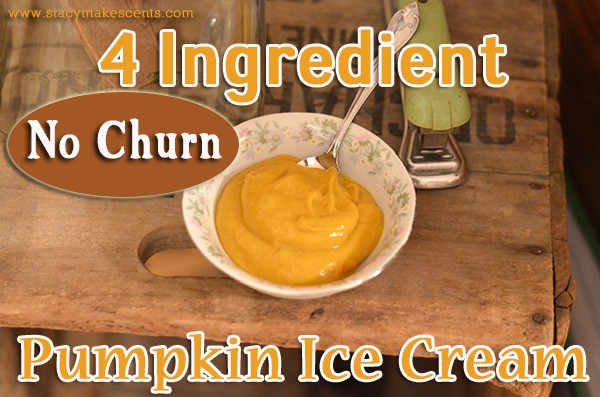 Soooooooooooo, I need to make another change around here. I'm nixing the weekly link up. Why? Well, honestly it's because I felt God leading me to do so. It was a feeling that I couldn't shake – and when I finally said "Okay, yep. I'll do it," I got the peace that I was seeking. Change is good, right!?
Honestly, we don't eat sugar free or grain free. We used to – but now our bodies are healing by consuming natural sugars and grains – and we feel GOOD again. So, it doesn't make much sense for me to continue a link up for sugar and grain free recipes. I will continue posting REAL FOOD RECIPES. Because that's how we eat – and I just love food, man.
Will I still use grain-free flours and stevia? You betcha! I love both of those things…but I'm also currently noshing on a piece of homemade Kitchen Aid Bread with butter and jelly. All things in moderation…including moderation. Can I get an AMEN?!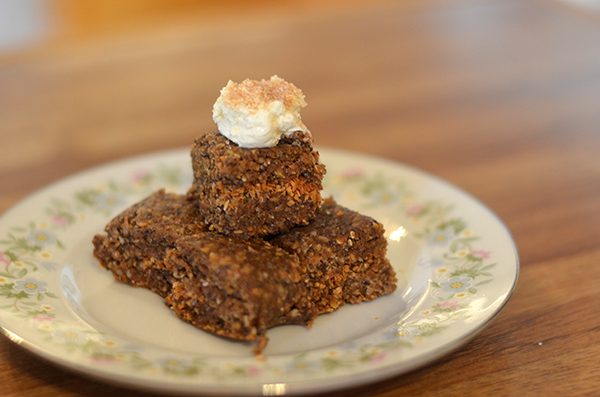 In the spirit of keeping it real, I bombed a recipe. Well, not really BOMBED – as in, setting on fire – but the recipe was sub-par and I don't post sub-par recipes. It's the perfectionist in me…which sometimes needs to take a hike.
I wanted to post a recipe for Raw Cinnamon Bun Bites from my Blendtec blender cookbook. But when I switched some of the ingredients out, it just didn't turn out super yummy. So, I'm not gonna post it – you'll just have to look at the picture and eat a Cinnabon.
I put raw chia seeds in there and every time I tried to eat a piece, they would get stuck in my teeth and I would spend the remainder of the day trying to pick those suckers out. Not my idea of fun. Lame.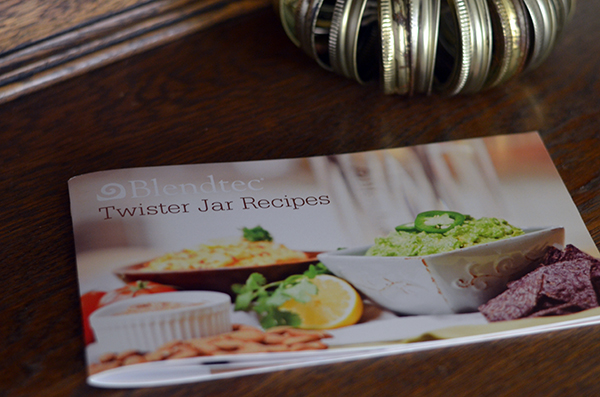 So! I moved on to my other Blendtec cookbook – this one is for the small Twister jar I show in my video…but I used my big Wild Side jar. In retrospect, I should have followed directions. Does that happen to anyone else? Directions are there for a reason – they keep you from getting lost, misplacing an important bolt, and burning nuts.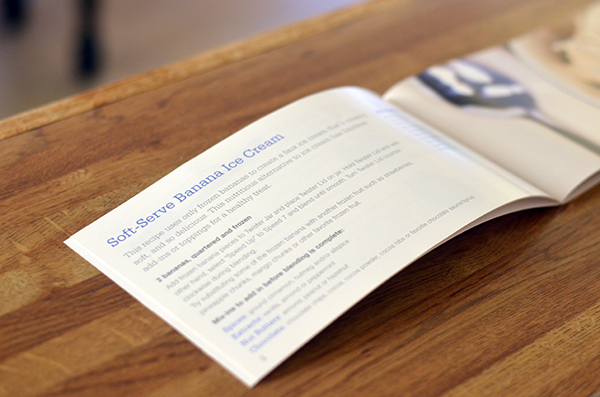 I chose this recipe for Banana Ice Cream because I've been seeing it all over Pinterest and thought it totally had to be bogus. I mean, really? Just a banana and it tastes like ice cream? Whatever. Big fat, recipe liars.
But, because it's winter and we're in the holiday season, I couldn't post a recipe for Banana Ice Cream. Y'all would think I had lost my mind. So, in order to make it acceptable to post a Banana Ice Cream recipe in the cold months, I added pumpkin. Adding pumpkin to any recipes makes it acceptable for winter. You can quote me on that.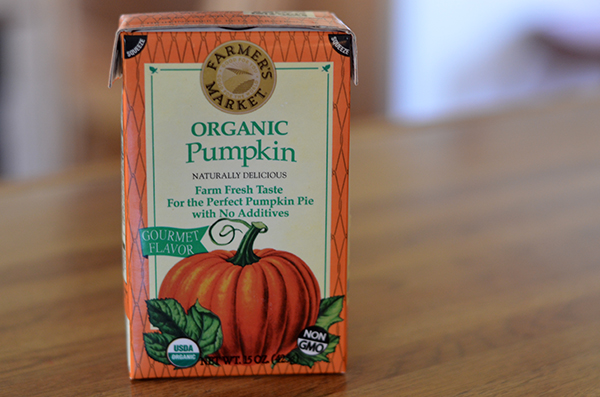 The original recipe calls for…bananas. So, I added 3 more ingredients to make this my 4 Ingredient No-Churn Pumpkin Ice Cream (and in other random news, every time I try to type CHURN, I type CHURCH).
I do know that making your own puree is cheaper than buying it. But, I haven't had the time the past two years to make my own puree. So, I buy it. I like this organic kind and I get it from Tropical Traditions (yes, FTC that's an affiliate link but you don't care because you're probably on holiday vacay since you get off for EVERY stinkin' holiday in the universe).
But I would be lying if I told you we only ate organic pumpkin. I just came home from the grocery store with 20 cans of conventional pumpkin. Booya. Go poorganic, y'all.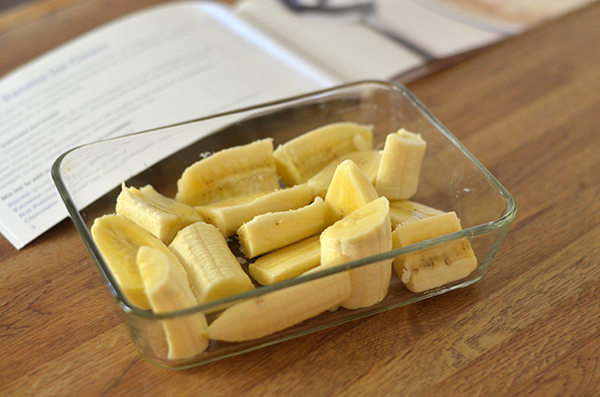 Cut your bananas into pieces and then freeze them a few hours until they are solid. Grease the pan first or you'll be prying bananas off – ask me how I know.
If your bananas are overly ripe, you might not need the added sugar – making this a 3 Ingredient Recipe. Even better!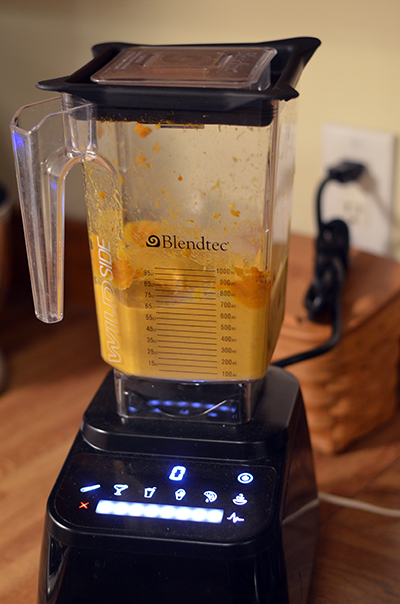 Add everything to the blender and blend – my Blendtec has an ice cream setting. Now…you might have to stir it. But please don't add any liquid!!!! It will mess with the texture. Blend and push down. Blend and push down. Blend until the texture is just right. Do not push down while the blender is still moving. Did you know that thing can eat entire spoons? Or at least that's what I've heard from OTHER PEOPLE. *Cough*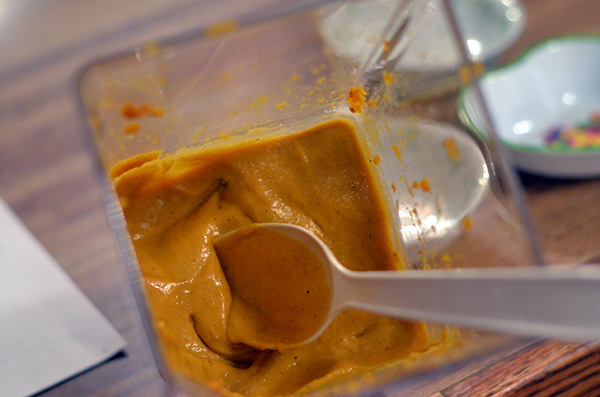 Pretty soon your mixture will be nice and creamy like this – a soft serve texture.
Verdict? Well, I was wrong. I thought it was a lying recipe…turns out, it's stinkin' awesome!!!!! It tastes just like a nice, soft serve ice cream – which happens to be my favorite. So, make this Pumpkin variation for Thanksgiving and serve it with your pie…or stand at the counter and eat it straight from the canister. No one is watching and if they are, tell them to mind their own business.
NOTE: I was able to keep this in the FRIDGE without a change in texture.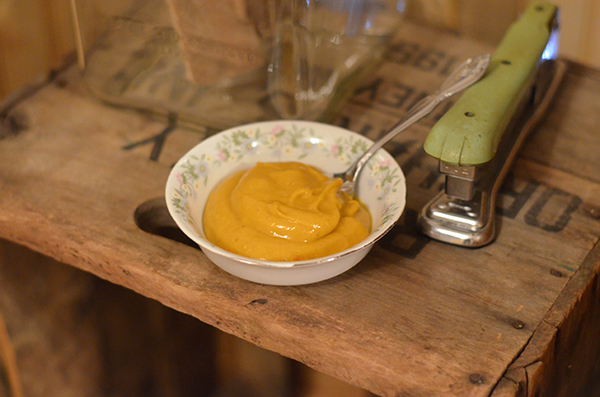 4 Ingredient No-Churn Pumpkin Ice Cream
Combine all ingredients in blender.
Blend until smooth. You may have to stir and scrape down the sides a few times. DO NOT ADD LIQUID.
Serve immediately.
Yield: 3-4 servings