So, let's say you really aren't feeling like making your own pumpkin puree. That's cool. Keep an eye out at Walgreens. Sometimes around Thanksgiving they run a special for $.99 for canned pumpkin……key word being sometimes. Or maybe you just really hate Pumpkin Pie (that's me – please pass the Cool Whip). Are you going to cut up a pumpkin this year to put on your porch? If so, you're going to be scraping out the innards aren't you? Why not put them to good use instead of throwing them away? It's so easy and they're so delicious. You'll wonder why you never did it before. That's okay, don't beat yourself up. You didn't know.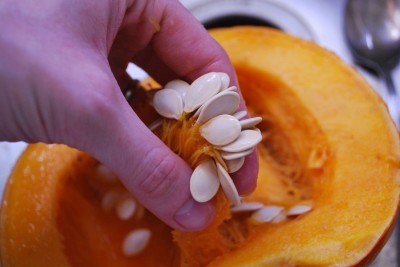 When you cut into your pumpkin, you'll need to scoop out the seeds. It's easiest to do this by hand. Sure, it feels sorta yucky and slimy but you can wash your hands. If you're pregnant and therefore yucky and slimy makes you throw up, you might want to let your husband do this part. I sorta like it though. Yeah, I made mud pies as a kid so I'm used to it.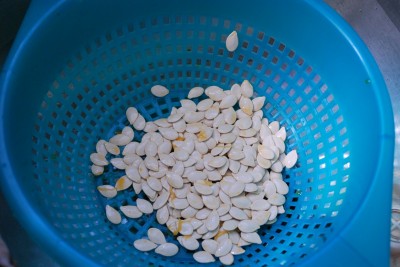 I like to dump my seeds into a colander. Usually I'm working on one side of the sink while my colander is on the other side. See all the pumpkin stuff left on them? We'll take care of that.
When you're done scooping, you'll need to rinse your seeds. Just let the water run over them and stir them around a bit. It will help get rid of most of the pumpkin ick, but not all of it. I love colanders! I just bought a cool stainless steel one at a yard sale this past weekend. Let the seeds drain in the colander for about 30 minutes.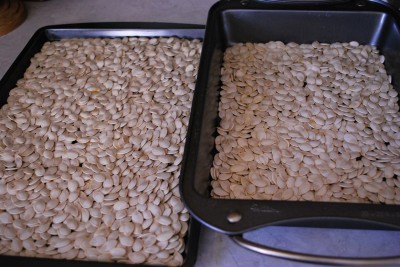 After your 30 minutes, pour the seeds out onto some cookie sheets. They need to dry. They'll roast WAY better if you let them dry first so don't jump the gun and skip this step. You'll be eternally sorry. Try to get them pretty much on one layer. You'll have to stir them a few times so they'll really dry out. Let them dry for about 24 hours.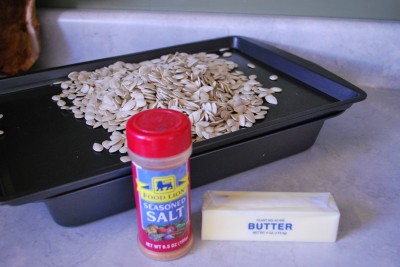 You'll need your seeds, butter, and seasoned salt. Some people like to use garlic salt, but we just really like seasoned salt. I use it a lot. It makes a burger taste awesome! Now, I've made these before using all sorts of spice combinations, but they're really better if you just keep it simple and use garlic salt, seasoned salt, or just plain salt. I love salt. Please pass the Cool Whip and salt. But not together. Thank you.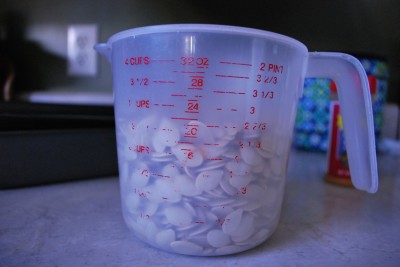 The amounts I'm going to give you are for 1 ½ cups of seeds, so you'll need to measure how many seeds you have and adjust the seasonings accordingly. No, I'm not going to do the math for you – mainly because I hate math, not because I'm lazy. Why do you think I married Barry – master of all mathdom? See my sad measuring cup? The writing is coming off….but it's my favorite one. It's a sad, sad day in the Myers' house.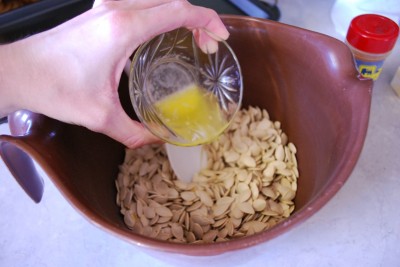 For 1 ½ cups of seeds you'll need two teaspoons of butter. Melt it in the microwave and then pour it over the seeds.  Sure, that sounds like an itty-bitty amount, but when you stir it around it coats them very well. Plus, they're just really fun to stir. I stirred mine a lot…..just because it felt good.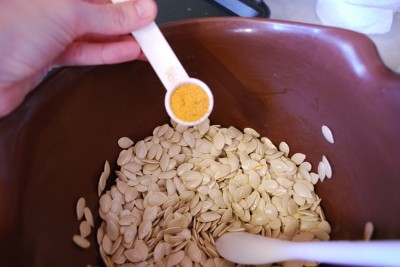 For 1 ½ cups of seeds you'll want about ½ teaspoon of seasoned salt, unless……………….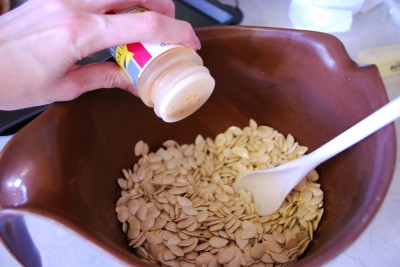 you're like me and think it doesn't look like enough. I sprinkled more on there and gave it a good stir until it looked right. I love salt, have I mentioned that yet?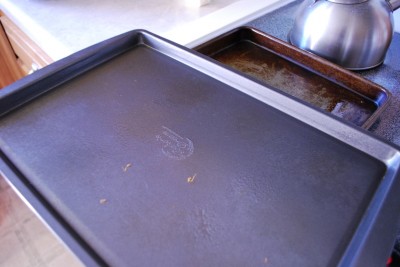 Now, I'm sure that you don't really need to spray your cookie sheets since the seeds are buttered…..but I have a fear of things sticking, so I tend to spray the heck out of everything – cake pans, muffin cups, etc. Never spray a cookie sheet for cookies though. You're welcome. Oh, and for those of you who are bothered that there is some pumpkin left on my cookie sheet, I pulled it off after this picture. Sorry!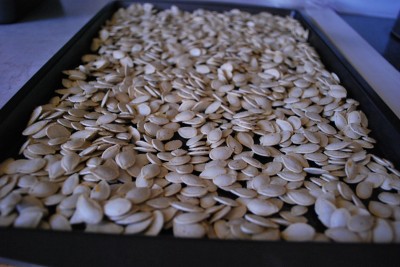 Pour your seeds out onto a cookie sheet and spread into an even layer. You really just want one thin layer, so they'll roast nice and easy. I didn't spend all day placing the seeds (I have bonbons to eat!), so I just used my hands and patted them out evenly.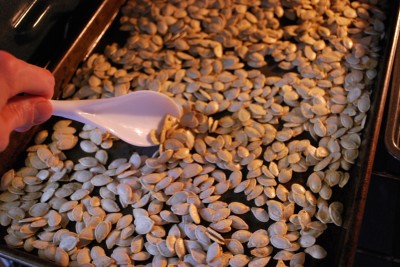 Pop the pans into a 300 degree oven and cook for 15 minutes. After that time, take them out and stir them. You'll do that two more times until they've cooked about 45 minutes.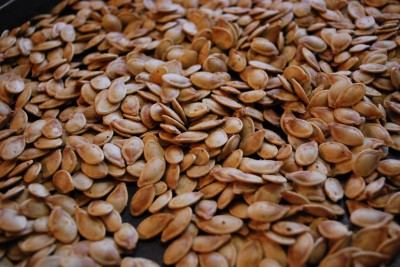 They'll look nice and brown like this……and smell all good and toasty. YUM! They should be very crispy. That's what we're looking for. If they're not brown, bake them a little longer.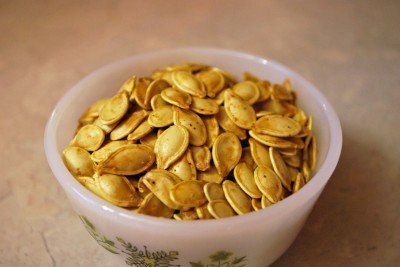 Sorry about the icky quality of this picture. I took it via kitchen light because it got dark before I finished baking them. They are so good! Barry just loves them! Dottie loves them too. Actually, she just likes to lick the salt off. She's a snob. They'd be excellent on a salad….or just plain.

Enjoy! Store them in an airtight container at room temperature.