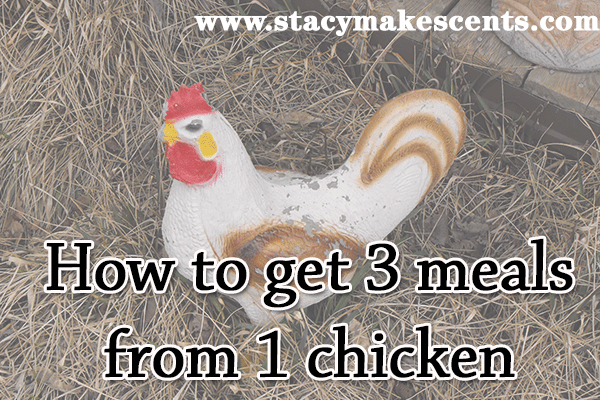 A long while back, when I conquered my fear of cooking a whole, naked chicken in the crock pot (Crock Pot Baked Chicken), I felt like the world opened up to me! Behold! All those glorious Pinterest recipes calling for 2 cups cooked chicken would no longer add 20 minutes on to making a meal! A whole neeeeeeeeeeew worlddddddddddddddddddddddd! Come with me on my magic carpet.
So, today we're talking chicken – and how you can take ONE of them and make three meals. First off, let's clear the air: I'm only feeding 4 people here. So, if you're feeding more than that, maybe this post should be called:
-1 Chicken, 2 meals OR
-1 Chicken, 1 meal OR
-1 Chicken Per Person
Honestly, we eat meat a lot, but we don't eat a lot of meat. Is that clear as mud? I try to make sure vegetables and healthy whole grains are a bigger part of our diet than meat…mainly because I'm stinkin' cheap frugal. 
This is how I use one chicken to feed us three times – and if you don't feel like making a Crock Pot Baked Chicken, you could easily pick up a rotisserie chicken and do the same thing – I won't tell…unless I'm behind you at Sam's. Then again, I won't tell if you don't tell that I have Apple Pie in my buggy. Deal?
First Meal
For our first meal, I cook the chicken. I pick off some of the white meat to serve and I leave the rest of the chicken to cool until I can pick it off. Things I might serve with baked chicken: veggies of all sorts, side salad, Glazed Carrots, rice, Roasted Green Beans, mashed potatoes, Vegetable Casserole or Macaroni and Cheese.
I can almost always come away with 3-4 cups chicken AFTER we eat. Like I said, meat isn't our main attraction at dinner. Unless it's bacon. Then look out.
I can use the bones from the whole chicken and make a batch of chicken stock. We're going to use it later, so store it in the fridge.
Second Meal
I usually use some of the cooked chicken and make a casserole of some sort. Or maybe something noodley. I don't always do this right away. A lot of times, I freeze my extra chicken in 1 cup portions for later. But for the sake of this post, let's pretend like it's tomorrow. Chicken three nights in a row wouldn't be that terrible…but it ain't bacon.
Some options for 1-2 cups cooked chicken:
Crispy Southwest Chicken Wraps
Chicken Fried Rice (skip the cooking chicken part)
Now, you could serve any one of those things with a side salad and/or some fruit. I prefer AND fruit…because, I like to eat.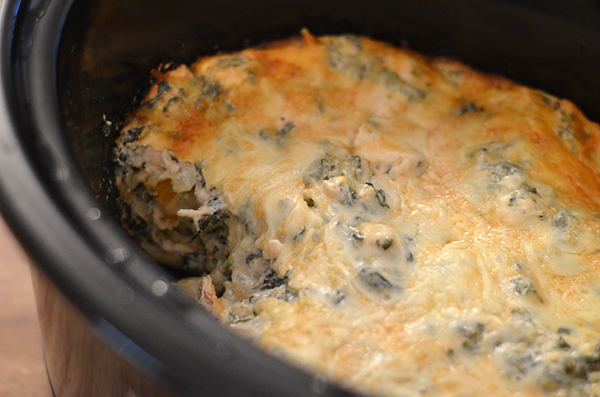 Third Meal
Okay, so here we are. Tired of chicken yet? This time, we're making soup! We use that lovely chicken stock we made and the remainder of the chicken. It's okay if it's dark meat. No one will notice in the soup. My sister is a weirdo and likes dark meat. I do not like dark chicken meat…but I can eat it just fine in a soup or casserole. Since she likes Apple Pie, I decided to keep her around. 😉 My sister, not the chicken.
Options for a soup using stock and cooked chicken:
5 Ingredient Pesto Chicken Soup
Serve these with a side of nice, yummy Not So Sourdough Bread or Skillet Cornbread
So, there you have it! 3 meals from one chicken!
Unless you're feeding teenagers…and then, I got nuttin' for ya. I'll be there before I know it. Scary. Hold me.