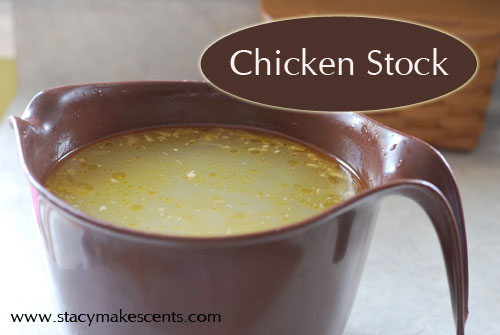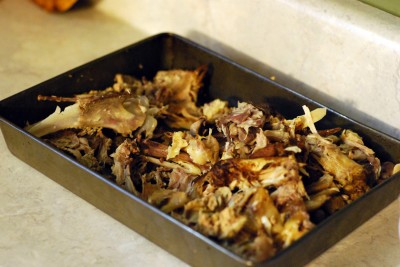 Okay, so we've conquered cooking a whole chicken without looking directly at it and pretending not to see his legs. And then we've used two of the four cups of leftover meat.  Now we're going to use all this goop that's left over. This is all the leftover bones and all the innards. Like I told you before, don't throw anything away……anything. I even kept the bones from the chicken legs that Barry ate. We're going to boil it for a while so that all the germies that were there will disappear. Don't tell Barry I said he had germies.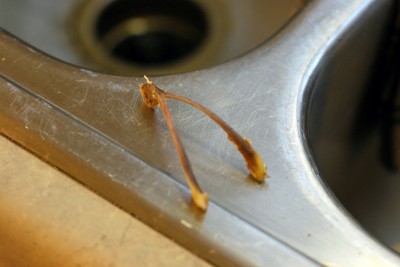 Well, I lied. I did keep this wish bone out for Annie and Barry to pull. I just couldn't bear to add it to the pot. Annie won the wish.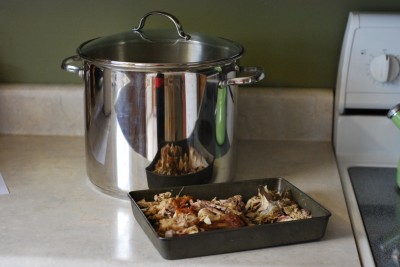 Get out your big stock pot for this. This is my gigantic pot that I inherited when Barry and I got married…..it was his, and now it's mine. What's his is mine and what's mine is mine – that's how marriage works. Your pot should be big enough to hold all the stuff plus 16 cups of water. Go ahead and dump in your goop and add 16 cups of water.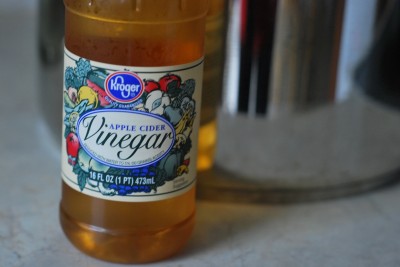 Add two tablespoons of cider vinegar to the pot. Why? The vinegar breaks down the bones and draws out the calcium into the broth. That's why homemade stock is SO GOOD for you! And it tastes about a zillion times better than the stuff from the store. As I dig farther into making things at home versus buying them at the store I realize how much better homemade things taste…..and I feel like Suzy Homemaker. I am now accepting all donations for cute frilly aprons. Thank you.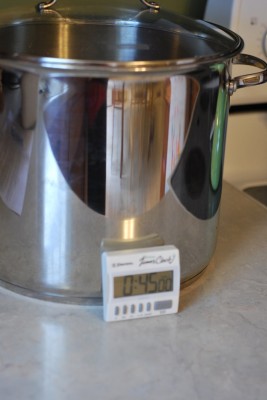 Stick on the lid and let your pot sit for 45 minutes. Why? I guess it's to help the vinegar do it's thang before you start boiling it. Yeah, that sounds good – let's go with that.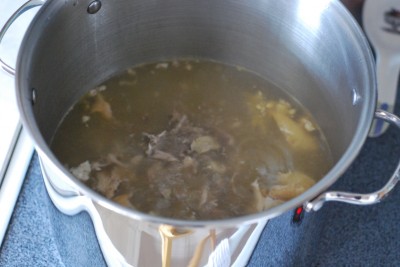 Bring the big ole pot to a boil. When it starts boiling, you might notice some ickiness rising to the top. If you do, just go ahead and skim it off. I didn't have any of that. Maybe it's because I'm using organic chicken? Things that make you go hmmmmmmm.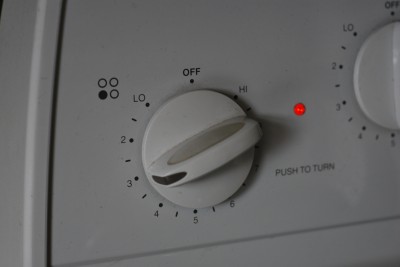 Reduce the heat to medium low and put the lid on. We'll let it simmer for four hours to really let the flavor get delicious. You can simmer it for a long time. Even 12-24 hours if you like. I hate waiting.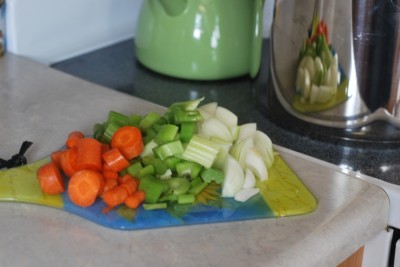 About an hour before it's done, you can add some veggies if you like. It will give the broth extra vitamins and minerals. And plus, it's very tasty. I added two chopped carrots, 1 chopped onion, and 3 stalks of chopped celery. And guess what? You don't have to peel the carrots. Just wash and chop. We're not going to eat them. They'll be skimmed out. I did peel the onion just because….well, just because.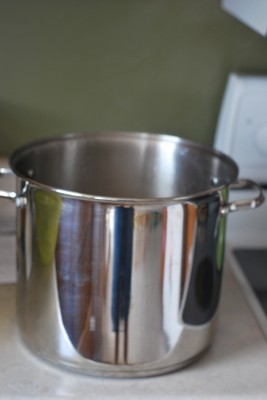 After 4 hours total, remove the pot from the heat. I let mine sit for about 20 minutes because it was really hot and I didn't want to burn myself. I have issues sometimes. Plus, any time I work with steam my glasses fog up and I yell out "I'm blind!" Then I yell "I can see! It's a MIRACLE!" Yeah, I'm predictable.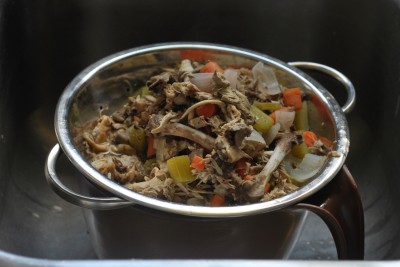 You need a really big bowl and a colander. Remember, you have 16 cups of liquid, so don't underestimate your bowl size. I actually thought this one was too big…..but I was wrong. Pour the stuff in there and let the colander catch all the bones and veggies.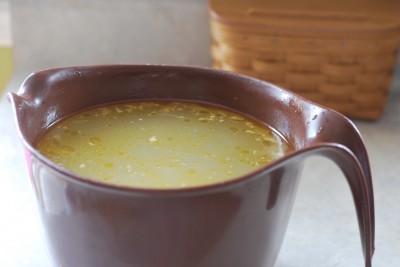 Let the broth cool to room temperature. Never put hot stuff in your fridge. Never. If you learn nothing else today, don't put hot stuff in your fridge. It changes the temperature and can do weird things to the stuff you already have in there. When it's cool, put it in the refrigerator for a couple hours.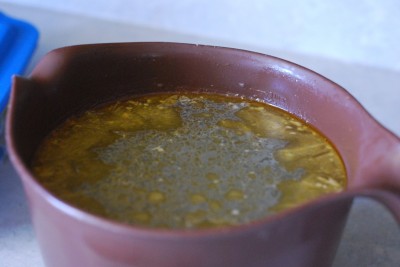 My chicken wasn't a fatty. After chilling in the fridge, fat should rise to the top for you to skim off……or not. Mine had very little fat to skim. Most of the fat had dripped into the bottom of the crock pot. I saved that "stock" too. You can leave the fat in there if you like. It's good for you….and it's organic. I just like saying organic. I think I need some organic chocolate.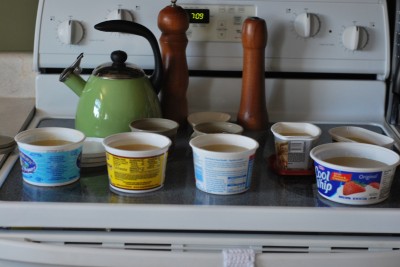 I divided mine between several containers for freezing. I am running low on these since I don't buy many of them anymore…..if you have any to donate, I will gladly take them. 🙂 Now they are ready to go! You can freeze them and take them out whenever you need to add chicken broth to a recipe. How easy was that? And it's SO GOOD for you – full of vitamins and minerals, and chicken yumminess.
*****You can also use this same method with beef bones, any poultry bones, or pork bones.**********
Homemade Chicken Stock
Chicken bones and innards from a 2-4 pound chicken
16 cups cold water
2 tablespoons cider vinegar
1 onion, chopped
2 carrots, chopped
3 stalks celery, chopped
Place bones and other goop in a large stock pot.
Add water and vinegar. Let stand for 45 minutes.
Bring to a boil on the stove. Skim any yuckiness that rises to the top.
Reduce heat to medium low and simmer for 4 hours.
One hour before it's done, add the veggies.
Remove from heat when done and let cool for 20 minutes.
Strain and throw away bones and veggies. Let cool to room temperature.
Refrigerate until chilled. You may skim the fat off if you like.
Put into containers for freezing or use in the next few days.