It's strawberry season! One of my favorite times of year. My birthday is my favorite time of year, but that's neither here nor there. However, when my birthday does roll around I like kitchen gadgets and food things for cooking.  Just an FYI.
So, when I was growing up my family had a huge strawberry patch! We would let people from the community come and pick their own berries. I remember sitting in the back of my mom's station wagon and playing while people came and went. We always had an abundance and my mom would freeze them so we could have berries all year. This is my attempt to show you how to do it.
This is the Ball Blue Book of Preserving. If you freeze or preserve at all, you need this book, or a similar one on canning and preserving.
My steps are what Ball says to do. Who is Ball anyway? Oh well, apparently Ball knows what she's talking about, so here we go!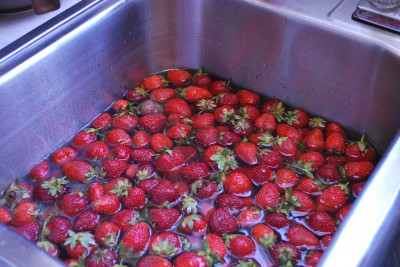 Run a big ole sink full of water and dump your berries in. Don't dump too hard though, they're soft. I guess you could gingerly lay them in there, but I was in a hurry because Annie was napping and I don't have time to dilly-dally.  Wash each one individually if they were dirty like mine.  These berries are from my parents' patch, not the store, so they were dirtier than you normally see.
Now, you need to separate into three batches: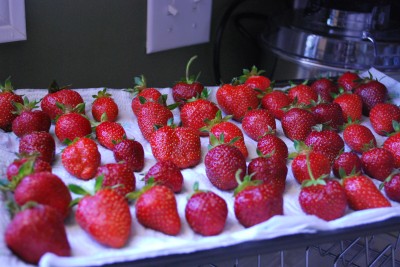 The first batch consists of berries that are perfect, unblemished and pretty firm. Man, aren't they pretty? I could take a picture. Oh wait, I did. Lay them out on a cookie sheet to dry. I put paper towels under mine, but you could just use a kitchen towel. After they're dry, lop off the tops. I used a knife, but you could use one of those doohickies that hulls a strawberry. You can also use a plastic straw by pushing it up through the bottom and popping off the top. Like I said before, Annie was asleep so I was trying to hurry.  Can I get a witness Mamas??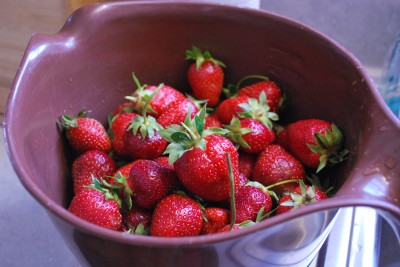 The second batch consists of berries that are still really nice, but might have a blemish or two. They didn't use Clearasil or Noxzema. Awwww, they still have a nice face though. We're going to cut these babies up.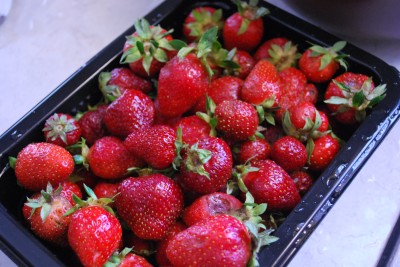 This is my favorite batch. Berries to eat. YUM! Pull out all the berries with large spots or ones that are way too soft. Ok, I admit I put some good ones in there too but I'm weak. I can't resist the strawberries. They call to me. EAT ME!  Since they've been washed you need to eat them within 24 hours or they'll start to get really icky. Man, I hate that…..guess I'll be gorging myself on berries……again.
Take the paper towel out from under your berries and put the cookie sheet in the freezer for about 20-30 minutes. We want to flash freeze the berries, just so they get hard on the outside but don't freeze in the middle. This will keep them from sticking together when you put them in a  freezer bag. After the 30 minutes, take the berries out and very quickly transfer them to a freezer bag.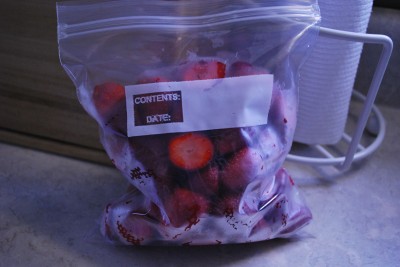 Don't be like me though, remember to label and date the bag. Now my bag is too wet and cold to label. Oops. Mystery food from the freezer! Admit it, you've done it too.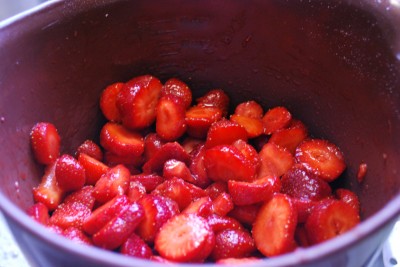 Slice all the berries from your second batch. I sliced mine into thirds, because Ball said too. However, if Ball told me to jump off a bridge I probably wouldn't. Unless I was jumping after some berries.  As a rule you want to use 1 part sugar to 6 parts berries. In this case I had 6 cups of sliced berries, so I used 1 cup of sugar. Yay! I can do math! Or is that division? Or fractions? Anyway, the sugar is to keep the sliced berries from getting nasty in the freezer. Let the sugar dissolve for about 10 minutes and then stir gently. Don't beat them to death, ok?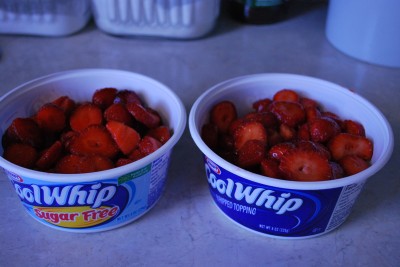 The book says to freeze the sliced strawberries in plastic containers. For me this read, "freeze berries in old Cool Whip bowls." I like to use what I have people. I love Cool Whip, therefore I have Cool Whip bowls. Fine china. Check! I labeled the lids this time!
Berries will keep frozen for about a year. After that they might start getting a bit of a freezer taste. Yuck. By then it's time for another berry season anyway.
Gotta go. There are some berries waiting for me to devour.