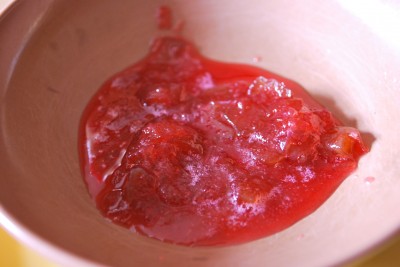 It's not too hard to make your own jam. It's even easier to eat your own jam…..super easy, especially if there are biscuits just lying around with nothing else to do with their leftover life. They're just begging you to make jam…..come on, you know you want to. Everyone is doing it. You would do it if you really loved me. I love jam, so I listened to the voices! Let me show you how to make it and when I'm done you'll say "Hey! I can do that!"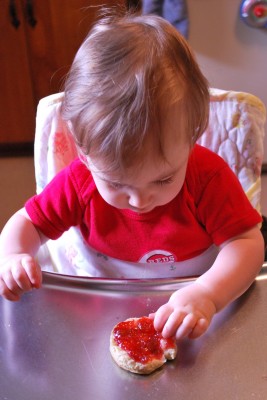 I spent a few days with my mom and when we're together we're always cooking up some kind of trouble. I mean, we're always cooking up some kind of food. The rhubarb was ready to be harvested, so we decided to make Strawberry Rhubarb Jam, one of my favorites! Now people, if you've never had homemade jam I feel bad for you. Those jams that you buy in the store? They're mediocre. Poor, pitiful little things. Bless their heart.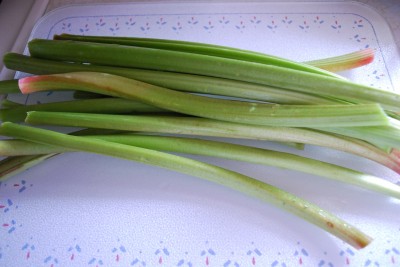 This is rhubarb. Is rhubarb a vegetable or fruit? It looks like a vegetable, but you always add sugar and eat it for dessert or in some type of sweet bread. I've never eaten vegetables for dessert, so it MUST be a fruit……right? I turned to Wikipedia for the answer. As we all know, everything you read on the internet must be true. Wikipedia says "Rhubarb is botanically classified as a vegetable; however, in the United States a New York court decided in 1947 that since it was used in the United States as a fruit it was to be counted as a fruit for the purposes of regulations and duties." Normally I'm not a big fan of the government, but since it proved me right in this case I guess I can be a fan……for about five minutes.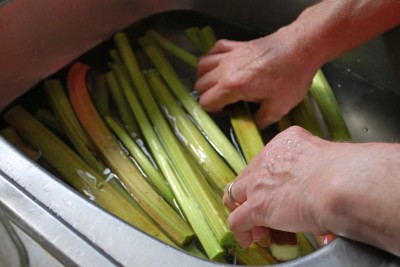 You'll need to wash the rhubarb and get all the grass off if your dad just recently mowed. Even if your dad didn't just recently mow, you still need to wash it.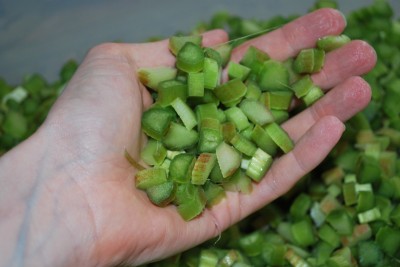 I like my jam chunky. I like a lot of food chunky. My mom doesn't. Guess who won this debate? If mama ain't happy, ain't nobody happy. So, we diced up the rhubarb pretty small. If you like it chunky, you can make a bigger dice.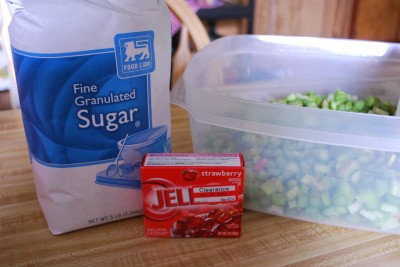 Oh yeah, I guess I should say that for this recipe you'll need sugar, strawberry jello, and rhubarb. That's it! See the Target clearance tag? Yay for clearance!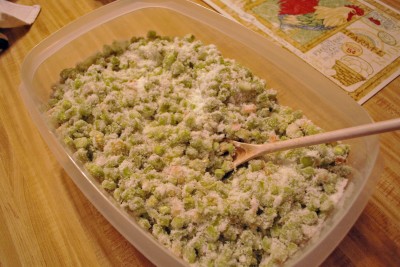 Put your teeny, tiny diced rhubarb in a large container and sprinkle your sugar over the top. It's rhubarb, so it's sour…..it needs lots of sugar. When you're dumping it in, you'll think "Holy cow! This is a TON of sugar!" Just warning you in advance. Stir the rhubarb, so it gets all coated with sugar. Cover the bowl with a towel and let it sit overnight. Strange things will happen – science fair things will happen!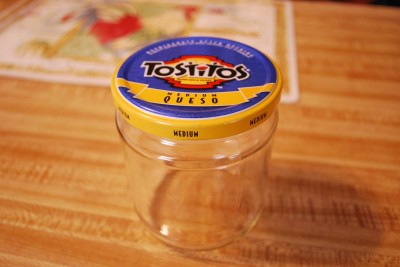 Let me just pause a minute to talk about canning jars. My mom has always taught me to use what we have instead of running out to the store to buy every little thing. She learned it from her mom, and I'll pass it down to Annie. Some of you out there might wonder why we're "canning" in salsa jars. Because we have salsa jars! They're great for canning jellies and jams! If the fact that it says "Tostitos" on it bothers you, you can cover it up with a piece of fabric and ribbon. Problem solved!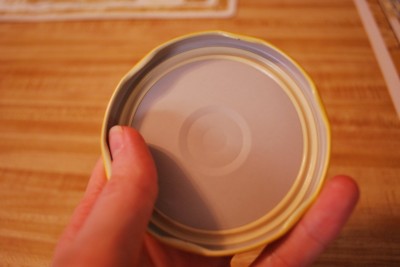 See this rubber seal that runs around the inner lid? That's what will seal your jam when it's hot. Trust me. Now, let's resume jam making.
Ta da! The sugar dissolved and left us this nice liquidy substance. Stir it up a little bit. I like to stir things!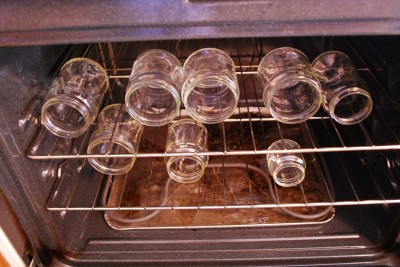 Turn your oven on to the lowest setting possible. Stick your jars in there so they can get hot. They need to be hot to sterilize them and also to help them seal.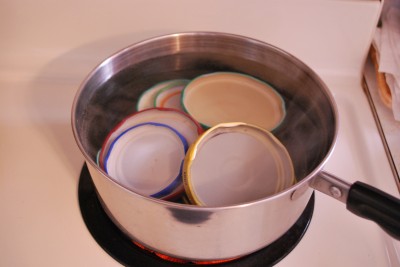 Put your lids in a saucepan and cover with water. Bring them to a boil. This is so that you can sterilize them and get the rubber seals ready.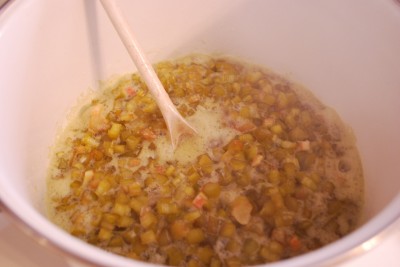 Put your rhubarb and sugar mixture in a saucepan and bring it to a boil. Once it's boiling, let it boil about 3 minutes…..just long enough to get the rhubarb a little soft. You don't want it to cook all the way down, you just want it non-chewy. Chewy jam = you did something wrong.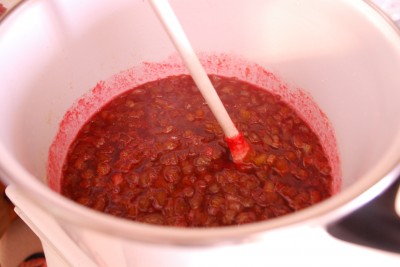 Pour your jello powder into the rhubarb mixture and stir it until the jello is dissolved. Inhale. Oh baby! Refrain from sticking your finger in there to taste. It's hot. Really hot.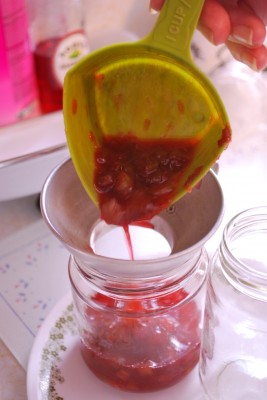 Pull out a hot jar from the oven (with an oven mitt because it's HOT people!) and start ladling your hot jam into it. We used one of our wide mouth funnels from our canning stash, but you don't need one of those. Just be super careful. Or be non-careful and drop it all over the counter so you can wipe it up with your fingers and eat it. That's ok too.
You need to fill it almost to the very top. See the picture? Leave very little headspace.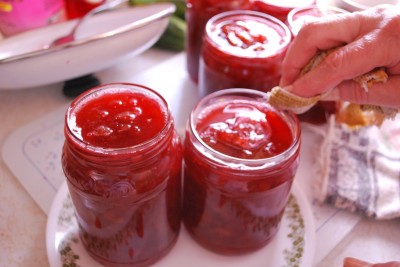 After you get all your jars filled, wipe the rims with a  wet dishcloth. You don't want anything between your rubber seal and the jar. Don't let anything come between you and your jam! A woman and her jam are not soon parted.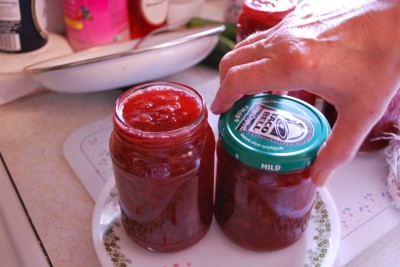 Remove your lids from the boiling water and BE  CAREFUL. Like I said, they're hot. Dry the lids completely before putting them tightly on the jars. If I didn't mention this, be careful because it's hot.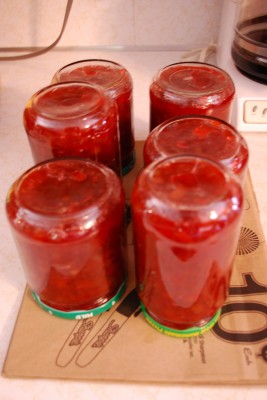 Now, immediately turn all your jars upside down. This is going to help them seal. Let them sit this way for a few seconds and then flip them all back up. Oh yeah, be careful because they're hot. I know. I grabbed one before mom said "Watch out! They're hot!" Sometimes I jump the gun when it comes to cooking.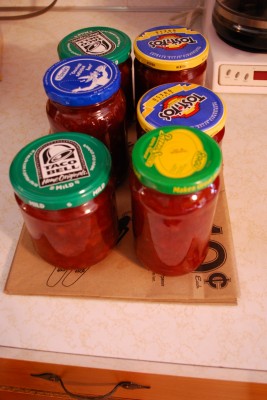 After you flip them right side up, you'll let them sit until they are totally cool. You'll hear the little pops throughout the day as they seal. Sometimes it can take alllllll day for them to finally seal. Don't give up! If you happen to have one that doesn't seal, don't worry about it. Just eat it first. You can make that sacrifice, right?
Strawberry Rhubarb Jam
5 cups diced rhubarb
3 cups sugar
1, 3 ounce package strawberry jello
Mix rhubarb and sugar in a large dish. Let stand overnight.
Transfer to a large saucepan.
Bring to a boil and cook for 3 minutes or until rhubarb is tender.
Remove from heat and add jello. Stir until dissolved.
Pour into hot, sterilized jars and seal.
Yield – 2 pints