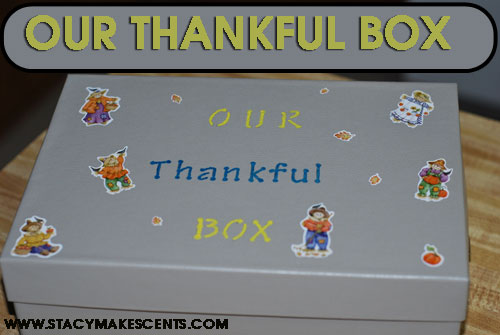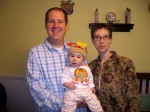 It seems to me as the years pass by, that Thanksgiving is becoming the "forgotten holiday." Stores put out fall decorations early, but as soon as Halloween is over, they put Christmas out and put "fall" items on clearance – as though the holiday is totally over. This saddens me. People put their Christmas decorations out as soon as Halloween is over….but, I boycott. I won't put out Christmas things until after Thanksgiving is over. It's my way of "sticking it to the Man." I never want Thanksgiving to be forgotten in the Myers house. I want it to have its place of importance. It's important in this life to be thankful. "Give thanks to the Lord, for he is good. His love endures forever." Thanksgiving is the fun of Christmas without all the gifts and stress. It's the only day of the year when you can eat all you want, until you're about to vomit….and then eat pie. Then you can lay on the couch like a big sack of potatoes and no one says anything about it. AND you get to reflect on your year – and see how God has blessed you…..reflect on just how blessed you are. Yes, we should do this more than once per year, but it's nice to have a day dedicated totally to that – and it's also nice to see the Charlie Brown balloon in the Macy's Day Parade.
It's important to have an attitude of thanksgiving – otherwise you might become bitter. It's also a great way to cut down on overwhelming feelings. If you feel like the world is about to open up and swallow you, reflect on all your many blessings. I find that for myself, I usually get rid of my pity party pretty quickly. Hasta la vista whiny pants, hello turkey leg!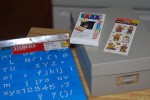 So, we decided to start a new tradition in the Myers house – one that Annie can look forward to each year. When I was growing up, our Thanksgiving tradition was to go "bear hunting" (no, there were never any bears – I think they just wanted us to get out of the house….I'm wise to their scheme…now). When we were done hunting we would come in and look through the JC Penney Wish Book and make our Christmas lists for my grandmother. I remember this VERY fondly.We want to cultivate an attitude of gratitude in Annie, so we decided to make a Thankful Box. For this you just need a photo storage box – easy to find at Michaels (make sure to use a 40% off coupon from the paper!), some markers or paints, Thanksgiving stickers and letter stencils. These are all items I keep in our craft box.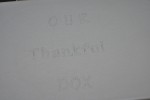 I had my Mama help me with this part because I am the Queen of Crooked. I knew if I attempted to do it alone, the box would look horrible. We measured and made little pencil lines on the box to make straight lines for the text. Use pencil so that you can erase when you're done. Now use your stencils to outline the letters, also using pencil. I knew I was using markers, so I could fill in the outlines easily. I also knew if I tried to color inside the stencils, I'd have to worry about smearing – since it takes paint markers a while to dry on this type of surface. If you're using paint, you can paint one letter at a time and let it dry in between to avoid messes.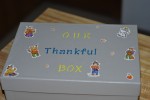 I filled in the letters with my paint markers and let them dry totally. Then I added some cute Thanksgiving stickers to liven things up a bit. I was very tickled with how it turned out. And I know the box will be very easy to store in the closet. I like easy storage. We'll pull this box out each Thanksgiving – provided I can remember where I put it…..I'm really bad about putting things away and forgetting where I put them. I could make a note….but I'd most likely lose the note.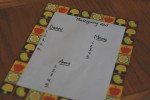 I found a cute piece of printer paper for our list. Each year, we will pick 5 things each that we are thankful for and write them down to add to the box…..I want them to be specific. Then the next year we can look back on what we've been thankful for – and see how far we've come…..what better way to cultivate gratitude? Yes, I realize that at this point in life it will be very likely that Annie will say she's thankful for:
1. Dottie
2. Elmo
3. Ice Cream
4. Beans
5. Rocks
BUT, she'll be able to see that list later and be quite tickled with herself…..and that's what I'm looking to create – something she will always look forward to.
So, this is our Thanksgiving tradition. What is your family tradition for Thanksgiving? If you don't have one, you might consider making a Thankful Box. Another great idea would be to make a Thankful Tree like this great version at Day2Day Joys.
This post is linked at Frugal Days, Sustainable Ways at Frugally Sustainable, at Finer Things Friday on Amy's Finer Things, and at WFMW at We Are THAT Family.