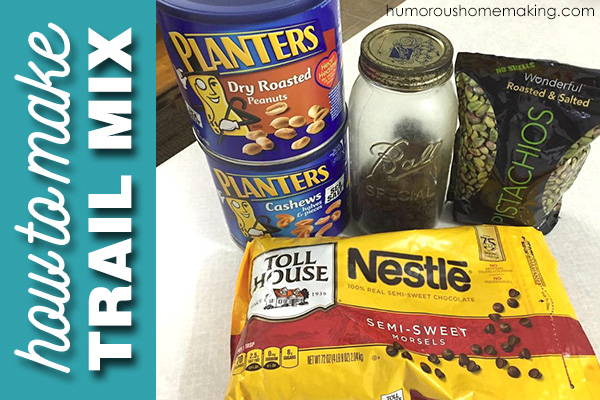 Are you looking for a super quick, filling, and nutritious snack?! One that doesn't take hours to make or cost a billion dollars? Yeah, me too.
Enter, Trail Mix!
I'll be totally honest here, sometimes I just buy trail mix already made. But, you pay for convenience, right?
Homemade Trail Mix is better, but sometimes you just buy the mix and then remember why you don't prefer to do that.
"Mom, I don't like this nut!"
"Ew! What is this shriveled up thing in my trail mix!?"
"Mom, the ratio of raisins to nuts isn't satisfactory to me today like it was yesterday."
When you make your own, you control what goes into the batch. This is a benefit if you:
A. Have allergies.
B. Have children.
C. Want a good excuse to eat more chocolate (who doesn't?)
I make huge batches of Trail Mix and I'm going to give you my general formula below and a video at the end where I actually make a batch for you.
You can store your Trail Mix in a plastic Rubbermaid type of container  or in a Ziploc bag.
A general Trail Mix Formula:
One part nuts (any variety; we like a mix of peanuts and cashews, but I also like to use mixed nuts)
One part dried fruit (raisins, dried cranberries, blueberries, or any other fruit, banana chips, etc.)
One part chocolate (chips or chunks)
One part add-ins
Add-ins can be any of the following: candy corn, seeds (pumpkin, sunflower, hemp, etc), coconut, pretzels, basic plain cereal (Chex, Cheerios, etc.), or any other type of fun seasonal candy.
I like to buy most of my ingredients in bulk at Sam's Club, but sometimes get items at Aldi or at the grocery store. You can buy end-of-season candy clearance to use in Trail Mix to save a buck or two.
Make up a big batch and keep it in the cabinet for quick snacks! It's good to take to work with you or in the car when you get the mommy munchies.
NOTE: chocolate melts in hot cars. Just sayin'. It's still good, but rather messy and sometimes gets on your behind. 
What's your favorite Trail Mix add-in?