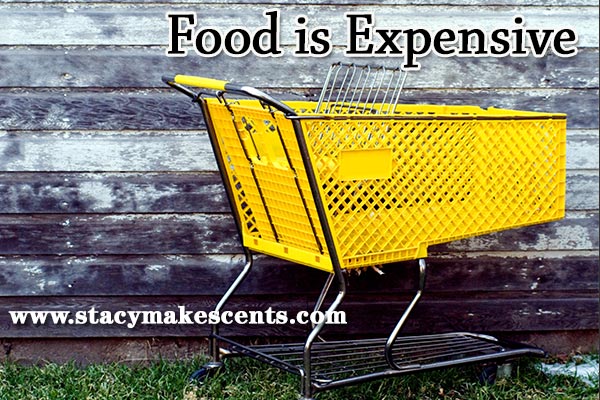 I used to be of the mind that anyone could afford good, high quality, pure food. In fact, I even wrote several posts on it from my high and mighty stallion where I looked down on all the little people who had Hamburger Helper and Cheese Doodles in their grocery cart. See How We Eat Healthy on a Budget, Keeping Costs Down in a Real Food Kitchen and Why The Myers Are Spending More on Food.
Something you should know about being on a high and mighty stallion. When you fall off, it hurts REALLY BAD.
Let me preface this by saying I do think everyone should have a food budget (budgets in general) and I do think that MOST PEOPLE have the ability to purchase good food…but MOST PEOPLE isn't everyone.
I think I was at Sam's Club in the check-out line when it finally hit me. I had a very few things in my buggy: cheese, fresh produce, nuts, meat….you know, only the things a good and holy person buys (insert sarcasm font). When she told me the total, I was disgusted because I knew it was over half of my budget for the month. Half. 
I pulled my cart over to the side to put everything back in my pocketbook (because I'm OCD like that) and the lady behind me pulled up to check out. I wasn't trying to eavesdrop. Her buggy was full – double mine. And her total ended up being a lot less. But she had purchased some things that I hadn't – a few processed foods and some fun stuff like doughnuts and snack mix. And I distinctly remember thinking, "I wish I could buy that stuff instead."
So, let me tell you something. Food is expensive. It just IS. So many bloggers (myself included who eats crow on a regular basis) write these posts about how to eat super healthy foods (heaven forbid it's anything NOT organic or free-range) on a budget…and they make it seem possible for everyone. But let me tell you, sometimes it's just NOT.
Food costs a lot….some people just don't have that wiggle room in the budget. When the choice comes for free range eggs or "regular ole eggs" and the difference is $3-4/dozen and the budget is tight….buying the "regular ole eggs" makes sense – or "cents."
Your budget dictates what food you buy. If you have a large budget because God has blessed you abundantly, that's GREAT! I pray that happens to everyone. 🙂 But sometimes we're in valleys…and our budget is low. And if the budget says "regular ole eggs," that's what you buy. Because it doesn't make sense to sacrifice electricity or housing for free-range eggs.
I am so sorry for those times when I looked in someone else's cart (I'm a cart peeker) and thought "Man, they shouldn't be buying that! Look at my holy grocery cart full of good-for-you food! *Beats self on chest like Tarzan.*"
The truth is, I don't know their budget. I don't know your budget. You don't know my budget (yet). But I do know this – we are all just doing the best that we can with the budget that we're given.
Let's get nitty gritty here, guys. We have a $400/month food budget…for all five of us. That means that I don't buy organic beef and chicken. Or produce. In fact, I don't buy organic much of anything (I'm convinced most of that is propaganda anyway, but's another post for another day).  If I tried to buy "all the right foods" it would drain my budget super fast…and I know that $400 is more than a lot of other people have…but way less than some others.
Sometimes my budget is less than $400 a month….for a reason I'll share for the first time right here. Due to some medical issues, my Eli is on a hypoallergenic formula…I'm not breastfeeding him. I've not shared this because it makes me feel like a failure – I know what all the "people" say is best and since I'm not doing that, I've not shared this part of our life because I didn't want to deal with what the "people" would have to say to me…what I could have done different – how I could have healed him with oils or whatever or made sure I only ate kale and grass fed beef. I'll just tell you, we tried everything until we did the thing that was right for our son. 
That formula costs around $250/month. Insurance does not pay. So, right now we've had to cut some areas…and that's okay. If you're in that same spot, let me encourage you…it's okay, mama. You're doing your best. Buy what your budget dictates.
So, for us and at this point in our life, we buy the Cheese Doodles for a treat. I buy conventional produce and I'm not sorry. You can see our nightly meals, which I always post on Instagram.
Food is expensive. No matter what someone else tells you. And it's okay and RIGHT to purchase the food that's dictated by your budget.
As if you needed permission from me. 😉
Are you at a high or low point in your food budget cycle?