For the first post in this series, see How to Find Your Style
I squandered a lot of our family's clothing budget on myself. Money down the toilet.
Why?
Because I would buy things, thinking they were cute or acceptable, and then end up not liking them at all. Whether it was the color or the style, they just didn't work for me.
I've spent so much of my life just trying to cover up my body with big, flowy clothing. I didn't want people to see my rolling rear end and I always tried to hide the fact that my hips are "good birthing hips."
Don't you want to feel like you look pretty? That you're a good representative of your family?
I do. I wanted it so badly.
That's why I first taught myself how to apply makeup. It made a world of difference in how I felt and therefore it made a difference in how others saw me. Because after all, makeup isn't the Devil.
Then, I found out about Dressing Your Truth® (DYT) and I finally understood myself when it comes to dress and my personality.
Finally coming to grips with my personality and how it's okay to be the way that I am, I also discovered that I can dress to match my personality to make myself shine.
There's nothing like feeling wonderful in the clothes you wear, whether it's business casual or t-shirts and jeans.
I'm a type 4, BOLD and firm personality. I know most of you are thinking, "Well, yeah. We knew that." But, I tried to hide it. And I also didn't know I should be dressing to match my personality.
Now, I don't feel like I'm squandering budget money. I know what to buy. I know what makes me feel good and look pretty. I know what makes me feel like I'm dressing my truth. I'm bold. That's okay!
What are you?
Have you taken the FREE  ecourse to find out your type?
Maybe you have and you just can't swing the cost of the course…it's a lot. I get it. BUT, the lovely ladies at Dressing Your Truth are offering Humorous Homemaking readers a link that makes the course only $99.
Man – that's a lot. Yes. I agree. But I also know that sometimes it's okay to invest money in ourselves. Especially if it will save us money in the long run.
Of course, no matter the cost, if it's not in the budget, it's not in the budget. But, it's still fun to take the free ecourse and learn your type.
Here are my before and after photos. No more gray for me! I am going to shine and embrace my bold personality…pinks and reds and blues!
---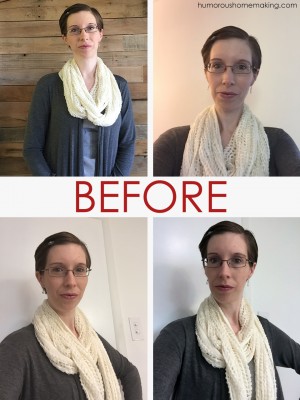 ---
This course is NOT for you if:
You've already taken it
There isn't wiggle room in your budget
You're a fashionista and perfectly happy with your current state
You don't have a computer, phone, or any other internet device
We're going to be running a Dressing Your Truth giveaway at the end of the week! I hope you'll check back and enter. If you do purchase the course, and then win the giveaway, DYT will refund the cost you paid for the course. Coolio, huh?
Disclosure: I received the DYT ecourse in exchange for this review. But, if I didn't like it, I would say so. Remember, I'm a bold personality. 😉