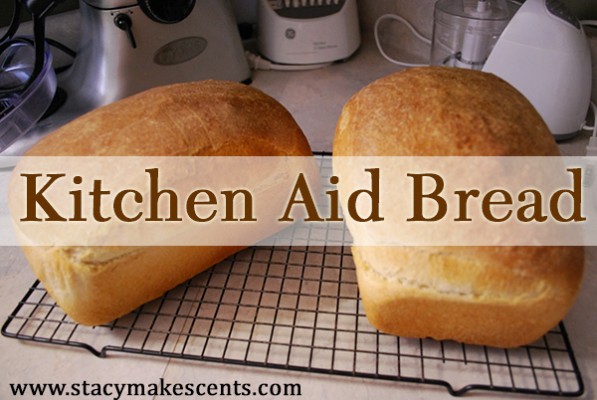 **We now use our Nutrimill to grind our wheat. I also use sucanat or honey as the sweetener.**
There are some of you out there who aren't weird like me. You don't enjoy kneading bread. This recipe is for you! I got this recipe from my friend, Angela. Angela is a super-mom. She can do anything. This is how she makes her bread, and I have to admit – it's nice. It lets you do other things in the kitchen while the mixer is doing all the work! Too bad I can't hire the mixer to dust my house. It makes nice, big loaves that are great for sandwiches. So, let's get mixing!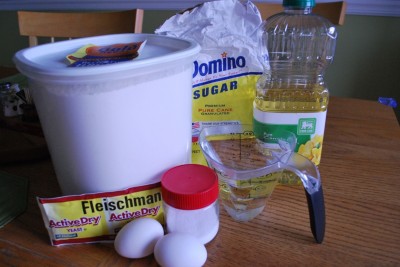 We need bread flour, yeast, eggs, salt, water, sugar, and oil. Pretty simple. This is stuff you should keep around your house if you ever plan to make bread.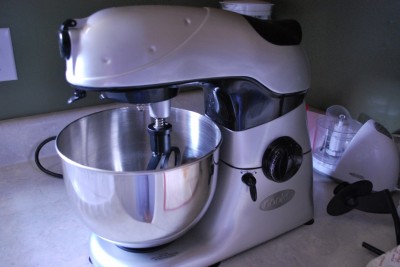 This is my mixer. It's not a Kitchen Aid, but I love it anyway. Sure, I'd love to have a nice, red, shiny Kitchen Aid but I chose this one instead. I saved for a  few months and bought this one at JCPenney. It's their store brand. I chose it because it happened to have more amps or horsepower or  pony watts, something like that. (Insert Tim the Tool Man Taylor grunt.) We'll be using the paddle and the dough hook attachments.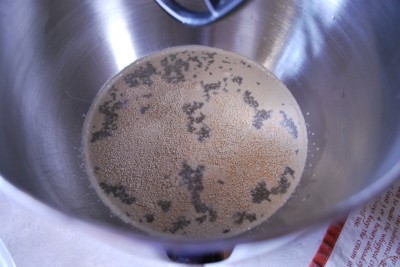 First we dissolve our yeast in the warm water. Remember what I've said before. WARM. Not hot. Do not commit yeast murder. Thou shalt not kill.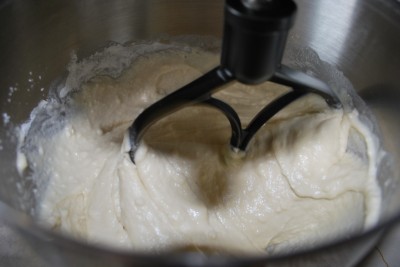 To the yeast mixture add the salt, oil, sugar, eggs, and 3 cups of the flour. Beat this with the paddle attachment for ten minutes. While it's beating, do something constructive like wash the dishes, pick up dog food, or scrape old oatmeal off the underside of the table.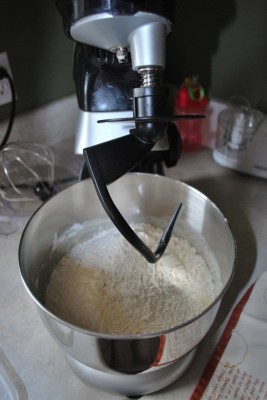 This is the dough hook. Yes, it looks scary. It makes you think about Peter Pan doesn't it? It's ok to admit it. Add the remainder of the flour and "knead" with the dough hook for another 10 minutes. Again, take this time to do something constructive – fold laundry, pry a baby off your leg, or eat a snack…..not too much though because you have bread coming!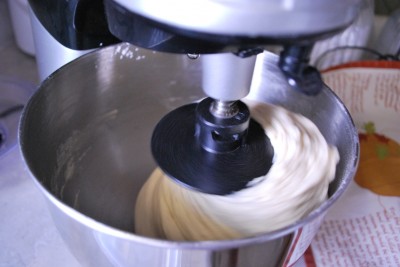 See, here it is kneading. It's an action shot. Sorry about the quality. I'm still working on how to take good photos of that. Imagine that you're actually seeing it move. Move your head side to side. I promise it helps. Thanks.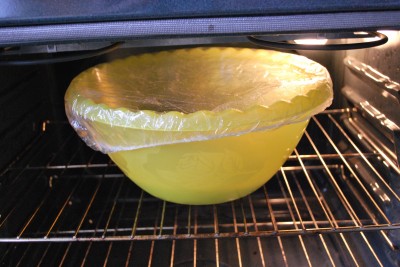 Ok, when it's done you want to take it out of the bowl and put it into a large bowl that's been greased. Turn the dough over so that it gets greased all over. Cover the bowl and place it in a warm place to double, about 45 minutes. I like to raise mine in the oven because the temperature is consistent when the light is on.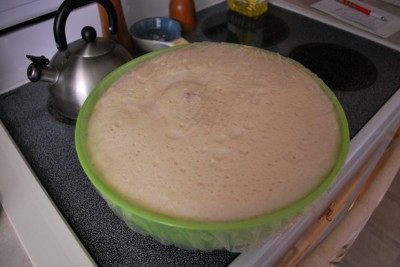 I forgot mine was in the oven and got busy with Annie. I think she was taking all her shoes out of the drawer and hiding them in various places. When I remembered to go check, it had been over an hour and mine had risen…..a lot. It almost came over the side. Do you remember that I Love Lucy episode where she's attacked by the large loaf of bread? That's what I was thinking about here. I punched it down and all was well again.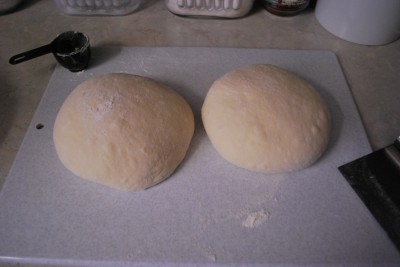 Turn your dough out onto a floured surface and divide in half. Knead just a little bit and get the bubbles out. Angela's recipe says "slap out the air bubbles." I did slap it. It was sorta fun. Good therapy. Who needs a psychologist? Make bread!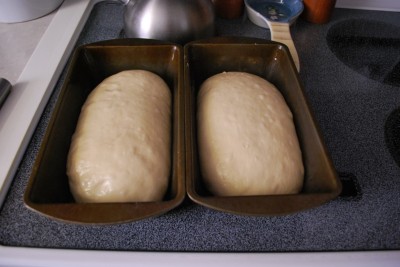 Form your halves into loaves and throw them into two 9 inch pans that have been greased or oiled. Turn the loaves over so they're totally coated and won't stick to the pan. Cover the pans and let the dough rise again until doubled. My kitchen was pretty hot, so it only took 30 minutes. This could vary though…….bread is so fickle. I love it though. It's consistent in its fickleness.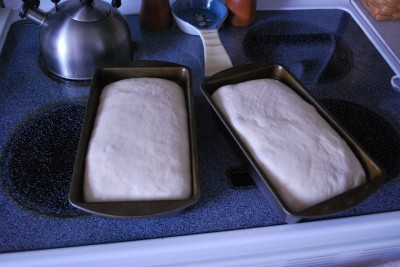 Here it is ready to go! It looked pretty big to me…..almost too big. Like it was going to take over. Again I thought about the I Love Lucy episode. I put Annie down for a nap to save her in case there was a bread emergency. Carefully move it to your 375 degree oven.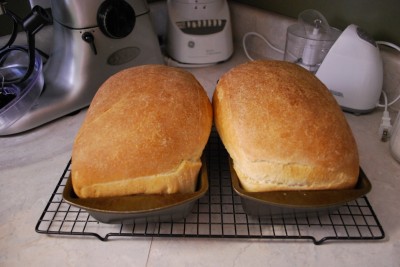 Bake until it's brown, about 30 minutes. You know it's done when it sounds hollow when you tap it. That's the best test for making sure any yeast bread is done. See how HUGE it looks? I couldn't believe I made something so big. It was intimidating me. But it smelled so good that I got over it quickly. Let the bread rest in the pans for 10 minutes before you turn it out to cool completely.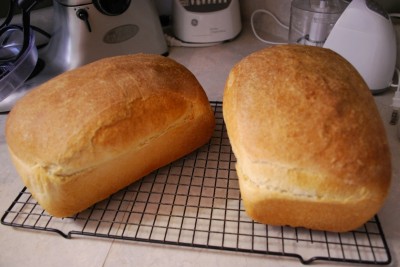 Look how pretty! When I cut it, I realized that it is a great size for making sandwiches. Great recipe, Angela! Thanks for sharing with us! It's really very easy and you should try it today. Your hips will thank you. Hips don't lie.
Kitchen Aid Bread
2 packs yeast (or 4 teaspoons)
2 teaspoons salt
1/3 cup coconut oil
1/3 cup honey
2 eggs
2 cups warm water
6 ½ cups bread flour or white wheat flour (I use white wheat)
Pour warm water into your stand mixer bowl. Add yeast and stir around to dissolve.
To this mixture add the salt, oil, honey, eggs, and 3 cups of the flour. Mix on speed 1 for 10 minutes, using the paddle attachment.
Add the remaining flour and mix with the dough hook attachment for 10 minutes on speed 1. If it's a little sticky, you can add a small amount of flour by hand, but no more than ¼ cup.
Put dough into a greased bowl, turning so surface is greased. Cover and let rise until doubled, about 45 minutes.
Poke dough down and turn onto a floured surface. Knead or slap to remove air bubbles.
Divide in half. Shape into two loaves and put into two greased 9 inch pans. Turn dough to coat surface in oil. Cover and let rise until doubled, about 45 minutes.
Bake at 375 degrees for about 30 minutes or until loaf sounds hollow when tapped.
Let rest in pans for 10 minutes before turning out to cool completely on wire rack.