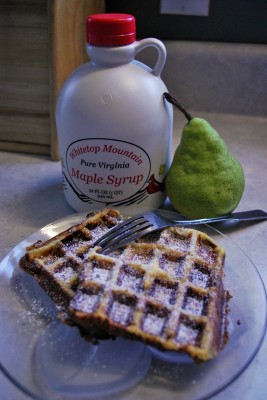 Waffle makers are awesome! Yes, they're great for making waffles, but you can make other stuff in them too – sandwiches and even cookies can be made in your waffle iron. I like using things that I have in unconventional ways. It's creative. It's crazy. It's Stacy. Welcome to my world. Today I'm going to teach you how to make French Toast in your waffle iron. Let's go!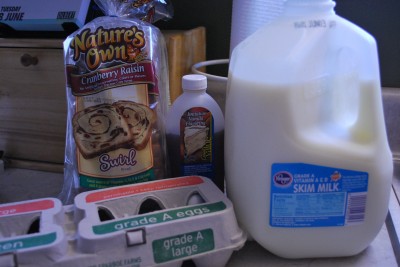 To make this treat you need bread, eggs, vanilla, milk, and cooking spray. I didn't have a picture of the cooking spray because I'm a doofus. I used Cranberry Raisin bread this time because that's what I needed to get rid of, but you can use any type of bread you have – white bread, wheat bread, hot dog buns, hamburger buns, Italian bread. I've not tried biscuits yet, but English muffins also work great!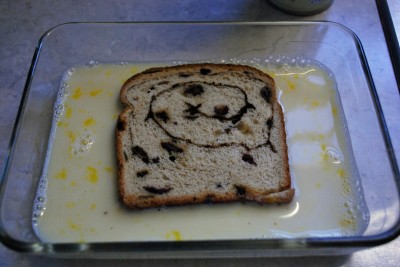 First, heat up your waffle iron after you spray it with the invisible cooking spray. In a dish that's big enough for your bread to lay down in, beat your eggs. They've been bad. They must be beaten. Add your milk and vanilla. Mix well.  Dip your bread into the egg mixture, coating each side. Let it get good and coated, but don't let it soak like a sponge. If you do, when you try to pick it up it will break off and fall on the counter, making a  big ole mess.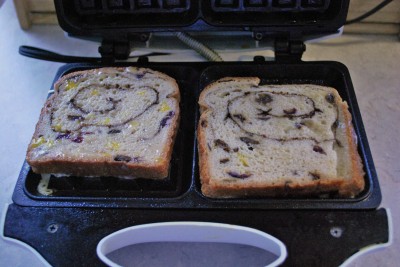 When your waffle iron is ready, lay the soaked bread in and close the lid. It will make a big hissing sound. It reminds me of a tanning bed. You lay in the hot "iron" and your skin goes hiss. Makes you think twice about going back, huh? You will think about waffles every time now. You're welcome.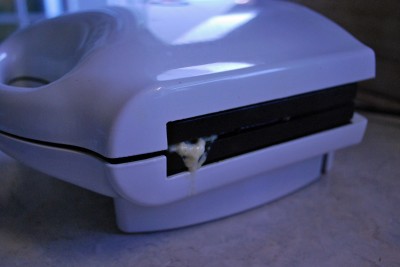 Oh, and your waffle iron will probably do this. Leak. It's not waffles or French Toast if it's not messy. I'm just stating facts and getting you prepared. If your waffle maker doesn't make messes like this, please don't tell me. I like assuming that everyone else is as messy as me. I like being in my own little world. Don't ruin it for me.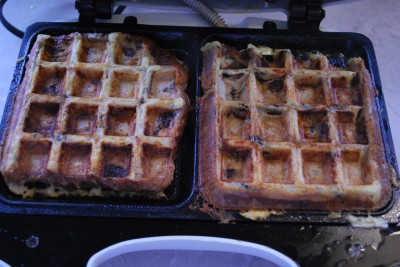 Cook the French Toast until it's brown. Some waffle makers tell you with a little timer or buzzer thing when it's ready. Mine lies though. It says "I'm done!" But when I open it up, it's not done. What a big liar. Revelation 21:8. Look it up. You know it's done when it doesn't stick to the lid when you try to pry it open.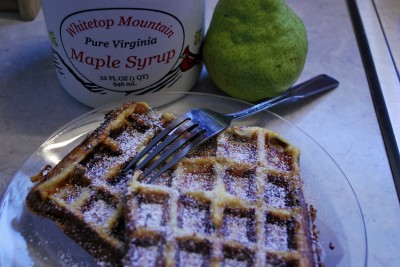 And there you are! A fast breakfast for your family. And it tastes so much better than French Toast in the skillet…..it gets done in the middle, so it's not mushy. Mushy French Toast = yucko. Aren't you glad I broadened your horizons? Make it today. You'll love it! Sprinkle it with powdered sugar if you're feeling frisky.
Waffle French Toast:
2 eggs
1 cup milk
½ teaspoon vanilla
8 slices bread
Heat waffle iron.
Beat eggs.
Add milk and vanilla.
Mix well.
When waffle iron is ready, dip bread into egg mixture and lay  in waffle iron. Close lid.
Cook until browned.