Today I'm linking up again with the Natural Holiday Celebration Carnival, hosted by Modern Alternative Mama. Last week I talked about decorating and how to avoid trips to the ER. Today we're covering real food dinner menus.Thanksgiving and Christmas are coming…..and that means you're going to be eating out a lot – at parties and family events. If you're a more health-conscious eater, the very idea of this might make you want to go into hysterics and visit a psychiatrist. Oh, and besides your family, you have the food to worry about too. Ha, ha! Okay, that was funny. Admit it.Let me set your mind at ease honey…..go to your parties. Eat the food provided. Enjoy the holidays and don't wig out about the white sugar. Yes, eat in moderation but don't have a convulsion because Aunt Jemima served something with margarine. Am I telling you to forget about all your healthy eating and just throw caution to the wind? No. I'm telling you to behave and eat well at home and then be thankful (it IS Thanksgiving you know) for what someone else is serving you. Take care of your family 80% of the time and the other 20% won't kill you (unless you're allergic to margarine). For more on this very topic, see my 80/20 Principle.
That being said, let's discuss holiday menus. I've never had to cook a whole holiday meal myself. For Thanksgiving we always went to my Grandmother's where she provided all of that and now we go to Barry's parents' house and his mom does that. Usually I'm assigned bread or rolls to bring and a few desserts…..so that's about the extent of my holiday meal planning.If you are worried about what might be served, volunteer to bring a few side dishes. That way, you know you can fill up on what you brought and eat lightly of the other things provided. This is an excellent way to handle any type of special diet you might be on. If you can bring your own bread made from whole wheat, then you know that everyone is going to be cleaned out a little later…..if you get what I'm saying. That's a very nice perk, aside from the fact it tastes AWESOME.It's pretty easy to convert your old favorites. You can use your own cream of chicken soup instead of buying the cans; you can use sucanat instead of brown sugar; you can use coconut oil instead of Crisco. Just convert your favorites to fit your new lifestyle. Sure, there will be some duds…..feed them to the birds – they need it this time of year.So, if you need a side dish this holiday season that's good for you, yummy, and full of deliciousness, consider my recipe for Butternut Apple Bake.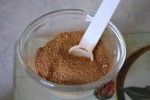 You'll need sucanat, cinnamon, butternut squash, apples, butter, ginger, and nutmeg. In a small bowl, combine the sucanat, cinnamon, ginger, and nutmeg. Give it a good stir to combine.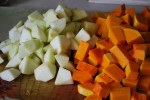 Peel and chop your apples into chunks. You can leave the peeling on there if you like…..Annie prefers it off though. You'll also need to peel and chop your butternut into chunks. See last year's tutorial for cutting butternuts in case you missed it. You want to make sure your pieces aren't too big, or they won't be done at the same time as your apples. I make my apple pieces a bit bigger than the squash chunks.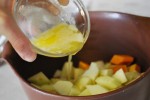 Put the chunks in a bowl and pour your melted butter over the top. Give it a good stir to coat all the pieces. Now, pour your spice mixture over this and stir well to make sure every piece is coasted. Leave no squash behind! Sit on no squash with your behind either.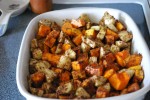 Pour this entire mixture into a greased baking dish. Bake at 350 for about 1 hour. You can start checking it after 45 minutes to see if the apples and squash are tender. It's all relative to how big your pieces are.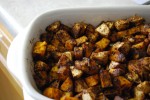 Here it is done….and it looks sorta brown and dry. Never fear! The buttery goodness is on the bottom. Stir it up with a big spoon and magic will start to happen.This makes a great holiday side dish. It's a perk that it makes the house smell divine. It will reheat well, but will get softer.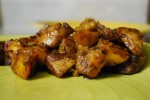 Annie LOVES this dish. The last time I made it, she ate all of hers…..then part of Barry's and I had to get her more from the oven. I didn't share mine. *Cough*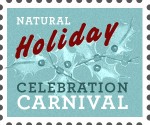 For more GREAT holiday meal ideas, check out these posts.
Christian Mommy Blogger – A Modified Thanksgiving: Feasting with Dietary RestrictionsThe Humbled Homemaker – Cheesy Green Bean Casserole
Modern Alternative Mama – Real Food Dinner Menus
Creative Christian Mama – Thanksgiving Leftover Ideas
Butternut Apple Bake
1 whole butternut, cut into chunks
4 apples, peeled and cut into chunks
3 tablespoons sucanat
2 teaspoons cinnamon
1 teaspoon nutmeg
1 teaspoon ginger
2 tablespoons butter, melted
Preheat oven to 350.
In a small bowl, combine the sucanat, cinnamon, nutmeg, and ginger.
Combine butternut pieces and apple pieces in another bowl. Toss with melted butter.
Pour spice mixture over squash mixture. Stir well to coat.
Transfer to a greased casserole dish. Bake for 1 hour. Begin to check after 45 minutes to test for tenderness.
When dish is done, stir again to coat with butter mixture in the bottom.