Thanksgiving and Christmas are coming – before we know it y'all! And that means that if you're a more health-conscious eater, the very idea of all the eating outside of your home at relatives, parties, restaurants, etc. might make you want to go into hysterics.
But let me put your mind at ease. Go to the parties and eat the food.
Enjoy the holidays and don't wig out about the white sugar. Am I telling you to forget about all your healthy eating and just throw caution to the wind? No. I'm telling you to behave and eat well at home and then be thankful for what someone else is serving you. Take care of your family with good, healthy food 80% of the time, and the other 20% that isn't perfect over the holidays won't kill you.
And it's pretty easy to convert your old favorites.
You can use your own cream of chicken soup instead of buying the cans; you can use sucanat instead of brown sugar; you can use coconut oil instead of Crisco. Just convert your favorites to fit your new lifestyle. Sure, there will be some duds…..feed them to the birds – they need it this time of year.
But we're talking about holiday cooking today! And there is nothing that puts me more in the holiday spirit then the smell of warm spices like cinnamon, ginger, nutmeg and apples!  If you are looking for the perfect side to bring to any holiday potluck – this is it I tell you! This is the ticket!
It's easy to customize this to suit your family's dietary preferences too!
It doesn't have any eggs, nuts, gluten, soy, sesame – and if you can't do dairy, just use coconut oil instead! Even the paleo and whole30 crowd can enjoy this one!  I've learned that it's actually pretty easy to find healthy food that everyone will love! If it tastes good, no-one cares if it's actually healthy.
So, if you need a side dish this holiday season that's good for you, yummy, and full of deliciousness, consider my recipe for Butternut Apple Bake. 
You'll need sucanat, cinnamon, butternut squash, apples, butter, ginger, and nutmeg. In a small bowl, combine the sucanat, cinnamon, ginger, and nutmeg. Give it a good stir to combine.
Peel and chop your apples into chunks. You can leave the peeling on there if you like…..Annie prefers it off though. You'll also need to peel and chop your butternut into chunks. See last year's tutorial for cutting butternuts in case you missed it. You want to make sure your pieces aren't too big, or they won't be done at the same time as your apples. I make my apple pieces a bit bigger than the squash chunks.
Put the chunks in a bowl and pour your melted butter over the top. Give it a good stir to coat all the pieces. Now, pour your spice mixture over this and stir well to make sure every piece is coasted. Leave no squash behind! Sit on no squash with your behind either. Pour this entire mixture into a greased baking dish. Bake at 350 for about 1 hour. You can start checking it after 45 minutes to see if the apples and squash are tender. It's all relative to how big your pieces are. Here it is done….and it looks sorta brown and dry. Never fear! The buttery goodness is on the bottom. Stir it up with a big spoon and magic will start to happen.This makes a great holiday side dish. It's a perk that it makes the house smell divine. It will reheat well, but will get softer.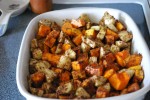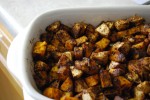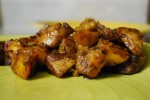 Butternut Apple Bake
1 whole butternut, cut into chunks
4 apples, peeled and cut into chunks
3 tablespoons sucanat
2 teaspoons cinnamon
1 teaspoon nutmeg
1 teaspoon ginger
2 tablespoons butter, melted
Preheat oven to 350.
In a small bowl, combine the sucanat, cinnamon, nutmeg, and ginger.
Combine butternut pieces and apple pieces in another bowl. Toss with melted butter.
Pour spice mixture over squash mixture. Stir well to coat.
Transfer to a greased casserole dish. Bake for 1 hour. Begin to check after 45 minutes to test for tenderness.
When dish is done, stir again to coat with butter mixture in the bottom.
SaveSave