Have you ever had a moment in time where you were so paralyzed over the fear of making the wrong choice that you made no choice at all and instead wallowed in your worry?
Yeah, me too.
So, let me take the worry of at least one thing off your plate. Stop worrying over the organic food label and just BUY THE FOOD.
Stop worrying. Stop the guilt. Just buy the food. 
Buy the food, guys. Cook from scratch. Tell the worry about "this isn't organic" to take a hike and go back to Worryville where it belongs.
The most important food lesson that I hope to teach, preach, and speak out loud is that you should be striving to cook from scratch. 
Cooking from scratch is better. It helps you avoid processed foods. It helps you avoid eating out. It helps your budget.
Cooking from scratch does not equal buying organic food. Sometimes I feel like the "organic" label is over-used and abused to the point that for me it doesn't mean much any more.
Buying organic food doesn't make you a better Mom. It doesn't make you a better citizen. It doesn't make you superior. It just means you have a bigger budget than other people might have.
It's okay to buy organic. But, it's also okay NOT to buy organic. I fall on the second side.
We should be focusing on feeding our families and ourselves, real, whole foods. An apple is better than organic apple flavored gummies.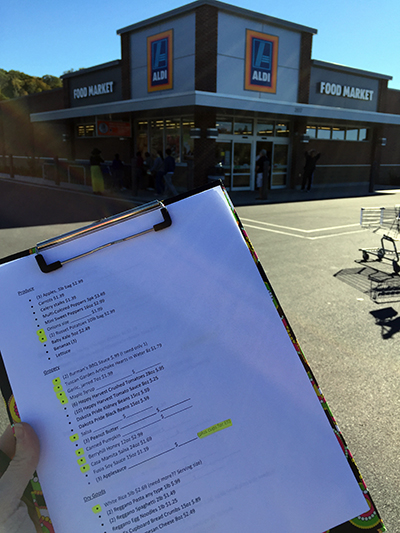 When I posted on Instagram about my recent once-a-month shopping trip to Aldi, I had some questions about my food choices:
"I'm timid about Aldi brand of meat, what do you think?"
"What is your opinion on their meat and eggs? I usually buy organic."
"Aldi seems like all processed foods."
"Doesn't it bother you that this isn't 'special' chicken?"
Short answer – no. I'm not bothered. I used to be. But I kicked that guilt to the curb. 
There is too much food fear. STOP IT! Have fear and worry tomorrow, not today.
The fact is, some people can afford organic and some people can't. We could fix our budget so that I could purchase everything organic. BUT. But….
…that would be at the expense of other things that we find more important: savings, paying cash for cars, and other items we need or want instead.
Let's focus on what's important here, and what I've always said to be true.
Buy the eggs instead of the Egg Beaters. Conventional eggs are real.
Buy the chicken instead of the pre-made chicken meal in a box. Conventional chicken is real.
Buy the apples. Conventional apples are better than a snack out of the vending machine.
Food is not our God. Let's do the best we can, and realize that God controls our lives.
Good. Better. Best. 
Sometimes you can't achieve "best." Sometimes you can't achieve "better." So, let's all just do the best we can.
We can strive for best. In fact, we should! Our bodies feel better when we feed them good food.
Buy the food. Say good-bye to food fear. Quit worrying about the label. Do your best. Please pass the apples.