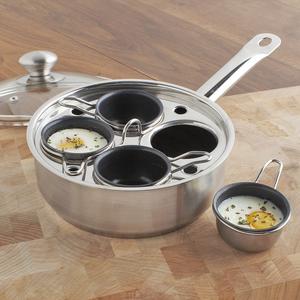 I'm sure you've seen these little jobbers. You've probably seen them on infomercials…….at yard sales for $1……..or at a specialty cooking store. They're for poaching eggs. Yeah, I know what you're thinking. Only fancy people poach eggs, right? Wrong! YOU can poach eggs too! Not that you're not fancy, but I'm just saying that poaching eggs is for the common man and for royalty. So, let's get with it shall we?
You don't need that silly pan. You can use what you have at home to poach eggs. Save your cabinet space for useful things like waffle irons and your 101 cookie cutter set. Just dig out a nice sized soup pan; I guess about 5 quarts or so. You could go smaller and save water, but I think they do better in a larger pot. Sorry Al Gore.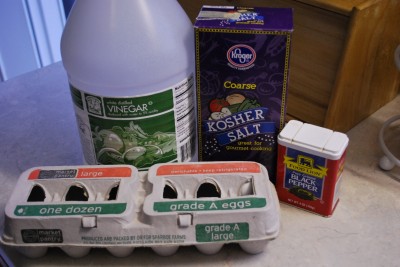 To make these lovely little beauties you need eggs (DUH!), salt, pepper, and white vinegar. Oh, and water. Go ahead and fill up your soup pot with water and get it boiling while I explain why we need vinegar. At this point in my posting career you probably think I just use white vinegar for everything, like it's a hobby. Well, it is……but this time it serves a great purpose! So, here it is – white vinegar is for making the egg whites coagulate better. Huh? You heard me. I know it's true because I looked it up on the internet. Everything on the internet is true.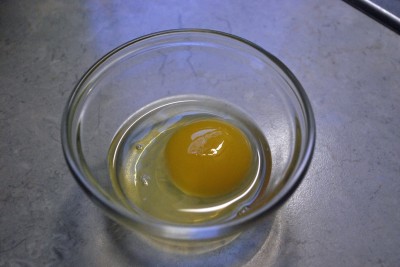 I break my eggs into little bowls before I add them to the water. Sure, I could break them straight into the water but I don't have a good history of being able to crack eggs without getting the shell in there.  I assure you, I don't do this part so that I have more dishes to wash.  It also lets me get the eggs very close to the water without burning my hand while trying to break an egg. My middle name is not Grace. I'll add here that you can make as many eggs as you want. I was only making two, for Barry. I don't like poached eggs. I'm weird about eggs. I'll eat them boiled or scrambled, but that's about as risky as I'm going to get.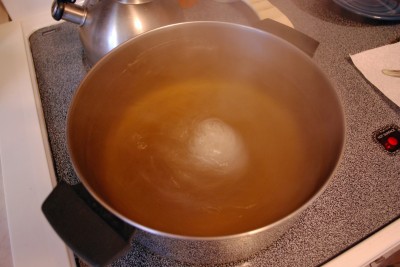 When your water is boiling, add salt and pepper to taste. I added about 1 tablespoon of white vinegar to my 5 quart pot, so you can adjust as you need to. I didn't measure my salt or pepper. I just dumped it in there. I'm all about accuracy around here. So, after that you need to take a big mixing spoon and start stirring your water. Stir the heck out of it. Stir it until it looks like something from the Twister movie. You want it to look like a swirling tornado. Auntie Em! Auntie Em!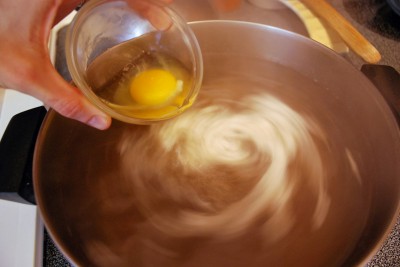 When it's good and swirling, take your little cup with your eggs and get it close to the water. Dump it right it, nice and gentle like.  The swirling motion helps keep the white together. See that white already in the pot? That's my first egg. If you want your eggs all gross and runny like my husband, you're going to cook them in the boiling water for about 3 minutes.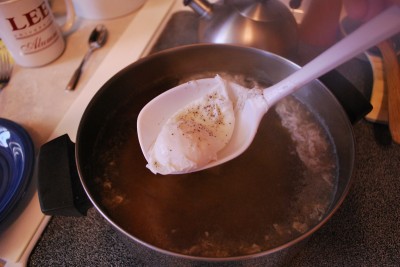 When they're done, you remove each egg from the pan with a slotted spoon. See how the pepper stayed on the egg? I think the swirling helped with that. It's what I choose to think anyway. If you want a hard center, you can just cook it longer. If you're not going to eat your eggs right away then you can set them aside. Keep the water simmering and just before serving, plop them right back into the water for about 30 seconds – 1 minute to warm them back up.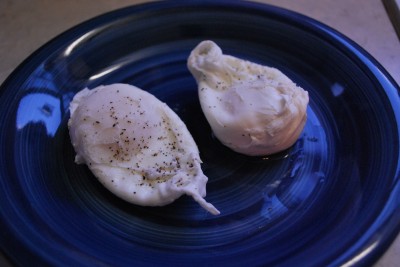 Awwww, ain't they pretty? Barry sure thought so. He gobbled them right down for his Father's Day breakfast. It's here that I would insert a beautiful picture of Barry's favorite breakfast, Eggs Benedict. But I can't do that, because my hollandaise sauce flopped. So imagine it's here and that I never mess up. Thank you.