*We now use a Nutrimill to grind our wheat.*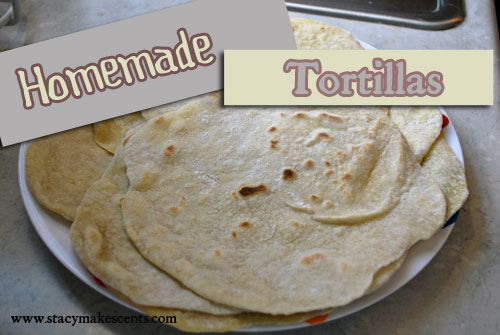 Hola! Me llamo Stacy! Well, that's about all I know. Except "Donde esta el bano?" For those of you that don't habla Espanol, that means, "Where is the bathroom?" I assure you that if you were in a Spanish-speaking country, that phrase would be critical.  Trust me people. Learn it.
Today we're going to make homemade tortillas! Betcha didn't know that you could make them, huh? Thought you could only buy them in the store. Well, surprise!!! They're easy as pie. Not as sweet. Man, I love pie. Now I need to make a pie. Thanks a lot. On with the tortillas!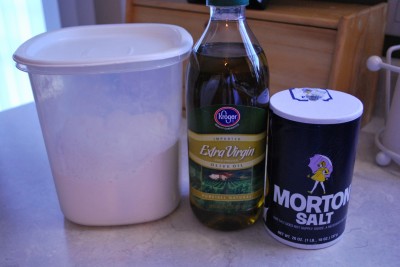 To make these delicious, bready wonders you need flour, olive oil, salt, and water. Water is not pictured. Also you'll need a non-stick skillet and some cooking spray. They're not pictured either. I'm scatterbrained. These are ingredients that everyone should have on hand, so you shouldn't need to run out to the store to make these homemade goodies. What more could you ask for? Pie? Yeah, sorry about that.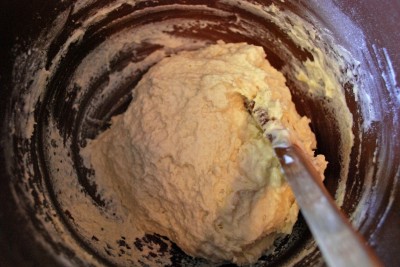 In a large mixing bowl, stir together your flour and salt. To this you want to add olive oil and water. Stir together until mixture resembles biscuit dough. Essentially, you want it to sorta roll into a ball when you're stirring it. Mine was too sticky, so I had to add more flour. I added about ½ cup extra to get it just right.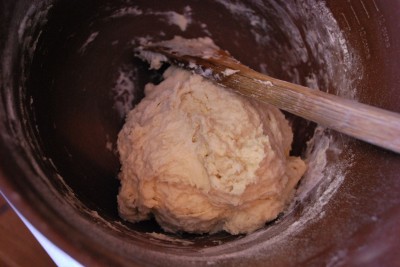 This is good. If it's too sticky, when you put it out on your rolling board, it will just make a big goopy mess.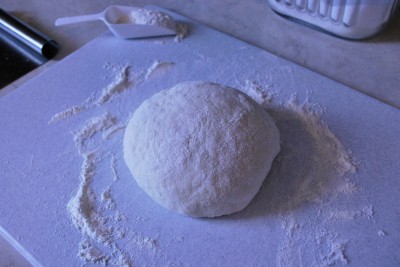 Dump your dough out onto a floured rolling board. I use a large cutting board because I'm waiting for a nice, big house with kitchen countertops that double as rolling boards. Dreams! You want to knead it about 5-6 times until it comes together and is smooth. Don't over-knead it or you'll have tough tortillas. Yuck! You want them nice and flakey. Ok, now you need to divide your dough into 8 pieces. Here is an easy way to do it: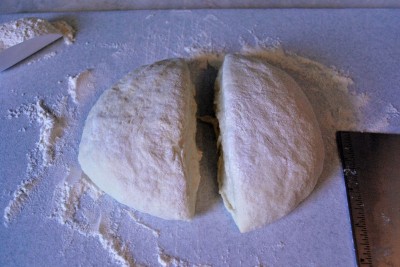 First divide your dough in half.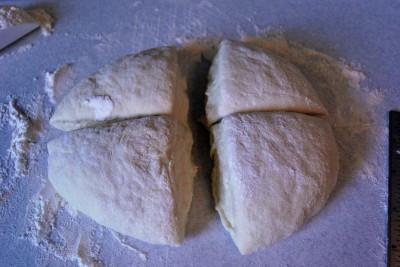 Then cut each half in half, making fourths.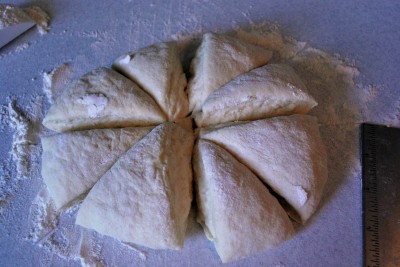 Just repeat, cutting each fourth in half again so that you end up with 8 pieces.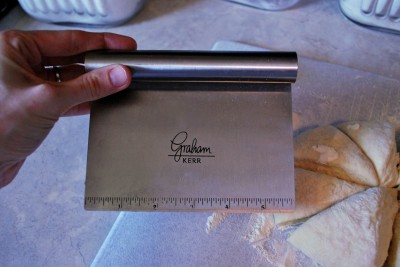 This is my bench scraper. We're in love. I use this puppy for making breads, but you can use it for lots of other things. It's good for chopping. I like it because it scrapes dough off my board quickly and easily. It's great for dividing dough. You really should get one. They're sold at most stores, but this one is from Bed, Bath and Beyond. This is not a paid advertisement. Wait for a 20% off coupon from the paper to BBandB and go indulge yourself. Sorry hubbies.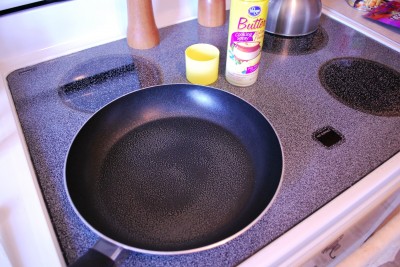 At this point, you want to heat your skillet up over medium heat. Go ahead and spray it with some cooking spray, but we'll talk about that in a minute.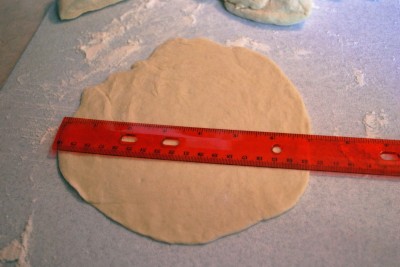 You'll want to roll your little pieces of dough into a circle, about 7 inches. As you can see, mine aren't perfect. I think it makes them look rustic and cute. Plus, it's faster that way and I'm usually in a hurry…..we've talked about this before. Annie and naps, remember?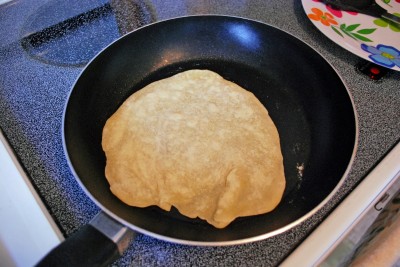 Add your rolled-out dough to the skillet. Cook them for about 1 minute on each side. They might start to puff up, but if that happens you can just squash it with a spatula. That's the fun part. It's like popping a balloon. Weeeee! I'm always having fun in my kitchen. Remove your finished tortilla to a plate to cool. Repeat with remaining tortillas.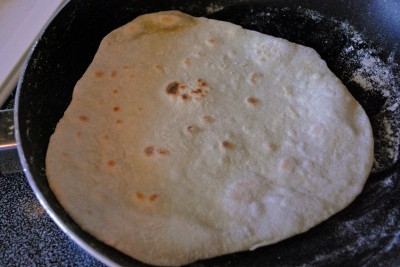 Ok, the recipe says to use cooking spray. I didn't like the residue that it left on my first tortilla, so I quit using it. It made it nice and browned without it. See? I liked it better, but if you want to use spray that's your choice. I'm not here to judge you.
You can store your tortillas in a Ziploc bag  in the fridge. Or, if you like, you can store them in the freezer. You'll just need to re-heat them in the microwave before you use them.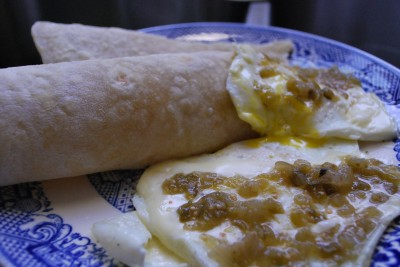 Use your tortillas for tacos, wraps, or Huevos Rancheros. They really are delicious. Even Annie likes them! Store bought tortillas just won't taste as good anymore. You can open your own Mexican restaurant. Ole!
Homemade Tortillas
2 cups all-purpose flour, plus more to make a stiffer dough
½ teaspoon salt
3 tablespoons olive oil
1 cup water
 In a large bowl, combine flour and salt. Stir in water and olive oil. Add additional flour if needed. Turn onto a floured surface; knead 5-6 times.
Divide dough into 8ths. On a lightly floured surface, roll each portion into a 7 inch circle.
In a large non-stick skillet sprayed with cooking spray, cook tortillas over medium heat for 1 minute on each side or until lightly browned. Keep warm if serving immediately.
Store in an airtight container or freeze for later.