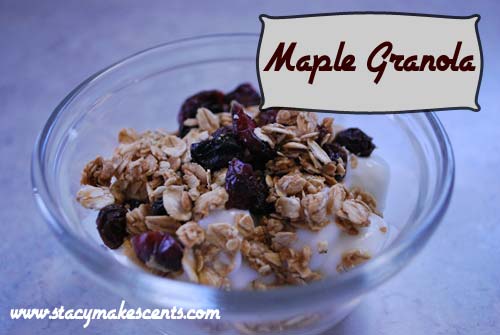 ***UPDATE – See this post about our new eating habits. (7/10/11) I use sucanat instead of the brown sugar now.
Man, oh man. I just love granola! I'm not sure who invented it, but God bless you brother! I love the crunchiness of it. I like how it has just a little bit of sweetness, just like me! I like how it's crumbly so it falls all over your floor and you crunch it into a powdery mess to clean up later. Oh wait, scratch that last part; it probably only happens to clumsy me. You can buy granola in the store……or you can make it at home. I'll just go ahead and tell you that homemade granola is amazing! Those things they sell in the store don't even come close. Now, don't misunderstand me – I do buy those from the store too. IF I have a coupon and IF it's on sale and IF it's a day that ends in Y. So, let me show you how to make your own granola and you'll never look back! I'll warn you though, you will probably see more granola recipes on here. I love it, so I make it in different varieties. I'm just full of variety!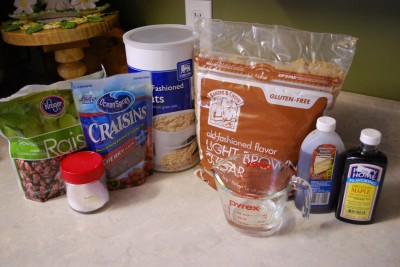 Ok, here is what you need for this particular batch of granola. Basically we're just going to go through the method of making it. Each recipe might call for different items. For this one, I used oats, raisins, craisins, brown sugar, salt, water, vanilla and maple extract. Whew! I love maple extract. It makes me want waffles…..and pancakes…..and french toast sticks. Plus, it makes your house smell divine. Do not rub it on your body as cologne. It will leave black marks and you'll get questions about how you got bruises there.  Trust me.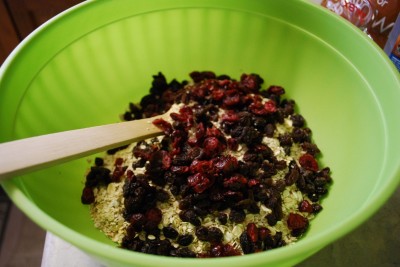 Put your oats and dried fruit in a big bowl. I had raisins and craisins, so that's what I used. You could use any type of dried fruit – apples, apricots, dates. Dried apples are so funny looking. It's weird to me to pick up a limp apple. Normally that would signal that something was VERY wrong with your apple.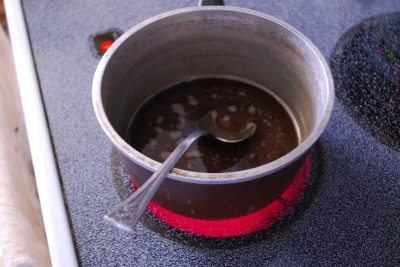 Now, you're going to put your brown sugar, salt and water in a saucepan. Heat it up on medium/low until the sugar dissolves. You don't need to boil it or anything, unless you walk away for two seconds and it starts boiling anyway. If that happens, do not freak out.  Just pretend like it didn't happen. Moving on!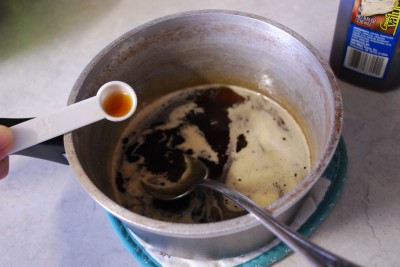 Pull your pot off the stove and add the extracts. Inhale the maple flavoring, but don't drink it. It doesn't taste as good as it smells. Why the heck is that anyway? It's like some kind of cruel joke.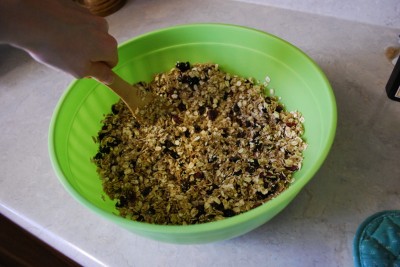 Get a big honking spoon and pour the brown sugar mixture over the oats and fruit. Stir, baby, stir! Make sure you get it all good and coated. Don't leave any little oats out, they love sugar. It's fun to stir this – I'm not sure why, but I had a blast. Yes, I realize I'm abnormal.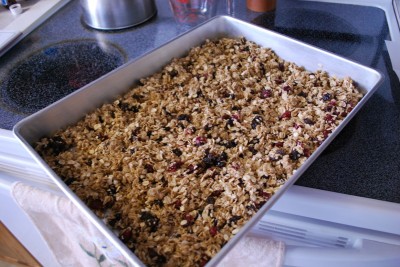 Now, you can use a cookie sheet or a cake pan. I chose to use a cake pan because I have a BAD history of stirring things into the floor – I guess it's because I have a blast stirring things and I get out of control. The sides of the pan give me a little room to have some stirring fun! If you're brave, use a cookie sheet. I'll envy you. So, grease your pan with cooking spray and dump the granola mix right on it. Spread it out nice and even.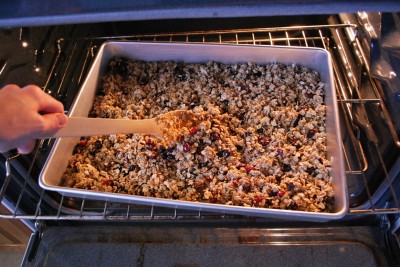 Heat the oven to 350 degrees and pop your pan right in there. Every 10 minutes you'll need to stir. This is easier said than done when you have a little child who is VERY interested in what might be in that oven. Stir with one hand, use the other to keep a child at bay. I'm getting really good at multi-tasking. I just thought of Hansel and Gretel. The witch just wanted to pop them right in the oven – she needs to practice multi-tasking. Back to the granola!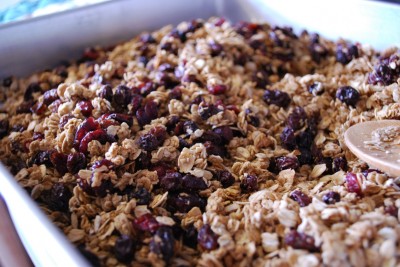 You'll bake it until it's nice and golden….and smelly! Boy does  it smell good! I think mine baked 30 minutes. You'll leave it to cool a little bit. You can dump it out on wax paper to do that if you want, but I just kept stirring mine every few minutes. Yes, I do like to stir as I've already told you.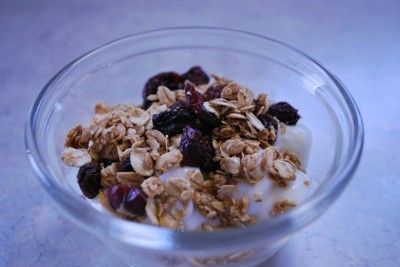 Now you can eat it plain (like Annie), with milk (like Barry), or in yogurt (like the normal person would – me)! Talk about tasty! It was delish.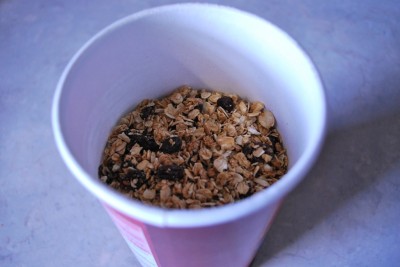 Now, to store this stuff you can put it in a container with a lid, like Rubbermaid. I just happened to have emptied an oatmeal canister making this batch, so I dumped my granola right back in there. It keeps it very well. I like to reuse things. Oatmeal canisters are great for stuff! Annie loves playing with them too. She keeps her old toy remote in there.
Maple Granola
8 cups old-fashioned oats
1 cup raisins
1/2 cup chopped dried apricots
1/2 cup dried cranberries
1-1/2 cups packed brown sugar
1/2 cup water
1 teaspoon salt
1 teaspoon maple flavoring
1 teaspoon vanilla extract
Milk or yogurt
In a large bowl, combine the oats, raisins, apricots and cranberries; set aside.
In a small saucepan, combine the brown sugar, water and salt. Cook and stir over medium heat for 3-4 minutes or until brown sugar is dissolved.
Remove from the heat; stir in maple flavoring and vanilla. Pour over oat mixture; stir to coat.
Transfer to two greased 15-in. x 10-in. x 1-in. baking pans.
Bake at 350° for 25-30 minutes or until crisp, stirring every 10 minutes.
Cool completely on wire racks. Store in an airtight container. Serve with milk or yogurt. 
Yield: 9 cups.