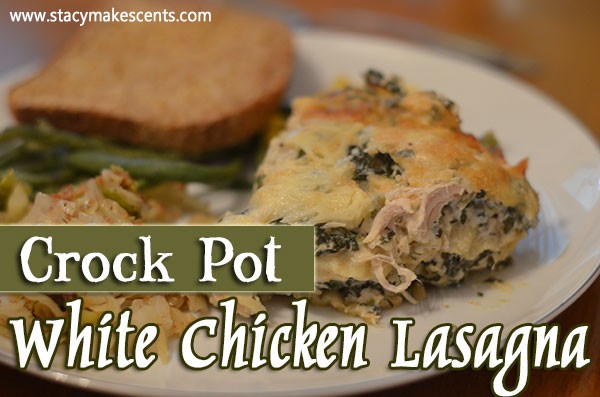 Y'all have read about my list making obsession. I've told you about the list I keep of things to do and eventually I cross them off. I've also told you that in the past little bit, I've gotten overwhelmed and nothing was getting crossed off my list. Now that I've remedied that, I find that crossing things off my To-Do list is a great kind of therapy for me. You should try it some time.
So, this is one of those things that was on my list. Now it's crossed off. Add to that, the fact that it includes a crock pot, and you know I'm pretty tickled with myself. In this family, we really enjoy Crock Pot Lasagna. I even have a Black Bean version in my Crock On Cookbook. So, this is just another doozy to add to my arsenal. It's great for serving to company. So, let's hop to it!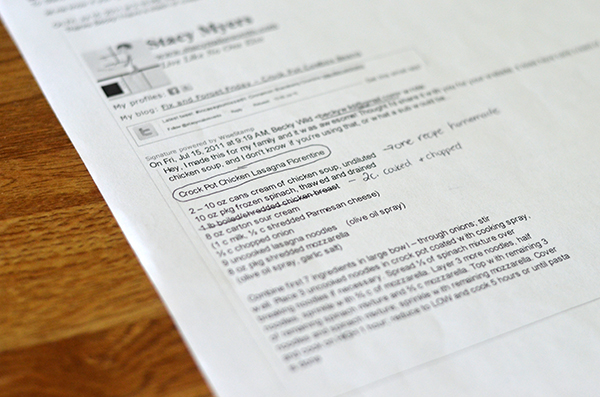 I would like to take just a minute to make a formal public apology to my high school friend, Becky. Girl – I am so lame. You sent this recipe to me to re-make when we first starting this "real food" journey. I printed it…and guess what? I kept track of that piece of paper for over TWO YEARS! I didn't lose it when we moved. I didn't lose it when we lived with my mom. And I didn't lose it when we moved into our new home. It's a miracle, y'all. This lasagna was MEANT TO BE. It's spiritual – I feel the Holy Ghost.
Sooooooooooooo, on to the recipe! The original version called for cans of cream-of soup – and well, we just don't go there anymore.  I concocted my own little "soup" mixture and it was the bomb diggity – do people still say that?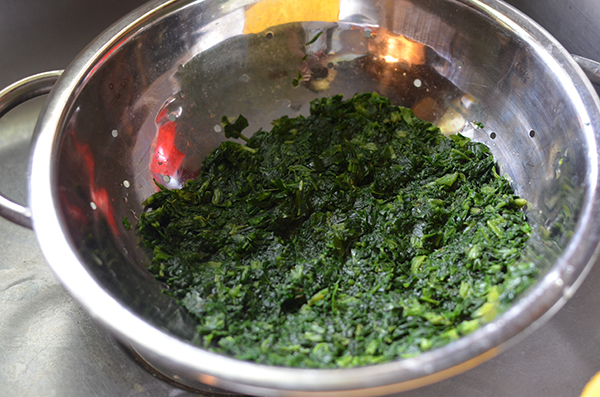 I love having spinach and chicken together. It's a good vegetable to just throw into random things, like Red Chicken…but not smoothies. I cannot get into the green smoothie thing (I'm sorry, Nikki). This recipe uses one package of frozen chopped spinach. You let it thaw and then squeeze the water out. I always do this by putting it down into a colander and pushing down to let the water drain out. It's good stress relief.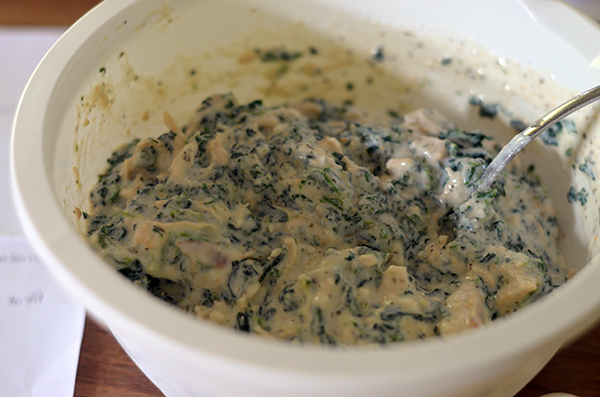 Make the "sauce" and mix it all together in a bowl. If your chicken is already cooked and your spinach already thawed, this meal comes together really fast. I always keep cooked chicken in my freezer – I try to cook whole chickens regularly for that purpose. Having food prepped in advance can save you SO MUCH TIME. So, I always try to make my kitchen time count by multi-tasking. Making breakfast? While I'm frying pancakes, I might also be chopping veggies for dinner.
I love being a multi-tasker…is that just a woman thing? Because, I have noticed that most men don't do that…just ask Tim Hawkins.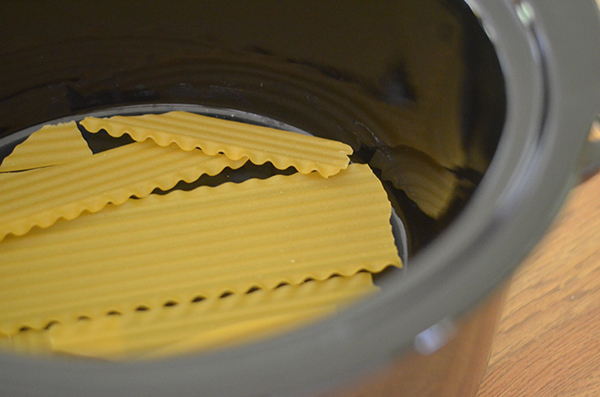 I love that you don't have to boil the noodles for crock pot lasagna. You just put them in there un-cooked and they cook along with the other ingredients. I told y'all this whole thing was a miracle. Ain't nobody got time for cookin' noodles! Just break them to fit the shape of your crock. Anything goes. But warning, when you try to break pasta, it jumps all over the kitchen.
This is a really fantastic meal. And I'm so glad Becky sent me the idea….two years ago. Man, cutting back has really freed me. 🙂 You should try it. Sorry, Becky! Love ya, girl.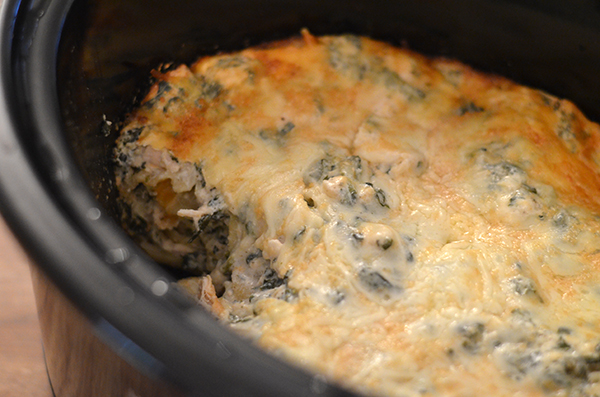 Crock Pot White Chicken Lasagna
1 cup ricotta cheese
1 cup sour cream
½ cup plus 2 tablespoons milk
¼ cup Parmesan cheese
2 teaspoon Italian seasoning
1 teaspoon salt
½ teaspoon garlic powder
½ teaspoon pepper
½ teaspoon onion powder
9 lasagna noodles, uncooked
2 cups chopped cooked chicken
10 ounces frozen chopped spinach, thawed and drained well
8 ounces mozzarella cheese, shredded or sliced
Combine ricotta, sour cream, milk, Parmesan, seasonings, chicken and spinach. Stir well.
Place 3 lasagna noodles in the bottom of a greased 5 quart crock. Break to fit.
Spread with 1/3 of the chicken mixture.
Sprinkle with 1/3 of the cheese.
Repeat layers, ending with cheese.
Sprinkle with additional Parmesan.
Cover and cook on low 3-4 hours or until noodles are done.
Yield: 6-8 servings