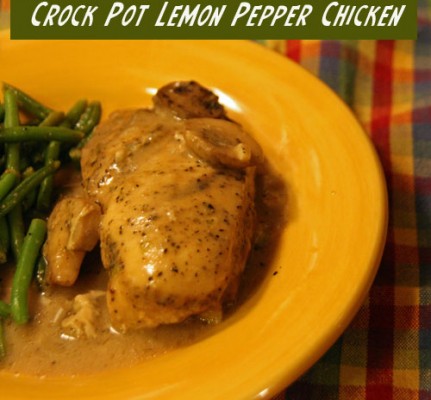 I may not be the crock pot queen like Stacy here, but just reading her blog has given me a new found love for mine. I even asked (and received) a new, 7-quart slow cooker for Christmas. Yes, I think I am in love!
Lemon Pepper Chicken has been a favorite of my family's since my husband and I got married. Actually, he taught me how to make it–before he "forgot" how to cook. 😉 I previously baked it in the oven, but it's even better in the crock pot!
Easy, creamy–and most definitely a comfort food, this simple and delicious meal is sure to please both guests and family alike.
Without further ado, here's today's recipe for Easy, Creamy Lemon Pepper Chicken! I hope your family enjoys it as much as ours does!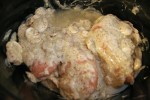 Creamy Lemon Pepper Chicken
Place chicken breasts on the bottom of your slow cooker. I don't even grease mine, but you might if you are afraid of things sticking. Sprinkle chicken with lemon pepper.
Mix soup, milk and 2 Tbsp. lemon pepper.
Add mushrooms to soup mix.
Pour soup mixture over chicken in the crock pot. Add chicken broth.
Cook on low for 6 hours or on high for 4 hours.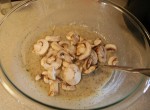 That's it! Easy Peasy! I often serve this chicken over rice with a side of green beans or asparagus and some garlic cheese biscuits.
*Notes: Although this recipe calls for cream of chicken soup, like the Myers, our family has been on a journey towards eating healthier. You can use the store-bought stuff in this recipe, but, please, promise you will at least try to make your own. It really is easy, and the store-bought stuff is full of junk. Stacy makes it this way, and this is how I make mine.
I purchase our lemon pepper seasoning in bulk at our local health food store. We LOVE lemon pepper at our house! I encourage you to check the label if you buy it at the grocery store. We previously used lemon pepper with MSG and didn't even know it! I eventually want to try to make my own!