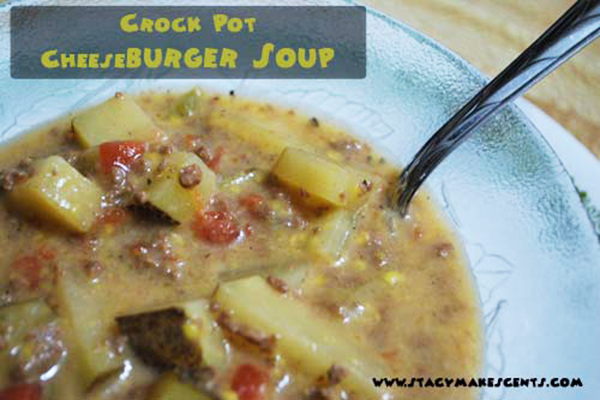 I have an obsession with all things cheeseburger. It's a problem sometimes – it causes me to wake up at 3 am and seriously consider traveling somewhere to get one…pregnant or not. I dream up ways to create dishes that taste like cheeseburgers…things like Cheeseburger Pizza and Cheeseburger Meatloaf, and sometimes I live dangerously and just eat a plain cheeseburger. Shocking, I know. I have yet to try Pioneer Woman's Cheeseburger Salad, but I assure you – it won't be long.
I've made Cheeseburger Soup several times in the past, but I never thought to try it in my crock pot until one day I thought of it in the bathroom. Not sure about you, but it seems I have my deepest thoughts in there…maybe it's because it's the one place I get to be alone…or maybe it's because I just think about cooking no matter where I am – that's more likely the reason. And never mind, I don't even go to the bathroom alone – it's like a party in there.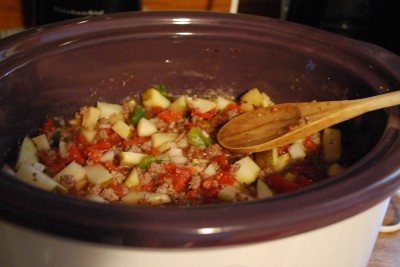 This is a great soup to make on a cold day…or a day that you're going to be gone for a while. Or a cold day where you'll be gone for a while. Pick one of those.  You just throw your veggies in the crock and let them cook until tender. Later you come back and add the thickening and cheese…can't forget the cheese. That would be against my religion. Amen.
I left the peeling on my potatoes because we're a fiber-loving household. You can take the peel off if you are a weenie or if fiber scares you. Fiber and me, we're tight.
Just an FYI – When I make this, I prep the ingredients the night before while I'm making dinner. I chop the potatoes and cover them with water then place in the fridge…and I brown the hamburger and put it in there too – then I can just throw everything together in the crock the next morning.
Follow @stacymakescents on Instagram for daily meal inspiration!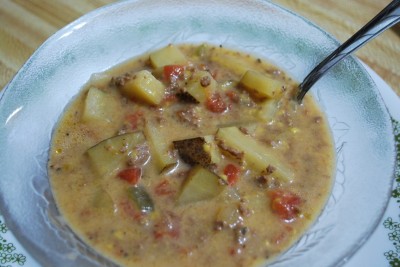 1 pound ground beef, browned
½ cup chopped onion
½ cup chopped pepper
1 can diced tomatoes (14.5 ounce)
1 teaspoon salt
1 teaspoon oregano
½ teaspoon pepper
3 cups beef broth
4 cups diced potatoes
¼ cup flour (I used white wheat)
1 cup milk
8 ounces cheddar cheese, shredded
Combine the beef, onion, pepper, spices, tomatoes, broth and potatoes in your crock (I used a 5 quart).
Cover and cook on low for 8 hours.
About 30 minutes before it is time to eat, combine the flour and milk. Whisk until no lumps remain.
Stir into soup.
Add cheese and stir again.
Cover and cook until soup is thickened…about 30 minutes.
Yield:  6-8 servings