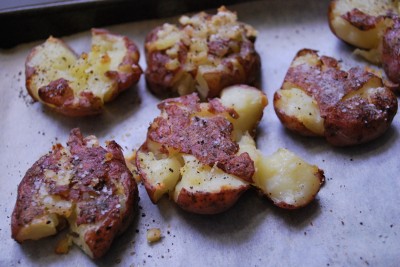 When I first read this recipe, it made me drool. Then I realized I was leaning over the computer, so I had better be careful of electric shock. I knew I HAD to make it. There was no maybe about it. It. Is. Delicious. This is the way potatoes were meant to be cooked! I've also tried it with sweet potatoes, using different seasonings and it's wonderful as well. Sit back and watch me make these puppies, then make them yourself. (**Recipe from The Pioneer Woman**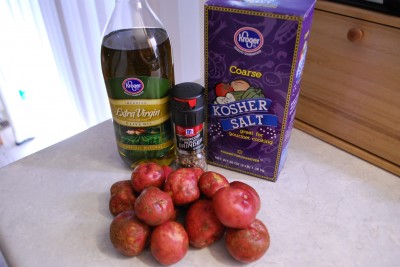 We need baby potatoes (I used red because that's what we had, but you could use any new potato), olive oil, salt, and pepper. The seasonings could be varied according to your tastes. Barry and I love kosher salt and fresh pepper, so I decided to keep these simple. Fresh pepper will change your life…..it makes food come alive! You're missing out if you don't use it. Kosher salt has larger grains, so it takes less for a big taste. I'm not Jewish, but I love kosher salt. Shalom!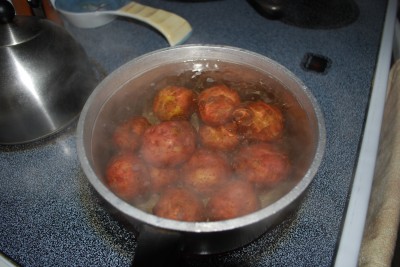 First you want to boil your potatoes until they're fork tender. We don't want them so soft that they fall off the fork, but we do want them done. I think I boiled these about 15 minutes, but I'm not sure about that. I turned around and Annie was taking a bath in Dottie's water dish, so I kinda got distracted. Oh, and leave the skin on. It's good poopy power.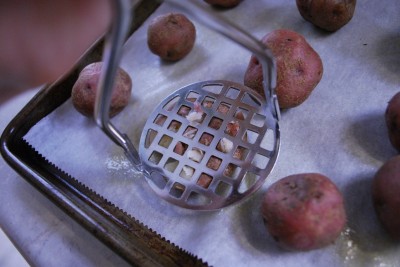 Drain the potatoes and place them on a cookie sheet that's been greased or brushed with olive oil. I used parchment paper under mine because I didn't want to scrape bits of crusty potato off it later.  Foil would work fine too. Now, pull out your dusty potato masher that you never use. If you don't have one, you can get them at the Dollar Tree. Guess how much they are? Now, mash your potatoes. Just smush them a little, making sure they stay intact. We want them to stay in one piece, but we want the flesh to show so that we can flavor it and get it all nice and crispy-like.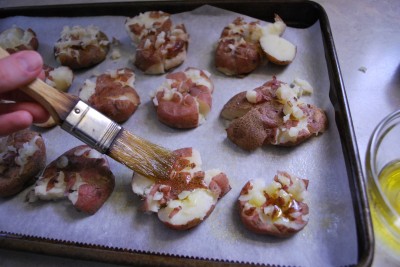 Now, brush a little olive oil on top of each potato. This will help it get a nice crispy touch in the oven. I love crispy potatoes!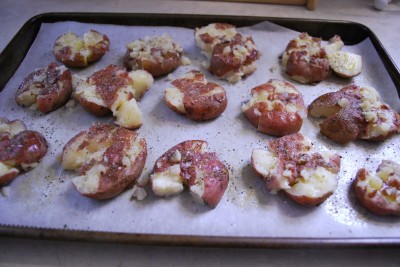 You can sprinkle whatever seasonings you want now. Like I said, I went simple this time and only used salt and pepper. You could use seasoned salt, thyme, rosemary, chili powder, basil, garlic, oregano, or cayenne pepper if you're feeling crazy. The olive oil helps the seasoning stick. It's like baking glue. This is not a time for moderation. Really lay the seasonings on!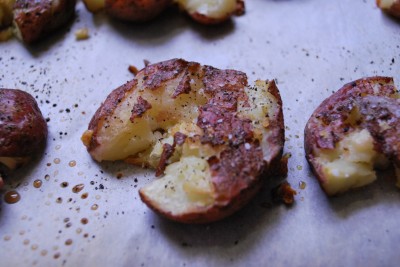 Bake them at 450 for about 20-25 minutes or until they get really good and crispy. Wow! Don't they look delish?! Trust me, they were awesome. We ate them with ketchup, but they didn't even need that. We just really love ketchup. No ketchup = Myers mutiny. Did you know this recipe was Australian? Well, at least that's what I read. I believe everything I read.
Crash Hot Potatoes
12 whole new potatoes, or other small potatoes
Olive oil
Kosher salt
Fresh pepper
Other seasonings of choice
Bring a pot of water to a boil. Add potatoes and cook them until they are fork-tender – that means you can pierce them with a fork.
Grease a sheet pan or use a piece of parchment paper. Place potatoes on the cookie sheet.
With a potato masher, gently press down each potato until it slightly mashes.
Brush the tops of each mashed potato with olive oil.
Sprinkle potatoes with kosher salt, fresh ground black pepper and your seasonings of choice – seasoned salt is AWESOME!
Bake in a 450 degree oven for 20-25 minutes until brown and crispy.
**Original recipe from The Pioneer Woman**