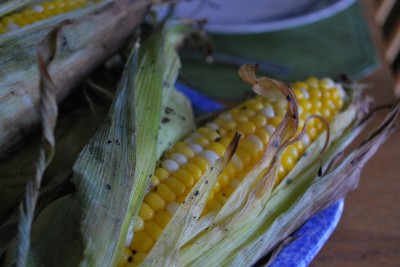 Yum! Fresh corn. It makes me want to sing! Ahhhhhhhhh!!!! I've always been a corn lover. My parents grow it on our farm so we have it fresh during the summer. Mom and I freeze it too so that we have it all winter long. It always seemed strange to me to see people buying fresh, un-husked corn at the store. Well guess what? Our farm corn isn't ready yet so I became strange to myself and bought some so that I could show you how to grill it. The sacrifices I make! Let's fire up the grill!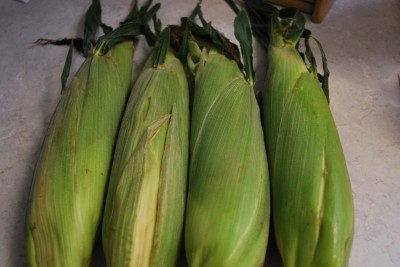 For this demonstration I only grilled 4 ears, but you could do as many as your grill would hold. Our grill is small because we're only three people and can only eat so much…..trust me, because I put it to the test regularly. Always check your ears of corn at the store to make sure they look nice and pretty. You don't want to just pick some, bring them home, husk them and find that there aren't many kernels on there…….or even worse, WORMS! Ick, ick, ick! I HATE corn worms. Oh my gosh! They make my skin crawl. It's crawling now! AHHHHHHHHHHHHHH!!!! So, like I said – check your corn.
You want to pull the husk back until it almost comes off, but leave it attached. You're going to recover the corn later. Silk the corn and get all those little stringies off. Make sure you drop some in the floor so that your daughter can pick them up and put them in her mouth before you catch her. Also, leave some there to clean up later as they will fossilize themselves to the floor in less than 5 minutes. Fun times.  Usually I use my designated corn silk brush, but I couldn't find it. It's MIA. I think I might have left it at mom's. So, I found this little mini substitute in my drawer. Where it came from,  I have no idea. But it worked and that's what matters.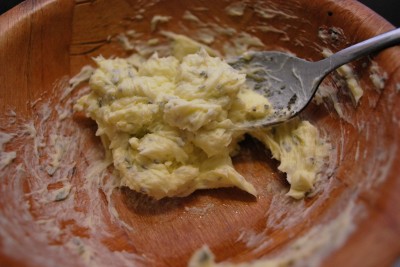 Now, because I love Paula Deen and Pioneer Woman I am dedicating this paragraph to butter. Ah, butter. It makes me smile….it makes me slobber. It makes me jiggle. And it's good. I don't care what you say, butter is GOOD. So quit your whining and use it for heaven's sake. Just don't eat the whole stick. Moderation! Anyway, you want to make a butter mixture to spread on your corn. I used about 1 tablespoon of butter per ear.  I softened it so that I could stir it. You can add whatever seasonings float your boat. In this batch I used basil, sugar, salt, and pepper. That's it. You could use cumin or chili powder for spicy corn. Or rosemary! Yum!!! Stir it up real good. Stir your butter – that just sounds right doesn't it?
Now, take a knife and coat your corn really well with the butter. Make sure you get it all the way around. We don't want any naked corn! When it's covered, take the husk and pull it back up to completely cover the butter mixture. Normally you would tie it up with some kitchen string, but I was out…….so I used what I had as usual. Rubber bands. Do not judge me. They worked fine and I knew I would take them off before grilling them. I didn't want to set the deck on fire.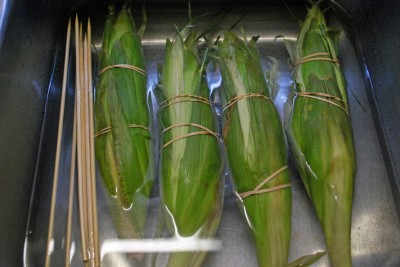 Now we need to soak the corn for about 30 minutes. We want it to get nice and wet so it doesn't burn on the outside too badly. I ran a sink of cold water and soaked mine in there. The corn floats though, so I had to put a pan on top of the corn to keep it submerged. You could also use a big stock pot full of cold water. I was also soaking skewers in the sink for kabobs.
If you use rubber bands, please take them off before grilling!!!!!!!!!!!!!!!!!!!! Rubber bands catch on fire. Explain that one to the fire department.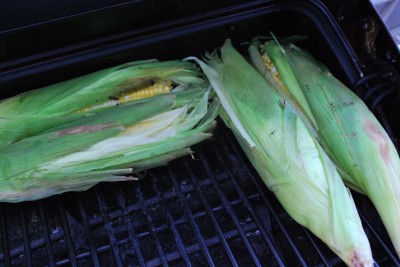 Turn your grill on medium and slap those babies on there! You'll grill them for about 25-30 minutes, turning regularly to avoid burning. My grill is icky. It adds to flavor. Yes, it does!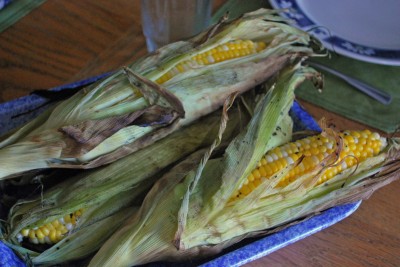 Remove from grill and serve while hot…..but not too hot or you'll burn your fingers. I know. It's so delicious! You'll want it every day. You'll dream about it and ask for it at breakfast. It's easy too, so what's keeping you from making it today? Even Annie likes it!