Post by Contributing Author, Julie of Domestic Contessa
Apple season is here! When apples are in season, not only can you find the juiciest, most crisp and delicious apples, but they're available for really low prices. And I think we all know what that means… Apple Cobbler, Apple Crisp, Apple Pie, Homemade Applesauce, Apple Cookies. And as if all the sweet recipes popping up on blogs, Pinterest, and cooking magazine covers aren't tempting enough, I'm here to share a few more ways you can enjoy an apple a day… for dinner!
In my house, we eat apples for breakfast, lunch and dinner – and snacks in between! And while I love an apple pie as much anyone, I would much rather prepare savory apple recipes. So today, I'm sharing with you some of my favorite ways to enjoy apples for dinner, including a super easy and delicious recipe for the Crockpot: Sweet & Spicy Chicken with Apples & Bacon.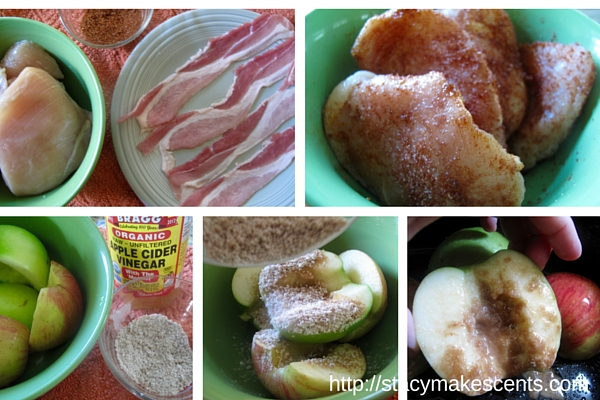 About 6 years ago, I started making one of Paula Deen's appetizer recipes for parties and family gatherings: her Sweet & Spicy Bacon-Wrapped Chicken Bites. It was a huge hit with my family and friends.  I mean, how can you go wrong with a cup of brown sugar and a pound of bacon? 😉 The flavors in that appetizer were the inspiration for this easy crockpot dinner version recipe. (I also included a note at the bottom for how to cook this in the oven, if you would prefer that over the crockpot.)
Hopefully you are inspired by these recipes to come up with even more savory ways to enjoy the season's bounty of apples for dinner. And, I would love to hear from you 🙂
What creative ideas have you come up with to use apples in your cooking and baking?
Crock Pot Sweet and Spicy Chicken with Apples and Bacon
-4 chicken breasts
-3 Fuji or Granny Smith apples
-4-6 slices of bacon
-1/4, plus 3 tablespoons brown sugar
-1 tablespoon chili powder
-1 tablespoon corn starch, optional
-1 tablespoon apple cider vinegar
-1 1/2 teaspoons salt (sounds like a lot, but it really helps enhance the other flavors!)
Spray the crockpot with nonstick spray. Core and halve 3 apples, but don't peel. Stir together 1 tablespoon of corn starch with 3 tablespoons of brown sugar. You don't have to use the corn starch, but I find that this helps absorb some of the liquid that the apples give off and keeps the "sauce" from getting too watery.  Drizzle the apples with 1 tablespoon of apple cider vinegar. Toss the apple halves with the brown sugar mixture. Lay the apples, cut side down in the bottom of your slow cooker.
Combine 1/4 cup of brown sugar with 1 Tablespoon of chili powder, and 1 teaspoon of salt. Coat each chicken breast in the spice mixture and wrap up carefully in a piece (or two!) of bacon. Lay the bacon-wrapped chicken breasts directly on top of the apples. Cook on high for 2.5 – 3 hours or on low for 4-5. Check the seasoning and add the other 1/2 teaspoon of salt as needed. Serve the chicken breasts along with a few spoonfuls of the sauce and one or two halves of cooked apple. A great side for this meal would be green beans or a green salad.
Note: I have learned the hard way that every crockpot is different. If you want to ensure the chicken doesn't become to dry or will not be home to check it, you could try using split chicken breasts on the bone or maybe chicken thighs instead.
Another note: If you want to prefer to bake this dish in the oven, instead of use your crockpot, preheat to 350 degrees and place bacon-wrapped chicken and apples in a baking dish. Cook for 35-40 minutes until bacon is crispy, chicken juices are clear, and the apples are tender.