When I first started hearing about all the wonderful benefits of coconut oil, I was a bit skeptical. Mainly because the price was so much higher than the canola oil that I had been told was healthy…but hey, now I'm skeptical about just about everything that "they" say is good for me (especially after a nurse told Barry he should be eating margarine). I've really embraced healthy fats and I do know the benefits of good fats are very important – no matter what that bizarre nurse said – and no, I do not have something against nurses…some of my friends are nurses and my brother-in-law is a doctor, so don't be giving me any lip. 😉
I get a lot of emails from you all asking where I buy my coconut oil and what kind I get. So, I thought I would just go ahead and do a post on it so I could direct you all here and save me some time. 🙂 I'm all about streamlining now that we've started homeschool. I <3 time savers.
First off – we do mainly use these three oils now: coconut oil, palm shortening and olive oil, along with the good old standby, butter. That's about it. I do use a few other oils like grapeseed and sesame occasionally, but these are my main healthy fats. I try to make sure we get coconut oil daily in some form or fashion – which isn't too hard because I love it.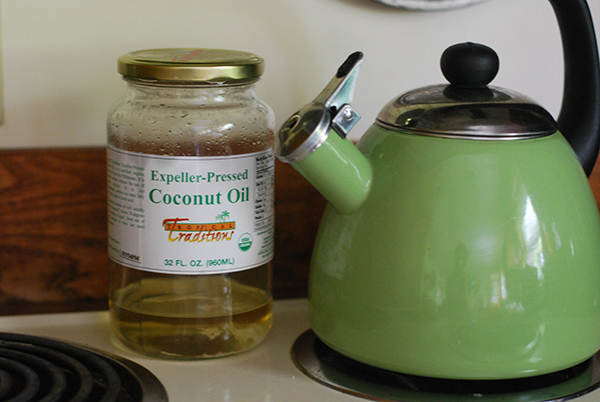 First, let's get something out of the way. Not all coconut oils are created equal. When I first started out using coconut oil, I went with the cheapest thing I could find. I didn't know much about it and I wanted to get my feet wet before skinny dipping. The oil in the first photo is what I used for about a year. I found it locally and it got the job done. Is it the best? Heck no…but it was better than canola or vegetable oil. So just because your budget is low, don't let that keep you from making the coconut oil switch.
Each one of us is in a different spot in our budget life. Not every one of you can afford the best oils. And guess what? THAT'S OKAY!!!!!! Yes, I said it. You won't get condemnation from me for buying LouAnn coconut oil from Kroger. Ya know why? Because it's better than vegetable oil. And if someone tries to tell you different or make you feel bad, send 'em to me and I'll box their ears. Buy what your budget affords – and tell those high falutin' foodies to shut their trap. Amen.
Now, I don't buy the same coconut oil every time. I buy based on who is running a sale and what my budget currently looks like. All of the oils I'll mention below are good…I like them all and use them all.
Dear FTC: all of the links below are affiliate links. I thought I would let you know and cover my behind. I'm sure you won't use them, being part of the government you likely still use the food pyramid. Ahem.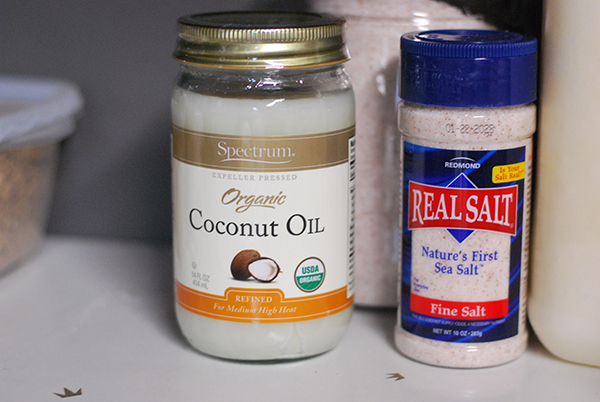 Tropical Traditions is my favorite, hands down. It's GMO free and doesn't go through chemical processing – and in my opinion, tastes the best of any other oil out there. I like the Gold Label Virgin coconut oil and the Expeller Pressed for those times when I don't want a coconut flavor. I wait until they run a sale with free shipping – that's also when I buy palm shortening.  If you sign up to get their emails, you'll be notified when there is a sale.
Spectrum Coconut Oil
Every once in a while, Spectrum puts out a $3 off coupon…and sometimes Kroger runs a sale. So that's when I buy the 1 pint jars of Spectrum oil. It is not coconut flavored. I follow Organic Deals and she alerts you when there is a coupon for this brand. I love it for frying eggs. YUMMORAMA.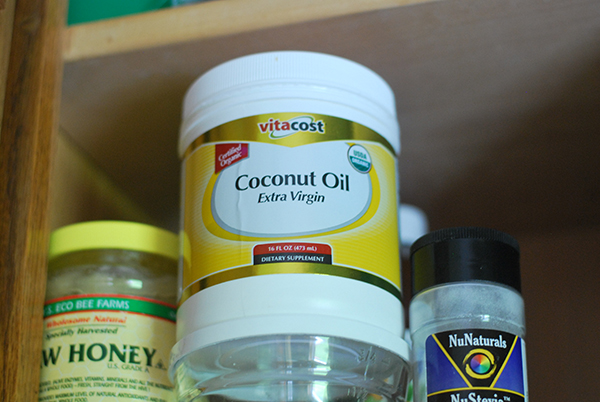 Vitacost Virgin Coconut Oil
I love the coconut oil from Vitacost. It is virgin, so it has the coconut taste. I could eat it right off the spoon. And have. Don't be hatin'. I've not noticed a difference in quality just because it's a "store brand." It smells fantastic and I want to rub it all over my body.
They occasionally run fantastic sales on it and you can get it for a GREAT deal…especially since you get free shipping with a $25 Vitacost order. HOLLA! If you have never ordered from Vitacost, you can use my affiliate link and save $10 off your first $30 order, which makes your savings even better! Heavenly Homemakers is really good about alerting you when there are deals on Vitacost.
Trader Joes Coconut Oil
I really love Trader Joes coconut oil…and yes, I know there are posts out there about how Trader Joe's is hiding something. I'm hiding something too – my panties. But you don't want to see them, trust me. I don't want to see Trader Joe's panties either – considering he's likely a man and shouldn't be wearing panties. The quality of this oil is fantastic – it also smells good enough to apply all over your body – in private…where you're hiding something.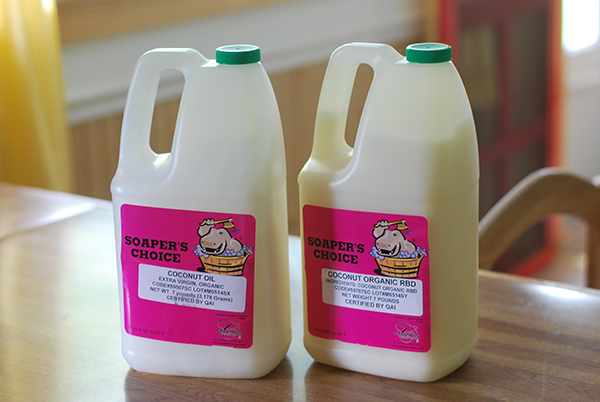 Soaper's Choice
I was alerted to this site by my friend Mindy at Creating Naturally. Yes, it's a site that sells soap supplies – but did you know some people use the coconut oil for soap? WHO KNEW?! This oil is VERY reasonably priced – so if you want to get some good coconut oil but you don't have the budget for Tropical Traditions right now, I would totally go with Soaper's Choice. Shipping is very reasonable. I like the 7 pound extra virgin organic and the 7 pound refined organic coconut oil (no coconut flavor).
I let my jugs (Jugs of OIL, not my actual jugs. Ahem.) get warm so the oil melts and then I portion out into glass mason jars. I really like this oil too – thanks, Mindy! Very high quality stuff. And yes, I said jugs.
I do not personally buy LouAnn coconut oil – but I have purchased the cheaper stuff from Golden Barrel. Again, don't go over budget just to buy what "other people" tell you to buy. Start small – cheaper coconut oil is better than none at all. 🙂