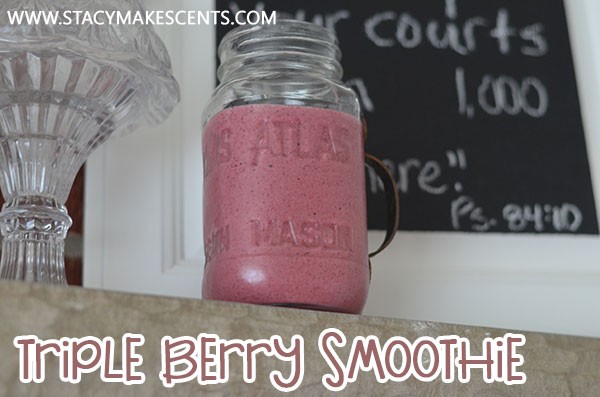 I've been on a smoothie kick. If I see a new recipe, I usually make it…unless it's got spinach in it – I'm still learning to love green smoothies. Or anchovies. Not ever gonna make a smoothie with anchovies in it. *Shudder*
My favorite way to enjoy smoothies is with frozen berries instead of ice cubes. Sometimes I do make a coffee flavored smoothie and use coffee ice cubes, but for the most part I prefer frozen fruit to give it the thickness and body – and yes, I realize that sounds like a hair conditioner commercial. Using fruit instead of ice helps keep the smoothie from tasting too watered down. No one wants a watered down smoothie – or an anchovy smoothie. *Shudder*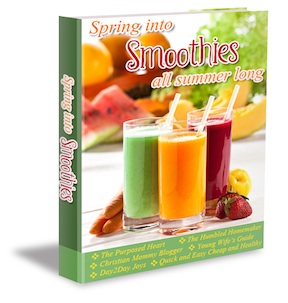 We're hitting up another eCookbook in my Cooking Through Stacy's Stash series. This time it's Spring Into Smoothies All Summer Long. It's an entire eBook dedicated to healthy smoothie recipes…and most of them are easily converted to Trim Healthy Mama status….and even if they aren't, they give you a GREAT starting point for ideas.
Guess what? THIS BOOK IS FREE!!!!! Yes, I realize all caps is SCREAMING – but hey…if a gal can't get excited over a free eBook about smoothies, then what can she get excited about? Get this free eBook when you subscribe to Christian Mommy Blogger.
This book is a collaboration between some of my very best blogging BFFs…girls that I love. I love their recipes too…because if I didn't, I would tell them. Friends do that. Friends tell friends when their recipes are nasty…it's a code of conduct. Friends also tell each other when their skirt is tucked into their pantyhose. True story. You'll find recipes from: The Humbled Homemaker, Christian Mommy Blogger, Authentic Simplicity, Creating Naturally, Young Wife's Guide, and Day2Day Joys.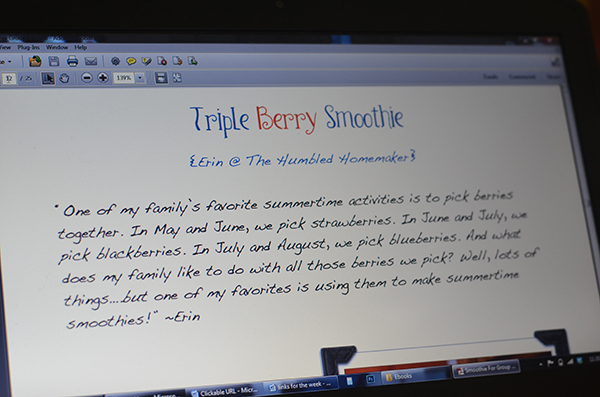 I chose this recipe for Triple Berry Smoothie from The Humbled Homemaker .
I pulled the berry amount back to 1 cup total and I used almond milk instead of yogurt. I also sweetened with stevia instead of fruit juice and added some extracts and whey protein to give an extra protein boost. It. Is. Stinking. Awesome. Going straight into the keepers file.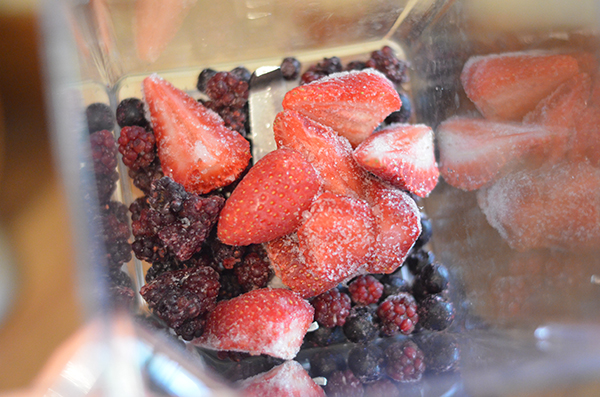 Let me tell you something about this recipe…don't leave out the lemon extract. Really. It gives this smoothie a depth of flavor and a little extra somethin'-somethin'.
Also, make sure to use frozen fruit and not fresh – it works best. If you only have fresh, sock your berries in the freezer for a few hours. Bingo. Problem solved. I love solving problems…unless I want to whine. Then I just want Barry to listen. Can I get a witness?!
I really love how this one turned out – it's going to be a regular on our meal plan. It's nice to have good friends with free Smoothie eCookbooks…don't you agree?
Triple Berry Smoothie
1 cup total of berries: strawberries, blueberries, and blackberries are good
½ cup almond milk
Stevia to taste
½ teaspoon vanilla extract
¼ teaspoon lemon extract
½ scoop whey protein powder (I use Swanson)
Combine all in blender and blend until smooth. Serve immediately.
Yield: 1 serving