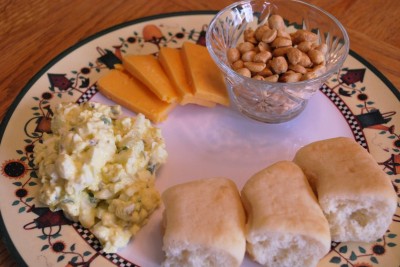 This is the last of the recipes that Smart Balance sent me to try. I have to say, it was my favorite! Now, if your spouse doesn't like egg salad, this might not be the case for you……if you catch my drift. Boiled eggs = funny smells. However, if you both eat it then that is cancelled out. It's true. The same goes for garlic or red onions. I speak the truth. Oh, and what you eat standing up doesn't count.  This recipe would be great for a light lunch.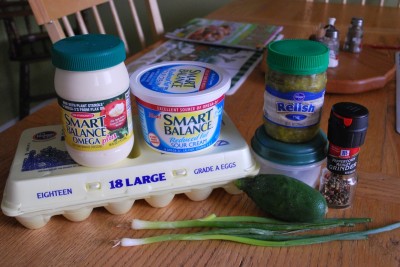 We'll need eggs (bet you didn't expect that!), Smart Balance mayonnaise, Smart Balance sour cream, green onions, cucumber, salt, pepper, and relish. Now, the recipe called for sliced celery……but I didn't have any. I did have cucumber, so that's what I used instead. I seeded the cucumber so it wouldn't make the salad soupy. Soupy egg salad? EW!!! If your egg salad runs all over your plate, you've done something very, very wrong.  Oh, one more thing. The recipe said to use sweet relish, but our family doesn't care for sweet relish. We like dill. Pucker up, buttercup!
Now, we need to boil our eggs. Grab a saucepan and add your eggs. Put enough water in the pot so that they're covered and set them over high heat on your stove. I realize that there are about a million ways to boil eggs. I've seen and read several different ways you can do it, but this is the way my Mama always did it so this is the way I do it. I have tried other ways, but this one seems to work the best for me. If boiling them this way is against your religion, then boil them whatever way floats your boat. I bring my eggs to a rolling boil and then let them boil that way for 10 minutes. At the end of the 10 minutes, I take them off the stove, pour off the hot water, and add cold water to the pan. Then I let them sit for about 5 minutes. This keeps them from being too hot to handle…..sorta like me! When they've cooled enough to handle, I peel them and then rinse them in cold water to get rid of any remaining egg shell.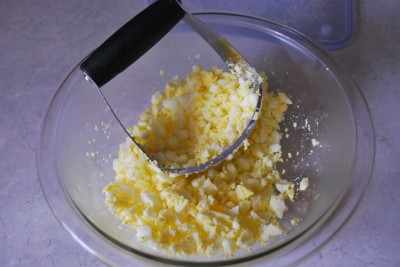 Put your eggs in the bowl you're going to mix them in and chop them up. I use my pastry blender to chop eggs. It just seems to do it very well and evenly.  I get tickled with myself when I find different uses for kitchen items……I feel like I've discovered a secret. I giggle while I chop. I'm quite sure my neighbors think I've lost my mind since my kitchen windows are open most of the time.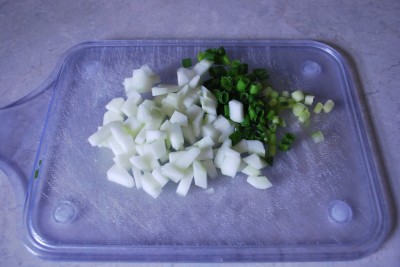 Now it's time to chop veggies! I know y'all love that part. I actually like chopping vegetables when there's not a baby trying to climb up my leg. Like I said, I used cucumber and green onion. But you could vary the vegetables to your liking – or if eating vegetables is against your religion, then you can leave them out. I'm thinking about the V-8 commercial right now where the guy gets clobbered in the head when he doesn't eat his vegetables.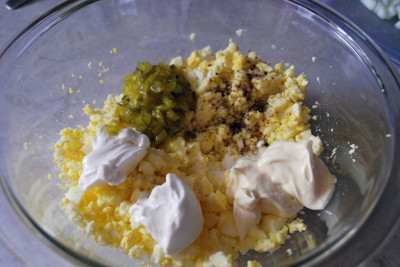 Now, add the sour cream, mayo, relish, salt, and pepper. Stir it up really good and make sure it's all mixed together. Then fold in your veggies. Done! Wasn't that so easy! I love easy cooking.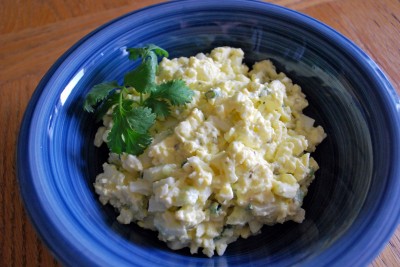 You can serve this on bread, eat it plain, dip with crackers, or hide it in the fridge so no one else sees it and you can eat it when he's gone to work.  I will warn you though, you should put it in a container that has a lid……a tight fitting lid, If you just use foil like I did, you'll open the fridge door and think "Oh my gosh! What died in here?" This really was a delicious recipe and I am quite sure I'll make it again.
Picnic Egg Salad
4 large eggs
2 tablespoons Smart Balance™ Sour Cream (rich in vitamins D and E, and a great source of Omega-3s)
2 tablespoons Smart Balance® Omega Plus Light Mayonnaise
3 tablespoons sweet pickle relish
1/4 teaspoon black pepper
1/4 teaspoon salt
1/2 cup thinly sliced celery
1/4 cup finely chopped green onion
Place eggs in a medium saucepan, add enough

cold

water to cover eggs completely.
Bring to a boil over high heat, reduce heat, and simmer, uncovered, 10 minutes.
Remove eggs from water and let stand 2 minutes before peeling under cold running water.
Chop eggs.
Combine the chopped eggs, sour cream, mayonnaise, pickle relish, black pepper, and salt in a medium bowl, mashing some of the egg yolks while stirring.
Stir in the remaining ingredients.
Serves 4; about 1/2 cup per serving
Per serving: 131 calories, 7 grams protein, 7 grams carbohydrate, 8.8 grams fat, 2.3 grams saturated fat, 3.6 grams monounsaturated fat, 1.6 grams polyunsaturated fat, 0 grams trans fat, 302 mg Omega-3 fatty acids, 663 mg Omega-6 fatty acids, 218 mg cholesterol, 392 mg sodium, 1 gram fiber