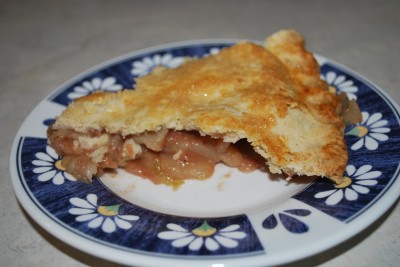 I'm American. I love Apple Pie. LOVE IT. Once, at a funeral I ate an entire Apple Pie. Ok, so it was over the course of 4 days, but still I ate it all. Every last crumb. I hid it in the back of the house, on top of the washing machine. It's perfectly acceptable to eat an entire Apple Pie at a funeral. Anyway, when I saw that Smart Balance sent an Apple Pie recipe, I knew I had to make it. I was willing to sacrifice for you guys. It's love, pure love. An Apple Pie a day keeps the doctor away. Hey, I didn't make up that old saying, so let's go with it!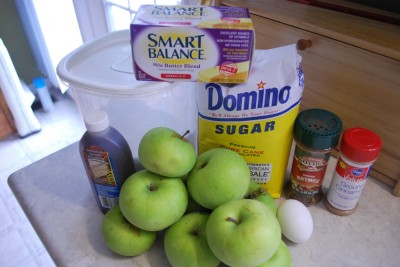 To make this pie we'll need apples (surprised?), vanilla, flour, sugar, Smart Balance 50/50 Butter Blend, nutmeg, cinnamon, and egg white. Oh, and water. I always forget to picture the water. The recipe calls for ½ green apples and ½  red apples. I only had green apples because that's what I picked up at the local produce market. The end result of my pie was a tad on the runny side, so they might not have been exactly the right kind of apple. I know for sure you'll get a runny pie if you try to use Golden Delicious apples. It's still yummy, even if you have to slurp it up with a straw.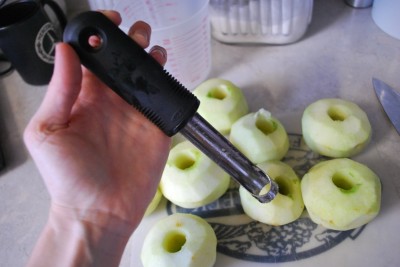 The recipe didn't state to peel the apples, but I did anyway. I like to peel apples. I think in my head "If I can peel this entire apple in one slice, then I'm awesome! Ok, let's go two for one." After peeling them, I cored them. You can do this by hand or use a handy little tool that I have – an apple corer. It takes the middle out pretty as you please. I used to have one of those corer/slicer dohickies, but I didn't like it. It never worked correctly for me, but this one works great. However, if you don't have one, please don't run out and buy one. Make do, remember?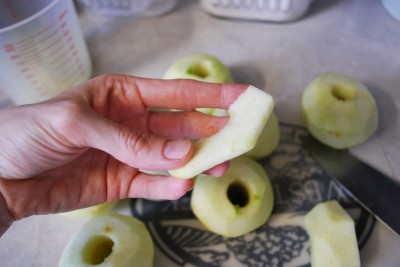 Now it's time to slice those apples! How do you like them apples? Ha, ha! Ok, I had to throw that in. Sorry. You'll want to slice them pretty thin, like this. If you don't, they might not cook all the way through and you'll get a crunchy Apple Pie. Ew. No thanks.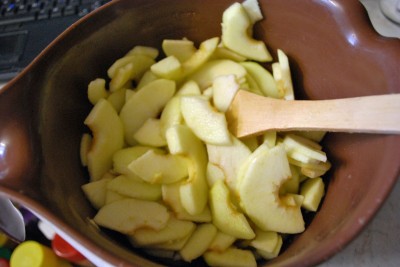 Combine your apples in a big bowl with the vanilla. Stir it around and get them all coated. Sorry about the quality of this picture. I have nothing to say about it except, oops.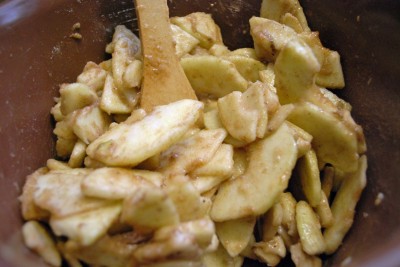 Over the apples, sprinkle the sugar, flour, cinnamon, and nutmeg. Toss the apples gently, just to get the spices on all the pieces. Pull out a 9 inch deep dish pie pan and spray with cooking spray. A regular pie pan is too short and you won't have room enough for your apples……the pie will cook over and you'll have a messy oven bottom. If you eat this whole pie you will have enough problems with your bottom. Onward!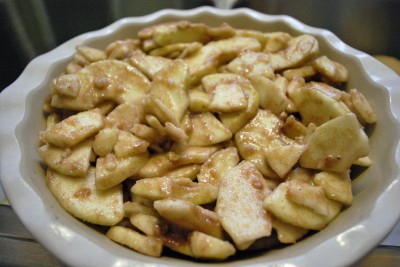 Place your apple mixture in the pie pan. Spread it out evenly. Take a big whiff. Refrain from eating them out of the plate. Ok, so if you eat one I won't turn you in. Oh, and now is a good time to preheat the oven to 350 degrees.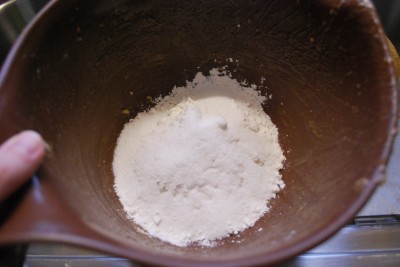 It's time to make the crust! Don't be intimidated. Pie crust is a beautiful thing. One day I'm going to make a Pie Crust Pie and only eat the crust……with ice cream. One day. I'll probably have to be pregnant again to avoid criticism. Into the same bowl that you mixed your apples, put your flour and sugar. This is going to give the crust a nice color and a few specks of spices. It turns out really pretty. I like pretty food. Nothing is too pretty to eat though.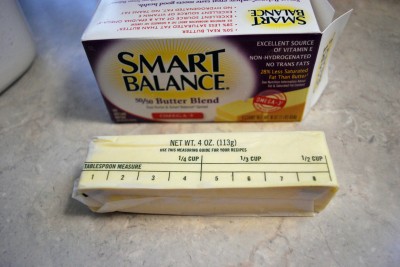 Now it's time for the butter. YAY! Smart Balance butter sticks have a really cool feature. They measure out the cup amounts on the stick. Yes, other butters do that as well, but Smart Balance includes the 1/3 cup measure! That excites me. Most companies don't do that, so it was nice to have this done for me already.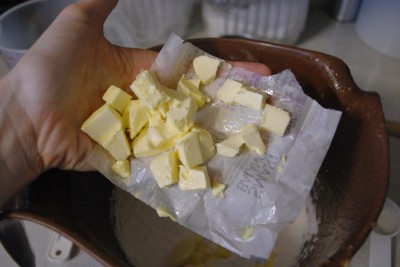 You want to dice your butter into small pieces. It's supposed to be really cold butter, but my hands were hot and I wanted to get a picture for you guys to see. No, I did not lick the butter off my hands. I was tempted, but I didn't give in. Dump the butter pieces into the flour mixture.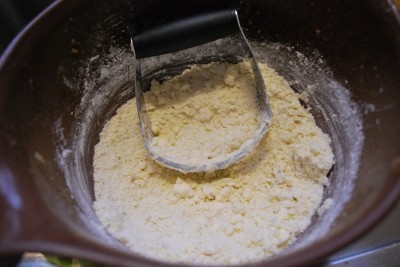 Now, use your pastry blender (or your hands) and work the butter in so that it's evenly distributed and your flour looks like this.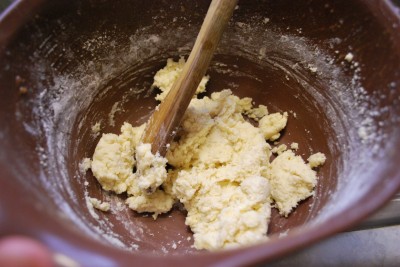 Now it's time to add cold water, a tablespoon at a time. Toss the flour mixture together until it sticks together but is still a little crumbly. I think I only used two tablespoons. If you get over zealous and add too much water, don't freak out. Just add a tad of flour until you get the right consistency.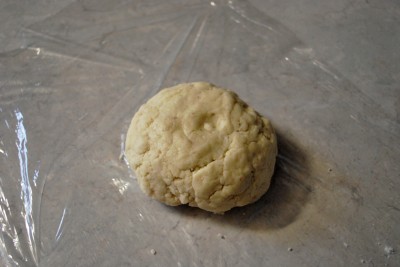 Pick your dough up and form it into a circle, about 4 inches wide. Place it on a piece of plastic wrap. Take another piece of plastic wrap and cover it up. Every time I use this method, I think about Fried Green Tomatoes.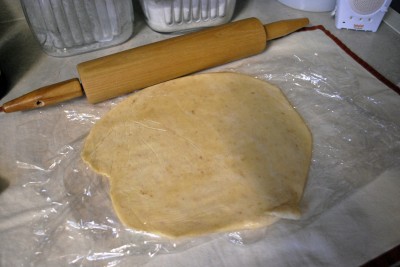 Now, roll out the dough until it's about 11 inches round. The plastic wrap keeps it from sticking to the surface, the rolling pin, and your hands. It's a great method and I love it! See the pretty little specks in the crust? Nice!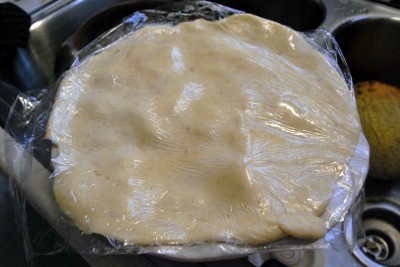 Now, take off the top layer of plastic and place the dough over your pie plate full of apples. The plastic side should be up. Now you'll be able to remove the other layer of plastic. How easy is that?!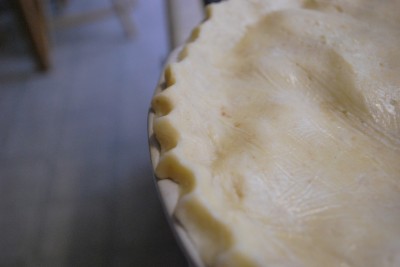 Fold the long edges under. Now it's time to flute. No, not play the flute……flute your edges. I like this method because I think it's pretty. You can also take a fork and use the tines to make a nice border around the edges…..sorta like how you flatten a peanut butter cookie. Go here to see how to flute pie crust edges.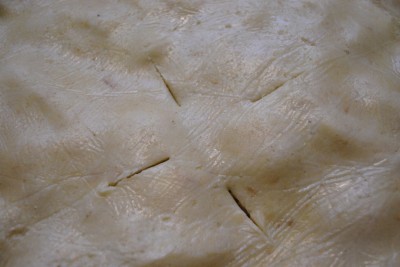 Take a sharp knife and cut four slits in the top of the pie, sorta in the middle. They should be about one inch long each. This lets the steam escape so your pie doesn't blow up. Ha, ha! For some reason picturing a blowing up pie just made me giggle. No, there is no liquor in this pie.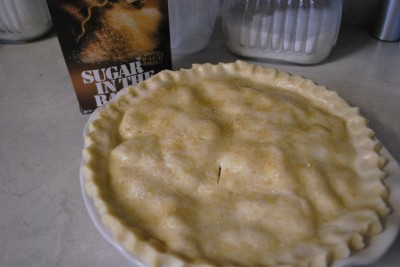 Now, beat your egg white and brush it over the top of the pie. You can sprinkle it with regular white sugar, or you can use Sugar in the Raw like I did. I just like how raw sugar makes a pie look on top. All sparkly. I like bling. Pie bling!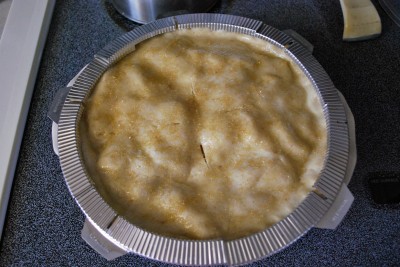 Now, you need to cover the edges of the crust so they won't burn. Not that there's anything wrong with that……I like to eat the burned edges. I'm my mother's child. I have these cute little thingies that I found at a yard sale, but they also make covers that you can find at Bed Bath and Beyond or Pampered Chef. If you don't have these, just use some foil that you've cut into strips to cover the edges.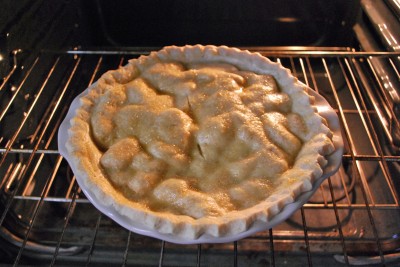 Now you want to bake the pie for 25 minutes. When your timer goes off, you'll pull the foil or covers off the crust. Watch out! They're hot . Gosh, you're always burning yourself.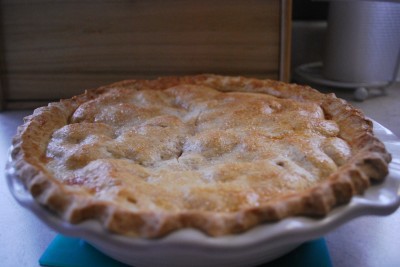 It will need to bake about 30 more minutes, until it looks like this. Oh mylanta. Whew. My house smelled DIVINE! I didn't want to wait for Barry, but I did. Isn't it pretty? I just looked at it all day. I left it on the counter and enjoyed its prettiness all day.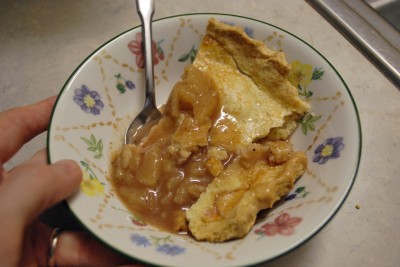 But like I said before, nothing is too pretty to eat. So, we did eat it. And it was delicious! It was just a little runny, but I think maybe I didn't use the right apples. Nevertheless, we groaned through the entire thing. See how easy it was?! Try it. Be American.
Apple Pie
Filling:
4 cups thinly sliced tart apples, such as Granny Smith (about 3 apples total)
4 cups thinly sliced red apples, such as Gala (about 3 apples total)
2 teaspoons vanilla
1/2 cup sugar
3 tablespoons all purpose flour
1 1/2 teaspoons ground cinnamon
1/4 teaspoon ground nutmeg Smart Balance® Cooking Spray
Crust:
1 1/4 cups all purpose flour
2 tablespoons sugar
1/3 cup

chilled

Smart Balance® Butter Blend Omega, diced* (cuts saturated fat by 28% over regular butter without sacrificing taste)
2-3 tablespoons cold water
1 egg white, beaten
1 tablespoon sugar
Preheat oven to 357 degrees F.
Combine the apples and vanilla in a large bowl.
Sprinkle the remaining filling ingredients, except the cooking spray, evenly over the apples and toss gently to blend.
Coat a 9-inch deep-dish glass pie pan with cooking spray. Place the apple mixture in the pan and set aside.
Combine the remaining 1 1/4 cups flour and 2 tablespoons of the sugar in the large bowl (the same bowl the apples were in).
Using a pastry blender or two knives, cut the butter blend into flour mixture until it resembles coarse meal.
Sprinkle with the water, 1 tablespoon at a time, tossing with a fork until dough is moist, but slightly crumbly.
Gently press dough into a 4-inch circle on a sheet of plastic wrap, cover with another sheet of plastic wrap.
Roll the dough, still covered, into an 11-inch circle. Remove top sheet of plastic wrap from dough circle; place, plastic wrap side up, overfilling.
Remove remaining plastic wrap. Press edges of dough together.
Fold edges under, and flute.
Cut 4 (1-inch) slits into top of pastry using a sharp knife.
Brush top and edges of pie with egg white; sprinkle with 1 tablespoon sugar.
Place strips of foil around outer edges of the pie to prevent the edges from over-browning and bake 25 minutes.
Remove foil strips and bake 30 minutes or until piecrust is golden.
Serves 8 Per serving: 276 calories, 3 grams protein, 49 grams carbohydrate, 8 grams fat, 3.5 grams saturated fat, 2.1 grams monounsaturated fat, 1.2 grams polyunsaturated fat, 0 grams trans fat, 252 mg Omega-3 fatty acids, 122 mg Omega-6 fatty acids, 10 mg cholesterol, 76 mg sodium, 2 grams fiber