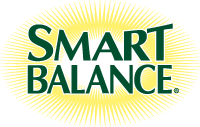 I contacted Smart Balance about getting some coupons to use as a giveaway for you guys. They have excellent customer service! I love all the Smart Balance products, so I was tickled pink when they said they would love to send coupons – for FREE products! How's that for tickling your fancy? In return for a stack of free product coupons, they asked me to try some of their new recipes and post them on my site. They also sent free coupons to me so I could try the recipes at no extra expense. What a great exchange! So…thanks to Smart Balance for sponsoring this week's giveaway! Let's get grilling, shall we?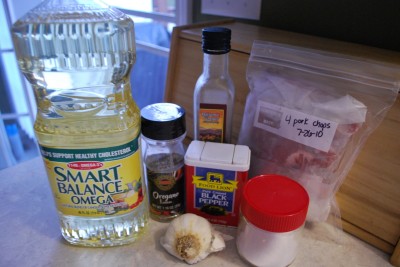 Our first recipe is Oregano Balsamic Grilled Pork. You'll need pork chops, balsamic vinegar, salt, pepper, garlic, oregano, and Smart Balance Omega Oil. This particular recipe calls for boneless center pork chops which are my favorite. I can't stand meat with bone in it. It turns my stomach. Shew! That really limits me in the fried chicken area. Let's not dwell on that, or I'll get all sad and depressed. Oh, and you don't have to use real garlic in this recipe. You can use the canned stuff…..or the dried stuff……or even garlic powder. However, I will tell you that fresh garlic will make it taste SO much better. As a side benefit, you'll get rid of any neighboring vampires.
You'll want to put all your marinade ingredients into a jar with a tight fitting lid. I used this plastic fruit jar because  I didn't feel like going to the basement to get a canning jar. Cut me some slack. Annie is teething again and was up EARLY. Plastic fruit jar is the winner!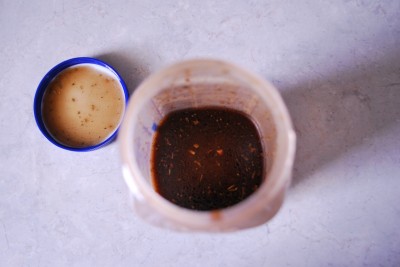 Now, put the lid on and shake it up baby! Really put some OOMPH into it! Dance around the kitchen while you imagine your jar is a maraca. Ole!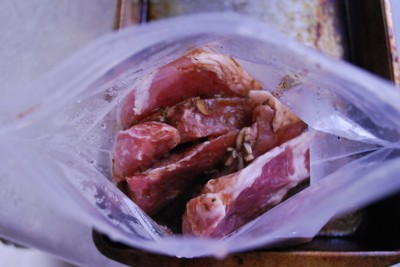 Now, you can put your meat in a dish and add the marinade, or you can use a Ziploc bag. I just chose to leave my meat in the bag I had frozen it in. Obviously I took out the wax paper that separated the chops……this time. I've left it in there before. It's hard to chew up. Just dump the marinade in. The recipe said to only use 1/3 cup and save the rest for other things. I couldn't think of anything else I'd like to use it on, so I threw caution to the wind and poured it all in. I'm a rebel.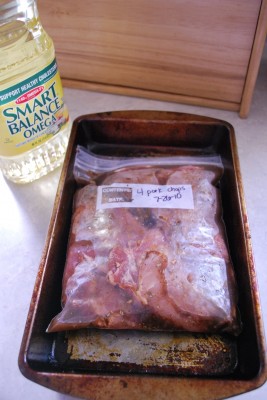 Seal your bag and turn it over to coat the chops. I usually lay mine in a baking pan (a really old pan with great character…….and dents) in case something strange happens and the bag gets a hole, only to leak nasty meat juice all over my refrigerator. Eww. You'll need to marinade for 8 hours, so it's nice to start this recipe in the morning. I should have probably told you that first. Sorry! After about 4 hours, I turned my bag over so all the meat would be properly marinated.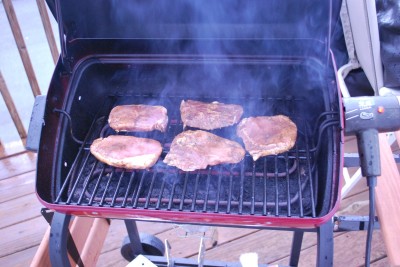 Now, preheat your grill to medium high heat. Barry and I have an electric grill. We didn't want to fiddle with getting gas tanks filled and refilled. We save the charcoal for camping. You might notice my grill is wet. That's because it started raining cats and dogs right as I wanted to cook. Electricity and water……..I was scared. BUT, I was taking one for the team – this recipe was for you guys! I put on some rubber boots since Barry was too busy to grill for me.  Throw the chops on the grill and close the lid. Leave them alone for about four minutes.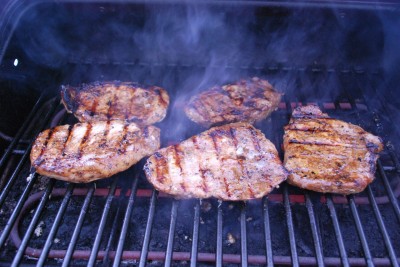 Flip them and look how pretty they look!  Don't stand outside too long though or you'll get drenched. As a side note, my friend Kim was coming to dinner. Every time she comes over, it rains. I'm totally serious. So, I'm not sure what I was thinking trying to grill when she was here. If anyone needs some rain, I can rent out Kim at a very low rate……she's a great cook, so make that a very HIGH rate.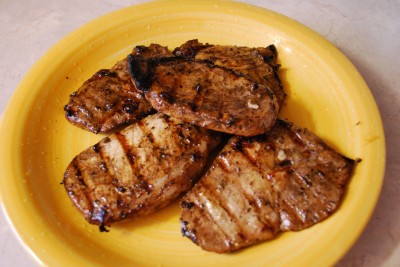 After four more minutes, you can get your chops off. Don't they look divine! I like the added touch of the rain water on the plate. No extra charge for that!
They were so tender and nicely marinated! Barry said " I could definitely eat these again!" Sure, but next time if it's raining I might just wait until the next day. Try these, and I think you'll like them!
Up for grabs this week is a stack of coupons from Smart Balance. You'll receive 10 coupons for various FREE products! I love free……it makes me dance! Just enter by clicking on the button below and filling in your info. I'll take entries through Friday, August 27 at 8PM and then I'll choose a random winner. Stay tuned tomorrow and Wednesday for two more great Smart Balance recipes!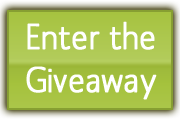 Oregano-Balsamic Grilled Pork
Marinade/Dressing:

1/2 cup Smart Balance® Omega Oil (helps support healthy cholesterol with a natural blend of canola, soy and olive oils)

1/4 cup balsamic vinegar 

2 teaspoons dried oregano leaves, crushed

2 medium garlic cloves, minced

1/2 teaspoon salt 

1/4 teaspoon black pepper

Four 4-ounce boneless center cut pork chops, trimmed of fat

1/8 teaspoon salt

1/8 teaspoon pepper
Combine all marinade ingredients in a small jar, secure with lid.  Shake vigorously until well blended.
Place the pork in a quart-size re-sealable plastic bag, add 1/3 cup of the marinade, refrigerate remaining marinade for later use. Seal and toss back and forth to coat evenly.
Refrigerate overnight or at least 8 hours, turning occasionally.
Coat a grill pan or grill rack with Smart Balance® Cooking Spray and place over medium high heat until hot.
Remove pork from marinade, discarding marinade.
Cook pork 4 minutes on each side or until barely pink in center. Let stand 5 minutes.
Sprinkle each lightly with 1/8 teaspoon salt and pepper to taste.
Serves 4; 3 ounces cooked pork per serving.
Per serving: 187 calories, 21g protein, 1g carbohydrate, 10.5g total fat, 2.2g saturated fat, 4.5g monounsaturated fat, 2.3g polyunsaturated fat, 0.1g trans fat, 409mg omega-3 fatty acids, 2,171mg omega-6 fatty acids, 66mg cholesterol, 234mg sodium, 0g fiber

Variation: (Prep Time: 4 minutes) For a main salad, toss 1/4 cup dressing with 6 cups packed spring greens, 1 cup cherry tomatoes, ½ cup cooked diced chicken, and 1/4 cup chopped onion. Serves 4