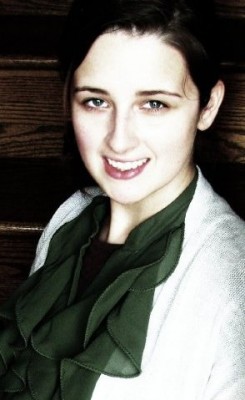 Hello Everyone!
It's Jessi here, and I am so excited that Stacy asked me to do a post for her yummy dessert series!
Before I begin, I guess I should introduce myself. ☺
I am a stay-at-home-wife and full-time-student (which kinda cancels out the stay-at-home part), planning on becoming a pharmacist in a few more years. I've been married to my soul mate for a little over 4 years, and they have been some of the most enjoyable years of my life. I love being married. We love to travel, eat well, garden, organize, travel (yeah, I said that twice), and try to experience the most out of this thing that everybody calls "life". I love blogging, which I've been doing for about 6 years, and I hope you'll visit Life: The Epic Journey if you enjoy this post!
I've always considered myself a connoisseur of all things delicious, but to be honest, I was at a loss when Stacy asked me to make a Betty or a Pandowdy. A Betty? A Pandowdy….what in the world? Google to the rescue!!A quick search told me that they are both variations of cobbler. When the English colonists (in America) found that they lacked the ingredients and utensils to make bread puddings, they invented the cobbler. Basically it is stewed fruit topped with biscuits or a crusty topping, giving the appearance of a cobbled street. (My history lesson according to Wikipedia.)

A Brown Betty is normally made with spiced apples, baked pudding and crumbs with a sauce. You can also use other fruits like berries. A Pandowdy is more like a deep-dish pie, and not quite as spiced.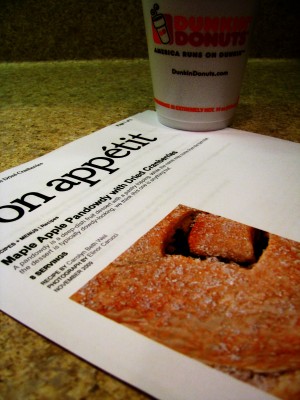 For a recipe I went to my favorite website, Bon Appétit, and found "Maple Apple Pandowdy with Dried Cranberries"
I am not much of a "baked pudding" type of girl, so a Pandowdy sounded good to me. ☺
I had to have some DD hot chocolate while I baked…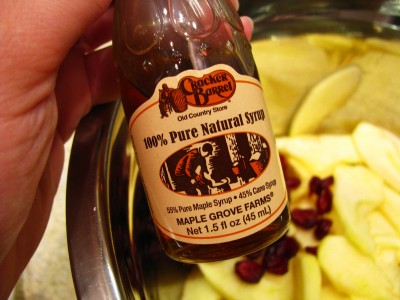 The recipe makes a large 14 x 10 pan of dessert, which is WAY TOO MUCH for just me and my husband.  So I halved the apple filling, but made a full batch of the crust so that I could freeze the rest for a later date.
The filling is made with apples, maple syrup, lemon juice, sea salt and dried cranberries.
Start by peeling, coring and slicing your apples. When I first began slicing, I didn't pay close attention to the directions to slice into "1/8th inch" slivers. An eighth of an inch is really tiny when you think about, so make sure you slice them that thin. It will make the finished product simply delightful.
We don't eat breakfast around here (shame, I know) so I don't keep maple syrup around, but I just happened to have a little bottle from Cracker Barrel. Perfect!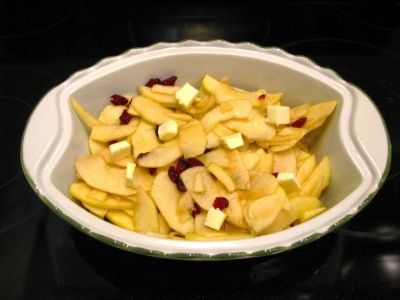 Also, I realized that I didn't have any lemon juice, which I assume is used to keep the apples from turning brown. I used a little Lime juice. I have no idea if it accomplished its purpose, but I was like "Hey, it is a sour juice, it can't hurt." This is probably why I will never have any of my recipes featured in Bon Appétit.
The filling mixes up pretty easily, and you can pour it into an un-greased pan.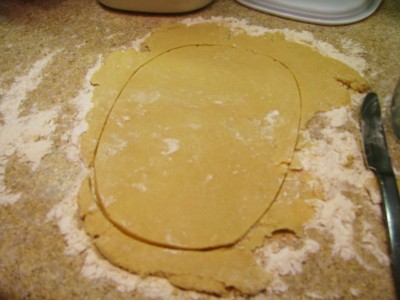 The crust is probably the most important part of this recipe, and is really easy to mutilate (as all crusts are). Click this link for the Crust.
The recipe says to use a stand mixer (which I never use) that has a paddle attachment. I just mixed it by hand with a wooden spoon. There is no yeast in the recipe, so it is ok to use a metal bowl to mix it in. (When using yeast, you should always use a wooden or glass bowl. Don't ask me why. Ask my super smart baking Mom.)
The secret to a light and flaky pie crust is cold butter and underworked dough (another Mom tip) so resist the urge to "smush" those clumps of butter with your fingers. You want to mix and roll the dough quickly, before the butter has a chance to start melting. It is also for this reason that the recipe calls for "ice" water.
Otherwise, I followed all the directions exactly.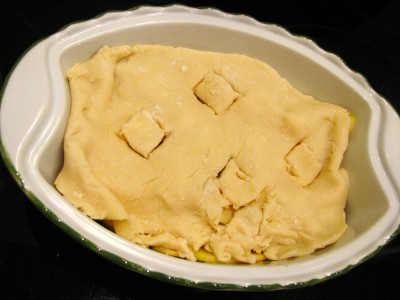 It's not the prettiest pie crust, but I'm not really famous for my mad baking skills.  It will taste good. ☺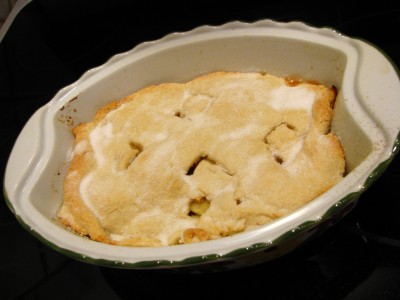 Since my pandowdy was about half the size, I baked at 350° for only 20 minutes, sprinkled on the sugar and baked at 400° for another 20 minutes. So it took me about 30 minutes less time than a large batch.
Now, the question you've been waiting for…………was it good?
YES! Oh my goodness!
I am not a spiced-fruit type of girl, but this pandowdy was delicious. With only ¼ cup of sugar total, it's a pretty healthy dessert. Of course I paired it with Mayfield Vanilla Bean ice cream, and it was really just amazing.
I used braeburn apples, and they were a great choice for baking. The slices were firm and juicy, not mushy like some apples.
The crust was just the right amount of texture without making the dish too bready.
I am very impressed with Maple Apple Pandowdy w/Dried Cranberries, and I will be making it again!
Thanks for joining on me on my foodie experiment, and a big thanks to Stacy for inviting me to her blog!
Past fruit dessert recipes: crisp, crumble, cobbler, grunt, and buckle.