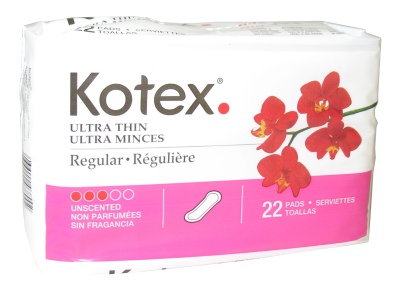 Okay, let's get a few things out of the way here. First, if you are a man, you might want to leave. Really. Leave. This isn't for you…this is for the women.  It's private. GIRLS ONLY. Girls rule and boys drool…or something like that. If you don't leave, you might never be able to look at me in the face again. Thanks.
Second, this is a place for happy comments. No nasty comments like "That's gross!" "You make me want to hurl!" "Ewwwwwwwwwwwwwww!!!" No, not gonna be going on here. At all. You can leave pretty comments or questions, but please try to be adult and not say mean things. Barry actually didn't want me to do this post because he was convinced my feelings would get hurt. So, let's prove him wrong, shall we?
Kotex feminine pads came on the scene in the 1920s. They were developed using bandages from the first World War. Get this – they were only for rich people. People on a budget couldn't afford them. So, what did they do? Did the poor little women run around with a bucket in between their legs? Nope…they used homemade "rags." Hence the saying, "she's on the rag." These rags were washed and reused…and it was COMMON.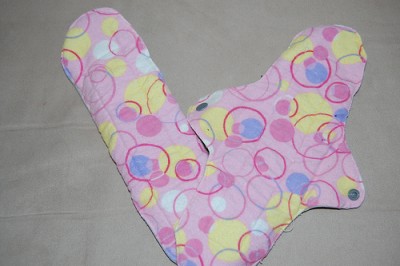 In the 70s, this "common" use of cloth feminine pads came back on the scene…baby wearing, cloth diapering mamas chose to use cloth for themselves instead of disposable pads. Smart ladies.
Most women aren't even aware that this is an option these days. They just assume that disposable pads are the way to go…they don't even think about what women USED to do. But I, being old school in how I roll, try to think about how things used to be done – when life was a lot simpler.
Do not assume that someone who uses a cloth pad is gross. That woman is making the most of her resources…and trying to do a good thing for her body and for the environment.
Traditional pads from the stores are made from wood pulp and include additives, bactericides, fungicides, absorbency gels, glues, fibers, and cancer-causing dioxins the residue of which remains in the pads and tampons. Scary. Do you really want that between your legs? Those are some pretty important parts – parts that birth children and keep husbands happy.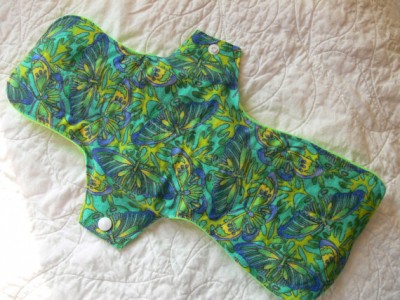 There are many benefits to using cloth pads, but a few of my favorite are:
–Shorter periods. I didn't think this would ring true…but it really is true.
–Less in the landfills.
–No risk of Toxic Shock Syndrome as with tampons
–A huge savings! The average woman spends $120 per year on pads and tampons. Seriously!?
–They're soft…and luxurious during a time when you feel less than pretty.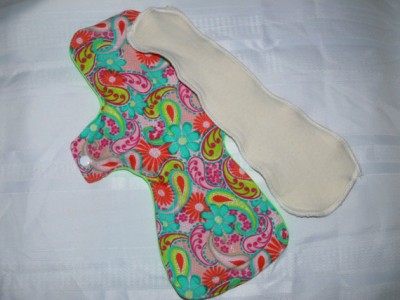 Some of you are wondering, "how do you wash those?" You simply soak them in a bucket of water until you're ready to wash…the water breaks down the blood stains. They can then be washed with your laundry…or if you do cloth diapers, you can add them in that load, which is what I do.
I knew I wanted to use cloth pads for my postpartum period with Andrew. It's a time when you just hurt down there…and those bulky pads from the hospital just did NOT equal happiness for me.  I contacted Brianna from Mommy's Cloth Treasures and asked her if she'd send me a postpartum pad and offer a giveaway for you guys. She sent me one and it was FABULOUS. It's so soft and it's pretty. 🙂
Because Brianna rocks, she's offering a giveaway for you guys. One winner will receive:
1 regular flannel pad
1 flannel overnight OR postpartum pad
Use the Rafflecopter widget below to enter! Brianna's products are of very high quality, so make sure to check out her shop – Mommys Cloth Treasures. Also, here is a coupon code for all Humorous Homemaking readers for 10% off! Use code STACYMAKESCENTS10 at check out.
Giveaway will end on Friday, October 12th at midnight.
a Rafflecopter giveaway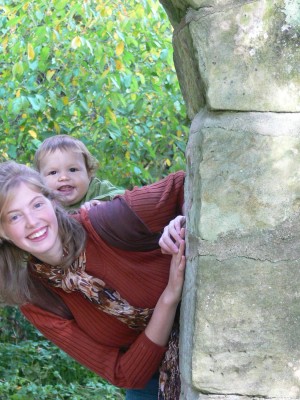 I'm a stay at home wife and mom to our two littles, Viviana (2.5) and Timothy (1). I have a very ambitious, productive personality, and more ideas than I'll ever get to pursue. Mommy's Cloth Treasures was one of those ideas. I've been growing bit-by-bit for 1 ½ years now, ever so slowly adding new products and attracting a wider audience. I love coming up with ideas to help it flourish and putting them into action. I have a lot more ideas waiting to be put into action – so many that it sometimes gets a bit overwhelming. 🙂 But being a wife and mom has always been my first dream and love, so everything else fits in on the side- and I'm really happy that way. I've wanted to be a mom since I was 3- and one of my greatest passions is relational parenting and the practices that help support that. 
Right now, I offer mostly eco-friendly products. I started out with cloth menstrual pads (TMI, anyone?) and have grown and expanded from there. One of my favorite products is my reusable bowl and pan covers…they're unique and lots of fun for everyone to use, even if "going green" isn't your thing. I'm also excited about my postpartum cloth pads because I've never seen ones that are anything like them. I also offer some other fun stuff like baby blankets, bags and so forth. I'm excited to have recently started offering products that support one of my greatest passions and interests, babywearing. I don't have any carriers at this point, but have suck pads for protecting your carrier…and dreams for lots more products.