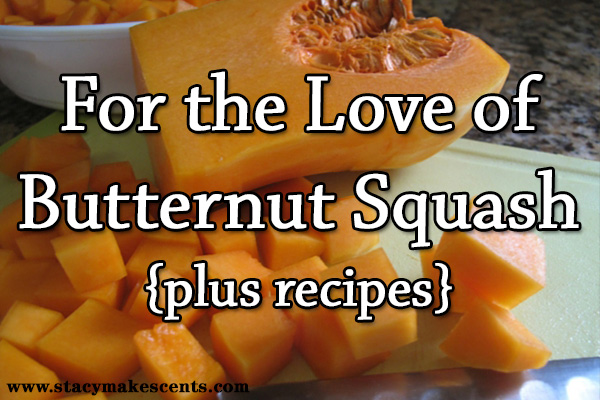 Post from guest, Julie of Domestica Contessa
From fresh produce like sweet potatoes and brussel sprouts to warm soups, stews or chilis or sweet treats like pumpkin pie and mulled cider… I don't know about you, but I love any and every fall flavor. And butternut squash is one of my favorites.
Butternut squash is delicious roasted, pureed, mashed and it pairs so well with warm fall flavors like sage, cinnamon, maple syrup, balsamic vinegar and smoked paprika. Plus it's good for you! 
Did you know that 1 cup of butternut squash has more potassium than a banana, provides over 400% of your daily recommended intake of vitamin A (beta-carotene) and also contains a healthy dose of vitamins B and C, folate and fiber?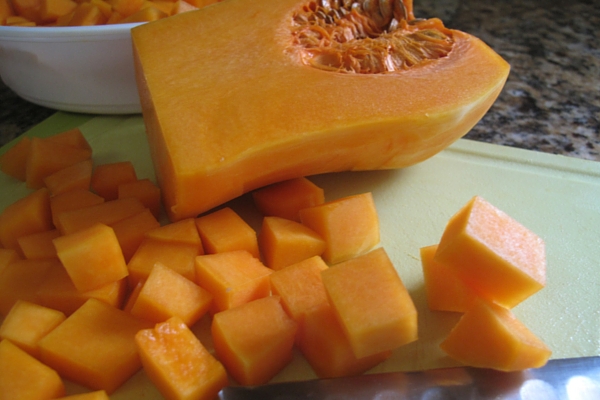 And right now is the best time to stock up, since butternut squash is in season and so affordable. An uncut butternut squash will keep in a cool, dry, dark place for 2-3 months.
Peeling and dicing butternut squash is a bit time-consuming, but not too complicated. A large cutting board, a good vegetable peeler and a heavy-duty chef's knife are all you need. Check out Stacy's post on how to cut a butternut squash for more tips.
Some grocery stores carry already diced squash (I have bought the frozen bags when it's on sale) but you'll usually pay twice as much for it. Check out this post for some easy tips for freezing butternut squash at home.
Now for a few delicious recipe ideas:
Simply Roasted Butternut Squash – This is my favorite way to enjoy butternut squash. The sugars in the butternut squash caramelize as it roasts creating a rich, almost candy-like sweetness. You can serve alongside chicken, turkey or pork… or just gobble it up right off the sheet pan. Either way – Roasted Butternut Squash is an easy recipe you have to try!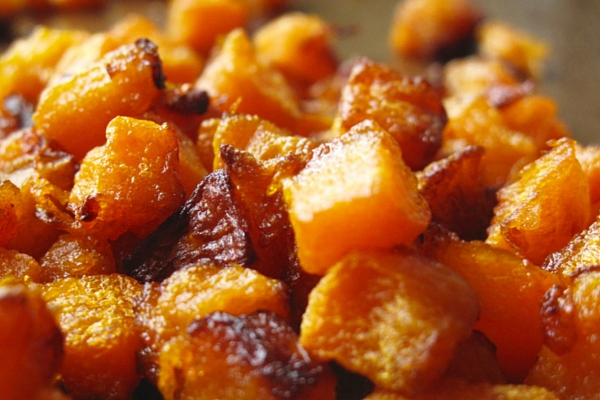 Crock Pot Butternut Squash Applesauce – Add a few basic ingredients (cinnamon, apples, butternut squash, and a little sweetener) to your crock-pot and in a few hours you'll have some pretty incredible applesauce. Serve this applesauce as a side this Thanksgiving – or even for dessert!
Crock-Pot Moroccan Chicken Stew – If you enjoy, warm earthy spices like nutmeg, cumin, coriander, allspice, ginger, cayenne pepper, and cinnamon, then you will love this crock-pot stew. It combines chicken thighs, butternut squash, and chickpeas with a blend of Moroccan seasonings. This combination of flavors might be something you haven't tried before, but it's so delicious and a perfect fall dinner.
Roasted Butternut Squash with Quinoa and Bacon – This recipe starts with deliciously caramelized butternut squash that is combined with earthy quinoa, crisp and smoky bacon, and tender baby spinach. Even people who say they don't like quinoa enjoy this!
Be sure to rinse the quinoa well before using or it can taste bitter. (You could also substitute rice or even pasta for the quinoa). This is such a hearty dish that it can easily be a complete meal all on its own, or it would make a great side dish to share with family and friends this Thanksgiving.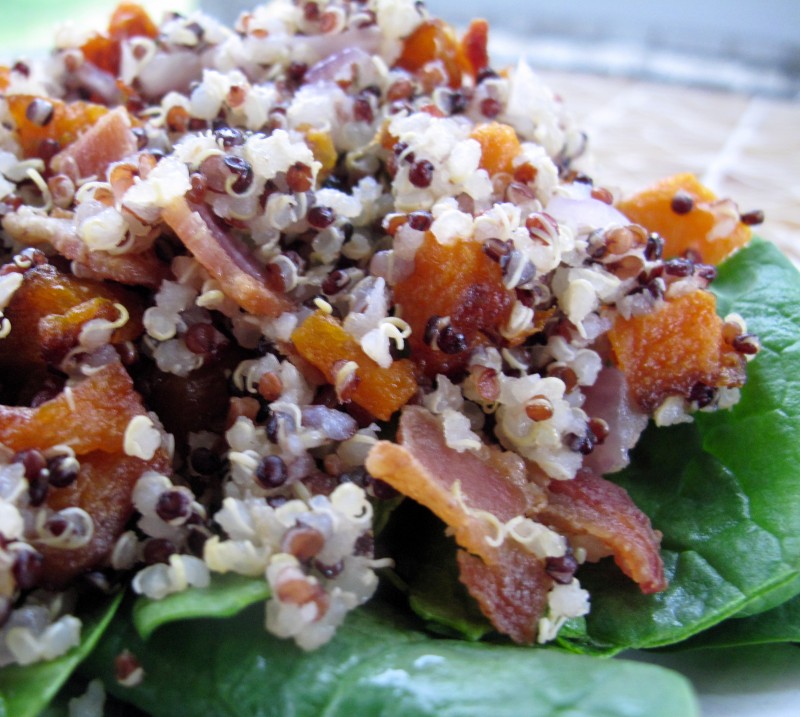 Butternut Squash Muffins with Chocolate Chunks – Pureed squash, applesauce and cinnamon combine to create this very moist (even with no egg, butter, or milk!), cinnamon-spiced muffin. The butternut squash flavor is similar to pumpkin only more mild.
Because I always love pumpkin and chocolate together, I thought I'd add some chocolate chunks. Apparently chocolate and butternut squash are a match made in heaven too! You can definitely omit them and add a handful of nuts or seeds of your choice instead though.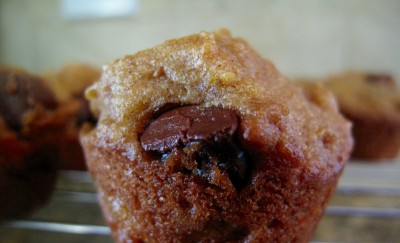 5-ingredient Butternut Squash Mac and Cheese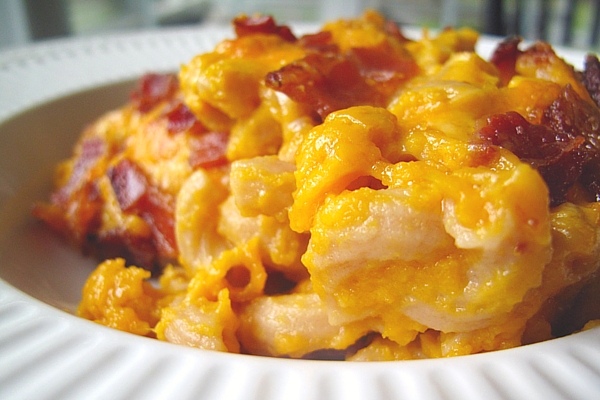 2 cups cooked, cubed butternut squash (or about 1 1/4 cups pureed squash)
1 cup milk
2 cups elbow macaroni
2 cups cheddar cheese, shredded
1 teaspoon salt
2 pieces bacon, crumbled (optional)
Boil the cubed butternut squash in about 2 cups of water until very soft – about 8 to 10 minutes. Using a slotted spoon, scoop the cooked squash from the boiling water and place directly in your blender or food processor. Add the milk and blend until smooth, about 2 minutes. Make sure you start slowly so you don't have a hot steam explosion!
Preheat the oven to 350 degrees. Bring a pot of water to boil, add salt and macaroni, and cook until it's "al dente" – don't overcook. Drain the noodles and set aside.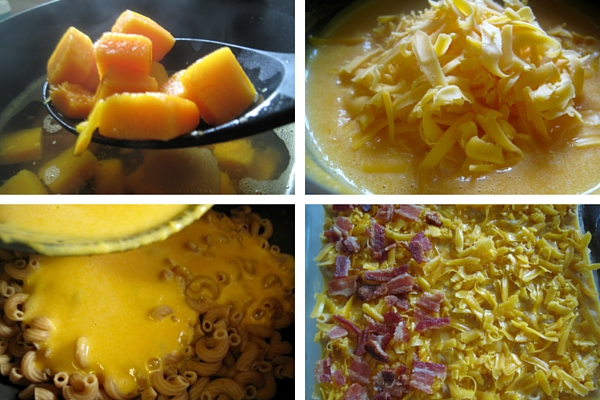 Pour the butternut squash mixture into the saucepan where you cooked the pasta and keep warm over low heat.
Shred 2 cups of cheddar cheese. Freshly shredded cheese melts so much better than the bagged stuff! Add 1 1/2 cups cheese and the salt directly into the warm butternut squash mixture, stirring until it melts into the sauce. Combine the sauce with the cooked noodles. (You can stop right here and enjoy this pasta "blue box" Mac & Cheese style if you would like. Just stir together and serve.)
For a oven-baked Butternut Squash Macaroni and Cheese, grease the sides and bottom of an 8×8 square pan and pour in the macaroni and all the sauce. Smooth with the back of a spatula and top with the other 1/2 cup shredded cheese. If you would like to add on some crumbled bacon, sprinkle it on at this point. Bake for 20 minutes or until the sides are bubbling and the cheese is nice and golden brown.
Brave enough to try butternut squash for dessert? Check out Stacy's butternut squash ice cream!
How about you? What yummy recipes have you tried using Butternut Squash?