Guest post by Julie of Domestic Contessa
If your only experience with cabbage is canned, overly salty sauerkraut or stale, bags of cole slaw mix… I can completely understand why you may not believe me that cabbage recipes could be lip-smacking good. But cabbage is affordable, nutritious – and yes, even delicious!
It's incredibly versatile and can be enjoyed raw, sautéed, grilled, roasted, braised, steamed, or boiled.
Cabbage is available pretty much everywhere – and for really low prices! And since it's in season during the fall and winter months, it is even cheaper than usual right now.
Cabbage has a long shelf life – it will keep for 2+ weeks in the fridge!  Once you cut it though, it's best to use within 4 days (before the vitamins start to break down).
Speaking of vitamins, green cabbage is very high in Vitamin K, Vitamin C and Potassium (one serving has 75% of your daily value!) and red/purple cabbage is also very high in Vitamin A.
Cabbage is the perfect low-carb food: one cup has less then 4 grams of carbohydrates and almost 2 grams of fiber. It would be a great addition to any healthy (or even Paleo) diet.
Today, I'm sharing some more ways to enjoy cabbage, including a recipe for Red Cabbage Slaw – with Spicy Greek Yogurt Dressing.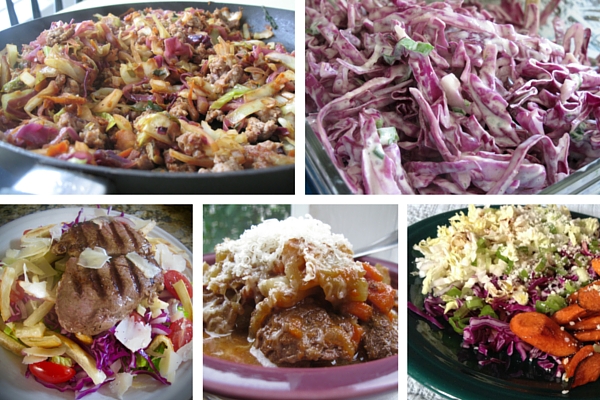 Balsamic Roasted Carrot Salad is a perfect fall salad that combines red and green cabbage with oven-roasted balsamic-glazed carrots and feta cheese.
Beef Tenderloin and Crispy Potato Salad with Red Cabbage is a hearty dinner salad – you can't go wrong with tenderloin and homemade French fries over some fresh vegetables! It's like a steak dinner only healthy… because it's salad, right?
Asian Chicken Salad is one of my top 5 favorite salads. It's full of shredded napa cabbage and romaine lettuce then topped with chicken, carrots, bell peppers, crispy lo mein noodles and a tangy Asian vinaigrette.
Rich and Hearty Crockpot Beef & Cabbage Stew is a easy and healthy (low-carb) dinner that uses lots of green cabbage instead of potatoes or pasta.  The "Cabbage Soup Diet" was an unfortunate fad that gave poor, old cabbage soup a bad name. (I have vivid memories of my mom's attempts to jumpstart my dad's healthy eating by enlisting the help of the Cabbage Soup Diet. It wasn't pretty. My dad made it to about Day 4 before he melted down from hunger.) But seriously, cabbage is a delicious addition to so many different soups, stews and crockpot meals.
Stacy's recipe for Crockpot Italian Sausage and Cabbage is also a home run. Stacy made it for dinner a few weeks ago and posted it on Instagram saying something like "I know it doesn't look yummy, but it is yummy".  And she isn't kidding – this meal may not look glamorous, but it is so delicious!
Ground Turkey and Cabbage Stir Fry with Ginger & Lime is a skillet meal with some Asian influence – it almost seems like you are eating the filling out of an egg roll.  This stir-fry has a lot of healthy, colorful ingredients including red cabbage, sweet orange carrots, fresh ginger, and lime… and oh, oh and there's turkey sausage too – such a flavorful, and easy recipe!
Ground Beef and Cabbage Stir-Fry – I love this adding a few cups of diced tomatoes to this recipe – it basically becomes an unstuffed cabbage skillet meal. Or "a low carb Hamburger Helper". 
And I couldn't leave out everyone's favorite… Sauerkraut! 😉 Fermented cabbage (like Kimchi and Sauerkraut) actually can be tasty when used as a condiment. Plus, it's loaded full of probiotics that help to regulate digestion and boost immunity. Check out this post by Trina Holden  for some great recipes and tips on how to add this healthy condiment to your diet. You can also follow along on Instagram at #krautchallenge. 
I'd love to hear from you. Do you have any lip-smacking good cabbage recipes?
Red Cabbage Slaw with Spicy Greek Yogurt Dressing
This healthy slaw is an easy dish to throw together and is a great way to spice up a simple rice and beans dinner, top your favorite tacos or serve alongside a pulled pork sandwich for a little Southwestern twist.
4 cups red cabbage, thinly sliced
1/2 cup greek yogurt (full-fat is best)
1 -2 tablespoons half & half (optional)
1 lime, juiced
1 teaspoon cumin
3 green onions, thinly sliced
2-3 tablespoons fresh cilantro, chopped
1 teaspoon sugar or honey
1/2 teaspoon salt
1/4 teaspoon pepper
1-2 teaspoons fresh jalapeño, finely minced (optional)
Stir together all the ingredients, except the cabbage and half & half, until well combined. Taste the dressing and add more salt, pepper or lime if necessary. If it is too thick, add the half & half in at this point.  Toss the cabbage in the dressing and refrigerate at least 1 hour or until ready to serve. This will last for several days in the fridge.
Note: As the cabbage sits, it releases some water – so it's perfectly normal for the dressing to become a little bit runny and turn purple in color. Don't be alarmed. And you can serve with a slotted spoon if you don't want the extra juices to make your taco soggy.
Another note: Feel free to sub sour cream or half mayonnaise and half sour cream for the greek yogurt in this recipe.