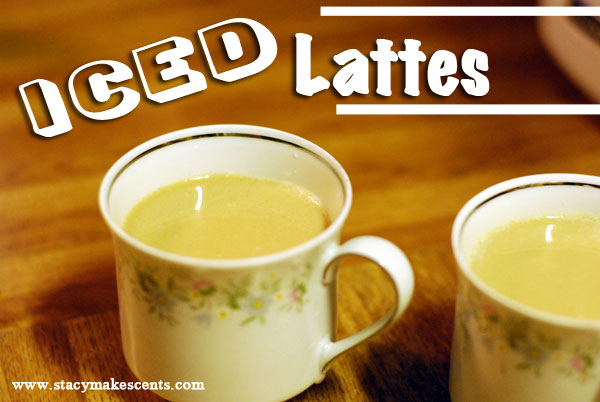 Has Stacy lost her mind? It's February for Pete's sake (I would really like to meet this Pete character) – why is she posting an ICED latte?? Well, I'll tell you. When you feel about coffee like I do, there is no time of year that's wrong for coffee of any type: iced, hot, frozen, lukewarm, etc. I'll drink it. If it's coffee – it's for me.
When I first made these, I was very surprised. I didn't think I would love them as much as I did…I couldn't stop thinking about them. Even Barry, who likes his coffee hot and black, liked these. And that's a win in my book for sure. I've made them for myself a few times since this first time (mostly while Barry was at work so I didn't have to share) – I just like them more every time I make them.
I'm posting this recipe for lattes because I want you to learn to make them at home and keep your money – quit giving it to Starbucks and Dunkin' Donuts. If you visit these places daily, you're shelling out a lot of cash. Keep your cash and make your latte at home. *This post is NOT sponsored by Starbucks*
This week in Cooking Through Stacy's Stash we're tackling another one of my eCookbooks: Easy Homemade. Easy Homemade is by Mandi Ehman of Life Your Way. It's a MUST HAVE if you're wanting to move to a "scratch" kitchen. This book is full of kitchen staples that you can make yourself at home: drinks, dressings, ketchup, salsa, sauces, pantry staples, icings, stocks, snacks, and MORE. I have never seen a resource this good with all these staple recipes in ONE spot.
The book is so pretty. I love the layout. It's easy to read with good explanations of things and pretty pictures. I need pretty pictures in my cookbooks…otherwise, they're a bust for me. I love everything about this book – I love that I can customize the recipes to our diet. Easy Homemade should be in every homemaker's kitchen. And at only $3.99 you can't beat it.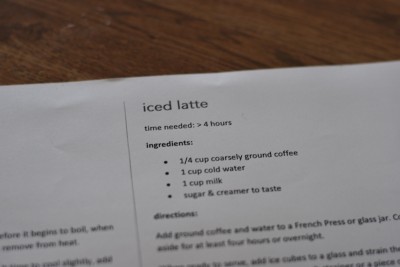 Mandi graciously offered to let me give y'all her Iced Latte recipe – and it's the bomb.com. I recently discovered the phrase bomb.com…it's probably SO 2012, but I don't care…I like it and you're likely to see me say it a lot. Bomb.com
The only thing I customized in this recipe was use to stevia instead of sugar. Also, I did not use ice. I just used cold milk and cold coffee – if it was August, I might use ice. Nah…I hate ice. Stevia was fabulous in this, but you can use whatever sweetener you like.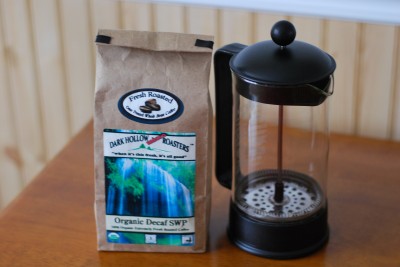 This recipe calls to use a French Press but Mandi also says you can use a mason jar if you don't have one. I <3 mason jars.  I used my French Press and fresh ground coffee.
It's really a great recipe and I think you'll be making it today. You're likely already on the way to your kitchen, aren't you? I love giving you recipes that you can make immediately – because that's how I roll. I love coffee. And mason jars. Bomb.com
Buy Easy.Homemade for only $3.99.
** I am an affiliate for Easy.Homemade. Mostly because it rocks…okay, only because it rocks.**
Bomb.com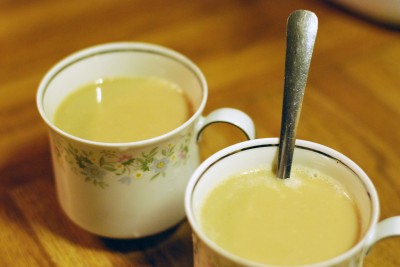 Iced Lattes
¼ cup coarse ground coffee (fresh coffee is great!)
1 cup cold water
1 cup whole milk, cold (I use almond milk)
Sugar and cream to taste (I used stevia to taste and no cream)
Add coffee to your French press (or mason jar) with water. Stir.
Cover and let sit for 4-8 hours (if you're a mom, then let it sit until you remember it again).
When ready to serve, use the press to strain coffee (or strain through cheesecloth if you used a mason jar).
In two small glasses or one large glass, put ice cubes, milk, and sweetener to taste.
Pour coffee over and stir. Drink immediately.
Yield: 1, 16 ounce or 2, 8 ounce lattes