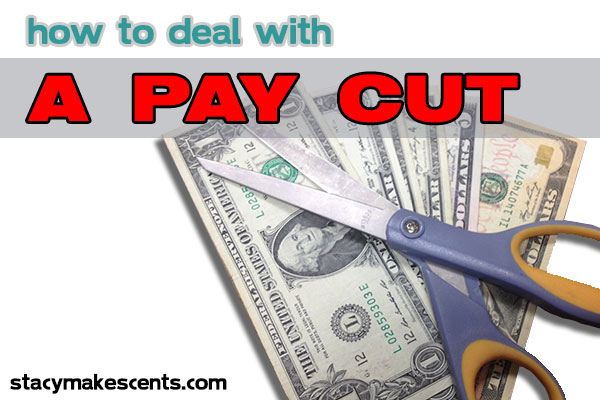 Whether you are a Democrat or a Republican, Independent or Green, Hippie or [whatever the opposite of hippie is], you just got a pay cut.  Starting January 1, you lost 2% of your pay back to Social Security taxes.  Did you notice?  If you're like most Americans, you surely did, because your insurance premium probably went up for the new year and any other little deductions to your paycheck before you get to take it home went into effect for you as well.  Most Americans noticed it BIG TIME.  So what happened and how do you deal with a pay cut?
First things first, look into a few different income tax calculators to make sure your numbers are accurate. No matter your political affiliation, you likely would agree that our government can't manage money very well.   It claimed that it needed more revenue to make the country operate and debates ensued over the best way to squeeze it out of us.  Ultimately, even though we were promised the "average American" wouldn't have their taxes raised, when we approached the "fiscal cliff" (Chicken Little – "the sky is falling"), the government decided it would rather bicker and argue (and evenconsider giving itself a raise – thankfully they didn't vote it in) than to take care of the core issue.  The result that most of us noticed?  A 2% Social Security tax break that was instated in 2011 expired.  Simply put, the government didn't "raise our taxes" – they just let them go up on their own by not renewing a previously-instated tax break.  Despite all the potentially positive provisions of the bill, this is the one you and I noticed.
For a household earning $40,000 per year, 2% is $800 per year or roughly $67 per month.  For most of us that's a big chunk to disappear.  But for many of you reading this, you've walked into the office to be told the company has to choose between a 10% pay cut on everybody or a layoff.  Thankful to have a job, you go home and try to explain to your family that you can't afford to do as much because you won't bring in enough money.  So back to my original question – how do you deal with a pay cut?  Here are five tips to make sure you make the most of your income and weather a cut in pay:
LIVE ON A BUDGET.  I will go to my grave trying to convince people this is the absolute best way to maximize every penny that comes into your household.  If you're not doing a budget, start it NOW.  Need help? Sign up for Stacy's daily emails and get my free e-booklet, "It's Not About Money" to help you get started.
Set priorities.  If the math of your budget doesn't work, something has to change.  The formula of INCOME – SAVINGS – EXPENSES = 0 is pretty much set in stone.  If the math doesn't work, define what is important in your life and change based on those priorities.  If that means cutting off the cable or eating at home on weekends instead of a nice restaurant, so be it.  It is your money and your budget – set priorities and use your money to fund what is important to you.
Review every bill.  Do you know how many times during a counseling session I'll ask someone why they're paying a fee on some random bill and they can't tell me?  If you don't know why you're paying something, figure it out!  If you don't have to pay it – don't!
Consider alternative income sources.  Whether it is a yard sale, eBay, Etsy or some other source altogether, there are plenty of ways to generate some extra income.  If you are struggling to make ends meet, don't assume the only thing you can do is cut expenses.
Make yourself more valuable. In the workplace, you receive a paycheck based on what the employer believes you're worth to the company.  Prove you're worth more!  While this isn't a short-term strategy, you should always be working to meet and exceed expectations.  Whether through a promotion or a frank discussion with your boss, if you believe you are worth more money, prove it.  I've encouraged many folks who are doing much more than their job description to have a discussion with their boss a pay raise.  If done the right way, this is a positive experience for everyone involved.  Be careful not to make yourself look like a greedy little punk, which can make the whole thing backfire.
Need more help?  Consider buying my book, "From Debtor to Better."  In it, I discuss in depth ways to cut expenses, maximize income, pay off debt and free yourself from the burdens of being "…slave to the lender" (Proverbs 22:7).
What are you doing to handle your cut in pay?