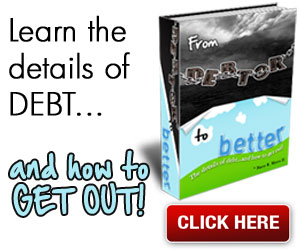 Guys, I'm super excited to finally announce that Barry has finished his first full-length eBook! It's called From Debtor to Better: The Details of Debt and How to Get Out. He's been working on it for months and it's finally ready to go! Last week I gave you a little bit of insight into how we operate and live debt free, including how we paid off the remainder of our mortgage. In this book, Barry will give you the same tools that we used to pay off $20,000 in 8 months.
In From Debtor to Better, Barry will teach you how to:
Get out of debt as quickly as possible
Break the cycle of debt so you don't go back
Instill discipline in your finances
Do a budget that won't take forever and is easy
Pay cash for your car(s) and never have a car payment again
Buy a house without falling into mortgage traps
Buy the right insurance to protect you from financial ruin
…and much more!
If you liked Barry's free eBook, then you'll LOVE this one, which goes more into depth and really teaches you how to live debt free. And you know there will be humor included if Barry is writing it.  😆
As an Accountant, I read this book assuming I would get a nice refresher. Boy was I wrong. Barry took planning, budgeting, saving, forecasting and prioritizing and made it something I truly wanted to read. I learned about debt and finances from a perspective I had not heard before. He had me on the edge of my seat and grabbing my side from laughter. Who knew a book about getting out of debt and getting your life back on the right track could be such a page-turner? Thank you Barry!
~Nikki, Christian Mommy Blogger
We're starting out this book at an introductory rate of $10, and after several weeks the price will go up to its regular price of $15.  For a full length book, this is a great price. I'm so proud of Barry and I know this book is well worth the money – it will change your life. Say no to debt and live like no one else! In addition to eBook format, we're also offering it in Kindle and Nook format for ease of use.
Chapters included in the book:
Debt Defined
Looking Back to See The Significance
Breaking the Cycle of Debt
The Key to Making it All Work
Make Your Money Behave – The Scary "B" Word
Really Loving Your Spouse
Insurance: The Bare Minimums
Tackling Debt
Act Like a Millionaire
Point A to B: Transportation
Livin' on a Prayer: Mortgages and Housing
I Don't Care About Your Credit Score…And You Shouldn't Either
Credit and Debt Law: Some Basics
Debt Management and CCCS
I Give Up: Bankruptcy
Don't just take my word for how great this book is……see the quotes above and I'll leave you with one last testimonial:Barry is also accepting affiliate sales for this book – meaning if you promote it, you get a cut of every copy you sell – 50%! To learn more about being an affiliate and to sign up, visit Barry's website.
Life is crazy, and as much as I try to know it all and do it all, I just can't. That is why I need to rely on God and people smarter than I, like Barry! I have read the well-known financial books, and done the steps, and they have even helped, but I have found myself and my family in need of some guidance in our current season. From Debtor to Better provided the reminder, the direction and the inspiration we needed to continue the journey to financial freedom. This book is full of wisdom packaged in an easy to digest format. Enjoy!
Barry writes in such a way that makes you feel like he is just a caring guy sitting across the table from you and telling you that you can do this! He is also not afraid to hurt your feelings by calling you out for the stupid things you have done to get yourself into the position you are in, but he balances this with plenty of grace! His combination of wisdom, experience and humor make for an effective and enjoyable book that will help you get to where you need to be in your finances.
~Mark, Chasing Leadership