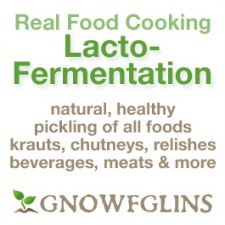 I've been learning a WHOLE LOT about preparing food to eat and also preparing it for long term storage. Fermenting foods is an excellent way to store food for long term. Most people are scared of it….including me. Recently I've started fermenting my mayo so that it keeps longer. Gnowfglins is providing a FREE webinar on Monday, July 25th at 11am PDT (which is 2pm for us on the east coast). It will last about one hour and will cover:
The versatile flavors of fermented foods
What equipment is really required to successfully ferment foods
How to distinguish healthy fermented foods from not-so-healthy ones
How not all pickles are made equal
What skills you need to ferment foods yourself (not nearly as many as you might think!)
Sign up for this free webinar so you can learn with me! 🙂 When you register, you'll get instructions for how to log in. I can't wait!