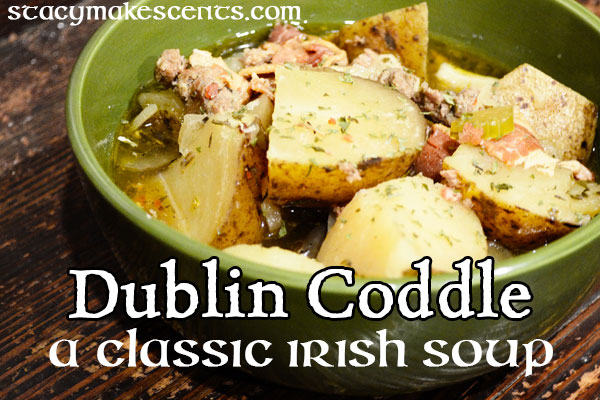 Guest post by Melanie of Treasures Unseen
Down here in the South we have been having an unusually cold winter with lots of ice and snow. I love the snow, but the ice messes with the power, and thus, the wifi. You can keep the ice. It's especially strange since the globe is getting all warm and stuff, according to the "experts." All I have want to do is stay warm, drink coffee and eat warm things. We have done the whole beef stew and chili thing (overdone it, actually).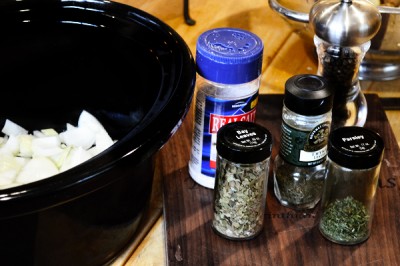 So, seeing as I have a huge love affair with all thing Irish, the older kids and I grabbed a couple of our Irish cookbooks from my growing collection and perused them for some good soup recipes. This is the product of our efforts and boy, was it worth it! I could imagine this being served in the Shire, by Bilbo himself (ah…yes…I am obsessed with that too).
This is a very fragrant, flavorful soup. Traditionally, coddle has link sausage. I didn't have any and was very happy with the crumpled pork sausage. (which I had plenty of because we raised the pork ourselves) The family loved this as well. Also, if you are a bacon lover, using two pounds of that heavenly meat would not be overdoing it at all. 😉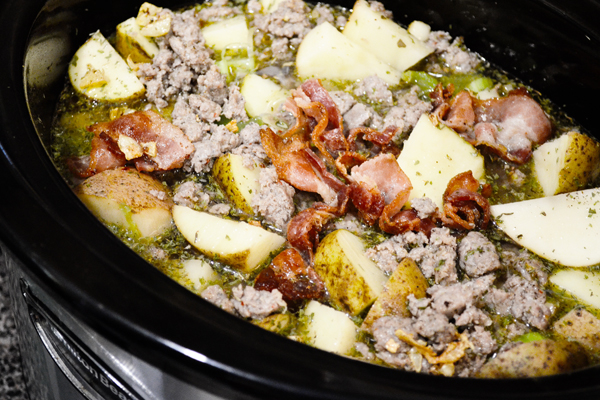 Irish Soda Bread is awesome with this.
Okay, enough of that. Here you go, and just in time for Saint Patrick's Day!
(put on some Celtic music and your apron)
1 lb. bacon (uncured, nitrate-free is best)
1 lb. Pork sausage (mild or hot, your choice)
4 C. chicken broth
3 C. water
6 large potatoes, washed and cut into chunks
1 large onion, sliced
2 cloves of garlic, chopped
2 stalks of celery, chopped
1-2 Bay leaves
2 sprigs of fresh thyme or 1 tsp. Dried
¼ C. chopped parsley or 1 Tbsp. dried
black pepper
salt
Wash and cut the potatoes into chunks. I did not peel mine.
Brown the sausage, drain and set aside.
Cook the bacon until crispy. Crumble it, set aside.
In the bacon grease, cook the onion and garlic for about 5-6 minutes. Scoop them out of the grease when done. Set aside. (Bacon grease is awesome stuff, but I don't like that much grease floating in my soups.)
In the bottom of your crock, layer the onion, garlic, celery, sausage, potatoes, and crumpled bacon.
Sprinkle with the thyme, parsley, salt and pepper. Throw in the bay leaves.
Pour the broth and water over it all.
Cover and cook on high 4-6 hours, until the potatoes are done.
Remove the bay leaves before serving.
Serves 6-8
Enjoy!
 Melanie is a pastor's wife and homeschooling mom of four children, from 18 to 5 years old, who lives in North Georgia. Passionate about family, coffee, natural remedies, cooking with real food, and recently, crocheting. Sometimes she blogs at www.treasuresunseen.com.