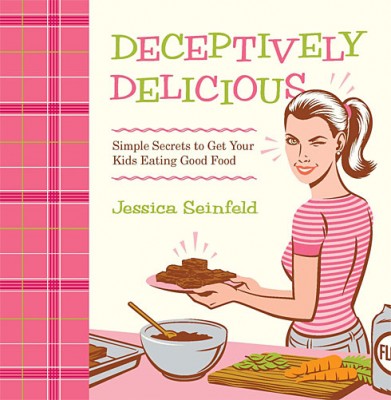 A winner of one of my recent contests asked me if I would write about getting kids to eat their vegetables. I've not had this problem with Annie. She's eaten vegetables since she started solid foods…….buddy let me tell you she LOVES peas and corn on the cob. I did some research on the internet to see what other mamas did and found this cookbook – Deceptively Delicious. In it, Jessica Seinfield gives recipes for normal dishes, but with vegetables added – usually in puree form.  I'm a big believer in starting your kids early on fruits and vegetables so that's what they're used to, instead of waiting until they reach a certain age and then forcing them down their throat……..or turning your back and having them feed green beans to the dog. I don't think we should have to "deceive" children to get them to eat their vegetables.  However, there are some kids that just will NOT eat vegetables. Nope. They're not going to do it. They'd rather starve. They really don't care that children in Africa would love to have their brown beans…….let's send them, Priority Mail, Mom! For those kids, you need to add a little something to food so they can get their vitamins. So, I bought this cookbook so I could try out six recipes for you guys and see if you think it's something you'd like to invest in.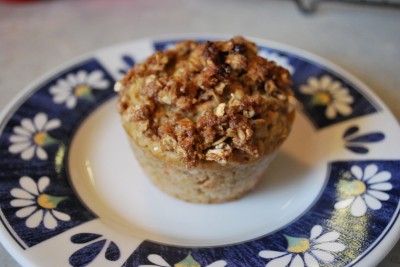 Today we're making Applesauce Muffins. I love anything with apples in it, so when I saw this one I knew I'd try it. Obviously it has apples in it. The added secret vegetable here is pureed carrot. Surprise!  But not a bad surprise like Mystery Meat.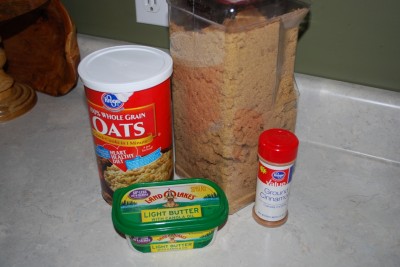 For the topping ingredients you'll need oats, brown sugar, cinnamon, and tub butter. I love things with streusel topping! It's just gives it a little extra something-something. Plus, oatmeal is VERY good for you……yummmmmmmmmmmmm, fiber!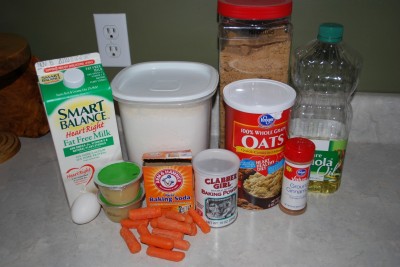 For the muffins you'll need milk,  flour, brown sugar, oil, egg, applesauce, carrots, baking soda, baking powder, oats and cinnamon. Did I mention that oats have a lot of fiber? Kids need fiber…lots and lots of fiber. But not all at once. That could be bad. I used two little containers of applesauce from Annie's stash. I didn't currently have any homemade in the refrigerator because she ate it all – the little booger. I don't like buying the big jars from the store because I think they go bad very quickly…..so I buy the little cups to avoid having it go to waste.  Plus, I got those really cheap.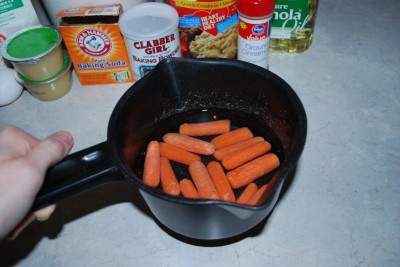 I stuck my carrots in a microwave safe bowl and covered them with water. I nuked them about 5-6 minutes , until they got really soft.  They have to be very well done in order to puree well. You could also boil them on the stove if you'd prefer. I like the quickness of the microwave.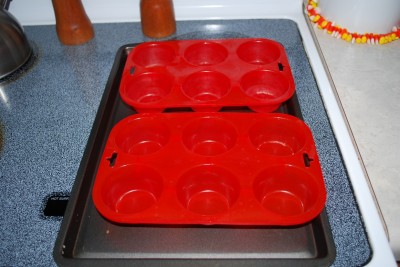 This recipe makes 12 muffins. I used my silicon pans, but you could just use regular muffin cups…..liners or no liners. If no liners, then please spray the pan. I live in eternal fear of something sticking to the pan. I love my silicon pans. They just sit on a cookie sheet. Everything bakes so well in them and it always comes out nice and pretty. The only thing is, you have to let the baked item cool completely in it, unlike regular muffin cups. If you try to take them out warm, they will crumble into a thousand pieces.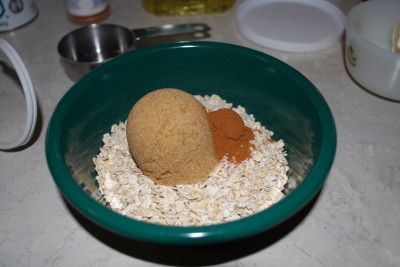 I apologize for the lighting in these pictures. I made these when it was dark outside, so I had to use the flash. I'm not very good at using a flash yet……..I got the Digital Photography for Dummies book…..but I was too much of a dummy to understand it. Put your oats, brown sugar, and cinnamon in a small bowl.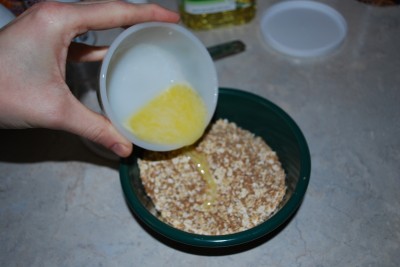 Nuke your butter until it melts and then add it to your topping ingredients. Butter + brown sugar = good things man, good things.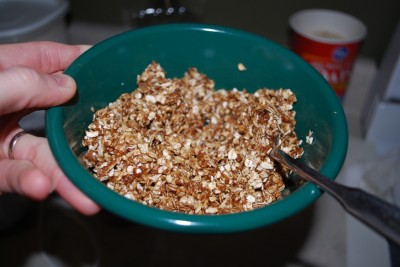 Now, mix it all together until it looks nice and pretty like this. Try to refrain from eating it……..okay, so it's okay to eat a bite. Just don't eat it all. The muffins will thank you; your family will thank you.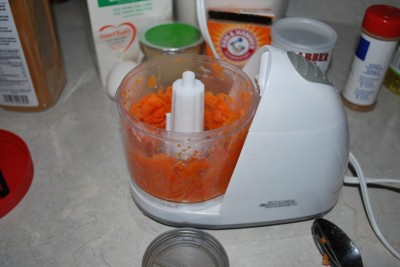 Now, you need to puree your carrots that you cooked in the microwave. I used my little food chopper, but you could use a blender – if you like your blender.
In a large mixing bowl, put your flour, oats, baking powder, baking soda, and cinnamon. Give it a good stir.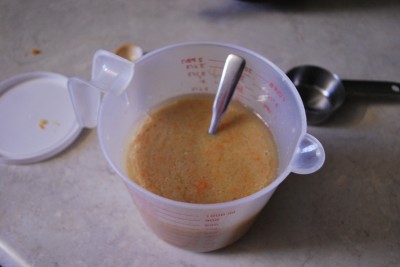 In a small bowl, combine your wet ingredients – applesauce, milk, carrot puree, brown sugar (that's not wet!), oil, and egg. Stir it well until the oil gets incorporated.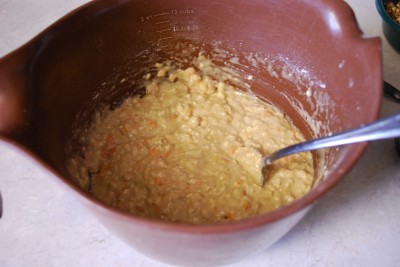 Add the wet ingredients to the dry ingredients and give it a good stir. You don't want to overdo it or the muffins will be tough. It's okay to have clumps. Really. Trust me. Do not fear the clumps.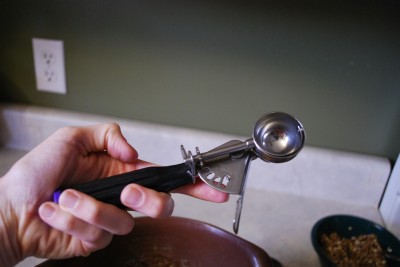 I use my cookie scoop a lot in the kitchen. It works great for cupcakes and muffins….less mess…unless you're like me and are messy no matter what. Also, I think it helps me get the cups evenly filled. I like to be fair. Plus, I don't want Barry getting a bigger muffin than me.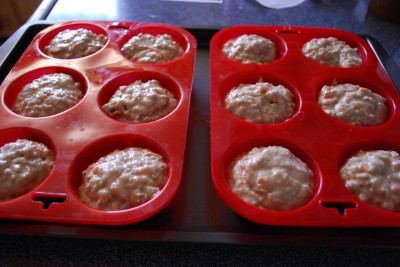 Fill your muffin cups evenly.  Like I said, this batch makes 12.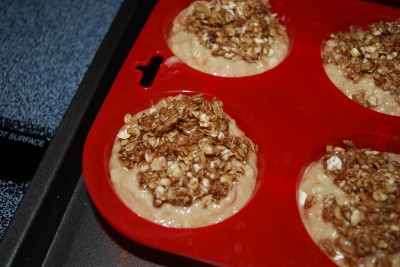 Grab your topping and sprinkle it evenly over each muffin. I thought I had a ton of topping, but I used it all…….I kept adding and adding. When it bakes, the sugar melts down into the muffin and does some magical things.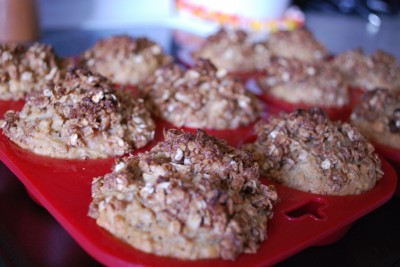 Pop the muffins into a 400 degree oven and bake until browned, about 18-20 minutes. You can tell if they're done by sticking the middle with a toothpick. They'd one if it comes out clean. I let my muffins cool completely in the pan, but if you use a regular pan you want to remove them to a wire rack after a minute or so to cool completely.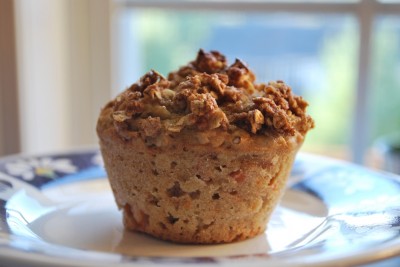 Verdict? These were very nice and moist. I loved the addition of the carrot. I left mine a little chunky because I thought it would be pretty, and it was. But you can puree them so they totally mix in if your kids fear the carrot. The consistency wasn't like a normal muffin, light and fluffy – the applesauce makes them a little on the heavy side, but we really liked them. Annie ate them with no complaints. However, I am guilty of eating the last one in the box. I confess. They would be a great way to sneak in some extra fruit and vegetables!
Applesauce Muffins by Deceptively Delicious
Batter:
1 1/2 cup all-purpose flour or white wheat flour
1 cup old-fashioned oats or instant oats
1 tsp baking powder
1/2 tsp baking soda
1/2 tsp cinnamon
1 cup unsweetened applesauce
1/2 cup  milk
1/2 cup carrot puree (Cook carrots in microwave until soft and then puree in a blender or mini food chopper)
1/2 cup firmly packed brown sugar or sucanat
1/4 cup coconut oil
1 large egg
Topping:
2/3 cup old-fashioned oats or instant oats
1/4 cup firmly packed brown sugar or sucanat
1 tsp cinnamon
2 tbsp butter, melted
Preheat oven to 400F.
Line a muffin pan with paper cups
Stir together topping ingredients. Set Aside.
Combine dry ingredients in a bowl and stir.
In a second bowl, mix the applesauce with the milk, butternut squash, sugar oil, and egg.
Add the flour mixture slowly, stirring until just moistened. Do not over mix – the batter is supposed to be lumpy.
Divide the batter evenly among the muffin cups and sprinkle with the streusel topping.
Bake until the topping is light brown approx 18 to 20 min.