I just love having a pretty table. Really. I go through a lot of effort to make sure the kitchen table is always uncluttered and nice looking. I have a lot of opposition in this area…as Annie thinks the kitchen table is a waiting station for all her memorabilia. And somehow stacks to go to the basement always end up on my corner of the table. But anyway, I try. Right now, this is what you'd see on our table…a simple bread bowl filled with coffee beans and tea lights. It makes the table smell nice, and Barry's hand-turned salt and pepper shakers look great with it.
I love placemats too, but right now you'd only find Annie's gracing our table. That's mostly because I'm still not 100% moved in and ready to home-make yet…still waiting to get back into my meal planning groove as well. I have a good collection of placemats and cloth napkins that I like to use for everyday, holidays, and when company comes over. I think it shows guests that you are really making an effort for their visit when the table looks nice.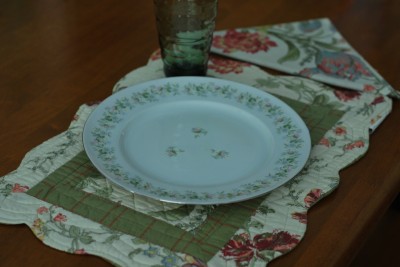 I have a lovely set from Roses and Teacups that looks great on our farm style table…the fact that the placemats and napkins match just tickles me to pieces. I smile every time I look at them. 🙂 They're quilted, which gives them a country feel. Too cute! (Stay tuned at the end for a Roses and Teacups giveaway!)
So, today let's talk about some cute ways to decorate the table…with DIY placemats! I looked around the web and found some great ideas and I want to share them with you. Make your table happy too.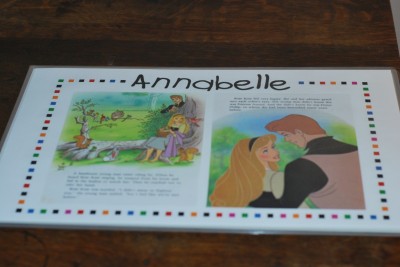 First, here is my contribution…Storybook Placemats. I posted these last Christmas. They were a huge hit with Annie's little cousins! At about $2.99 each, they made a great gift and I know they'll be highly used! They're a great way to use old books that are about to go the way of the dinosaur.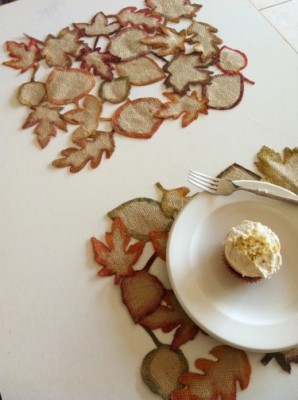 Okay, if this isn't creative, I don't know what is. Look at this! And it's from my favorite – BURLAP!  This one seems to take a bit of work, but the payoff is awesome. Wouldn't you love to have this on your table this fall? I would…wonder if she donates? I love the rustic feel of the burlap and the leaves.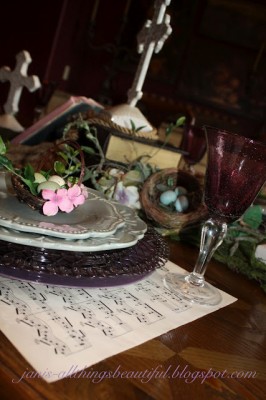 I think sheet music is just gorgeous…I wish I had some old sheet music to decorate with. I LOVE these Sheet Music Placemats from All Things Beautiful. She makes them using Mod Podge…just another awesome thing you can do with that stuff. It's miracle stuff. I love you, Mod Podge!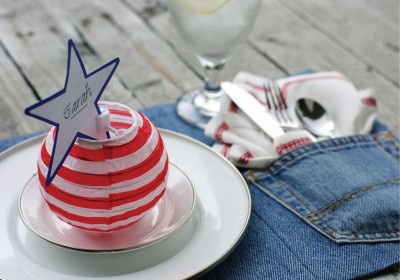 Okay, I think these are my favorite…hands down. I LOVE denim! For real, yo. It's cute on my legs and it's cute on my table…or something like that. Upcycle those old jeans that have holes in the knees and put them on your table! Instructions included here. I want some.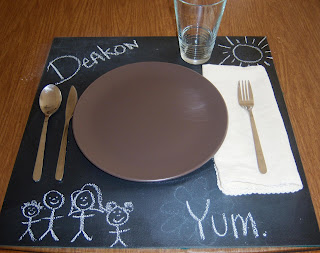 I have a fascination with chalkboard paint. I wish I could put it everywhere…but Barry protests. So instead, I try to find various projects here and there to use it on. These are AWESOME! I know some people paint their whole table with chalkboard paint, but I think this would be easier and make less mess in the kitchen. Score for chalkboard placemats!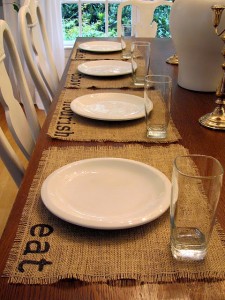 One more for burlap and then I'll leave you alone about that stuff (it rocks, ya know). Burlap placemats!!!  Look at THESE! And they can be painted with whatever you want to say. These would look fabulous in my antique themed home. I would take them if you made me some…I'm just sayin'.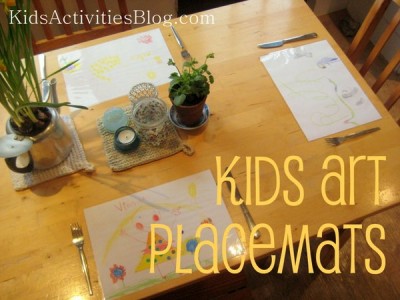 This one is one that your kids will love..it makes them a published artist. Laminate their artwork. This idea is GENIUS!!! I think these look nice on the table…nicer than plastered all over the fridge so that they all fall off every time you reach for a cheese stick – which for me is often.
Aren't all those ideas awesome! Makes me want to craft right now!!! But since I am currently writing this while talking to Barry via text and bouncing Andy with my foot in the bouncy seat…while simultaneously working on dinner, I probably don't have the time right now.
If you don't have the time, but still want a pretty table, you might consider buying a nice set from Roses and Teacups. They're so pretty and they're washable…washable or wipe-able is a MUST in this household – because I am messy. Annie is messy too, but mostly me.
Since Christmas is coming up, let me give you an idea…placemats! I love giving placemats for gifts – whether I make them or buy them. And I can tell you; these placemats from Roses and Teacups are very pretty. I wish I had all they made. 🙂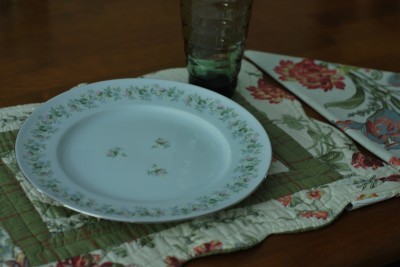 SaveSaveSaveSave