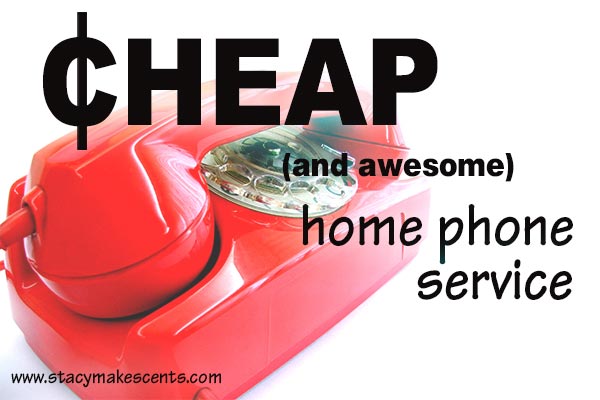 As you know, Stacy and I are cheap.  We don't like to spend money on things unless we really find them valuable to us, and even then, we're always looking for ways to save money.  After almost a year of trying a few combinations, I think we've finally settled on an excellent (and CHEAP) option for home phone. 
Why a home phone when we have cell phones? Well, even though we're less than 1 mile from the interstate, our address is considered rural and cell phone service isn't great. It also is long distance for Stacy's side of the family to call our cell phones or anyone else nearby our new address.  So…in a cell phone age, we still want a home phone.
Initially, I signed up with the phone company because I couldn't find a better option.  It was about $20 per month (bundled with our DSL, total cost = $75 per month) and offered no long distance or other frills.  Blah.  It worked, so we settled.  Then we spent the weekend with some friends who had this nifty little box for their home phone.  They sang its praises and got several calls with no incident.  So…I started reading about it.  This little box, Ooma, could be our answer!
After discovering that silly little box cost $150 ($100 refurbished, if you can find them), I almost ended the quest.  But then I read the sentence on their website that says, "Free U.S. calling" and that made me put my nerd hat on to figure out how long it would take to make up that $150 in not having to pay the phone company $20 per month.  Well…it's pretty easy math to figure that in 8 months you've made back your money (way sooner for us, as you'll learn in a bit).  From there it's gravy (to use a nice southern phrase).  Since we also wanted to switch to cable internet from DSL, I plunked down $150 and bought an Ooma Telo box.
So far I'm very impressed with Ooma.  Here's what I've discovered.
POSITIVES:
Sign up was super easy and took about 15 minutes, including hooking the thing up.
All it needs to work is a power outlet and a high-speed internet connection.  We had both, so that was easy enough.
We can use our existing phones.  We have one of those cordless phones with multiple handsets, so I didn't need more than one phone jack.  They offer an expansion device to use multiple phones if you need it.
Call quality is EXCELLENT
Free voicemail is included, and I can get to it from the phone, the Ooma base, my computer, or even my cell phone.
We can take it with us.  If we move again, or if we go on a long trip, we can actually hook up the Ooma wherever we are and have our "home phone" in our hotel room or beach house on Fiji.  Our friends said a lot of their missionary friends use them overseas so family and friends back home could call them for free.
NEGATIVES:
Before I give these, let me also say that I knew both of them up front before I started.  Why? Because I read the Ooma website.  They are very up-front about these things and have a great FAQ section.  So while they weren't positives, they weren't surprises.
It really isn't 100% free U.S. calling – you have to pay taxes and fees.  For me, that's $3.73 per month.  This is made clear on their website and they even give you a little calculator to let you know exactly how much it will be for you.  $3.73 for unlimited U.S. calling!?  That's definitely manageable.
We chose to port our existing number (it did cost $40 extra) because there were no fully local numbers available at our address.  I've read some have this issue and others don't.  You can look on the Ooma website and learn if your area has available local numbers.  So I ended up spending $190 to get the box and keep our number.
SUMMARY:
Paying $3.73 per month for home phone vs. $20, I'm saving $16.27 each month.  To make up the $190 I spent, it will take me right at one year to make the money back.  However, since I also was able to switch from DSL to cable internet (doubling my internet speed in the process), I also saved a lot more.  Our cable internet is $30 per month, so I went from spending $75 total per month with DSL + phone to now spending less than $34 – a savings of $41 per month!  This means payback comes in less than five months for us!  Totally worth it.
So that's about it.  I really love Ooma and think I'll have a home phone from now on because of it.  What say you?  Is home phone worth it if you can get it for $4 per month?
DISCLAIMER: I am not an affiliate for Ooma and all opinions are my own.  If you buy Ooma, I don't get any credit whatsoever, except maybe some Amazon Affiliate credit if you buy the Ooma device from Amazon.