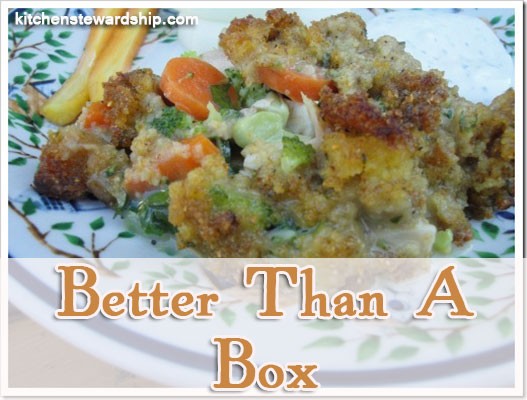 For the longest time, I cooked from a box. When I was first married, and even in college, I did a lot of cooking…but it was "semi-homemade," if you catch my drift. It wasn't an instant meal from the freezer, but it was all boxed stuff that I just mixed up and threw together in a casserole dish.
Then we changed our lives drastically by embracing a whole foods lifestyle…which I now refer to as a HEALTHY lifestyle instead. And then again, three years later, we embraced the Trim Healthy Mama lifestyle which is the same type of eating, but just pairing our foods differently.
In the span of those 3+ years, I've learned to cook most things from scratch. It wasn't that hard for me because I really loved cooking – and I was raised by a Mama who was a fabulous cook. I just had to change the ingredients I bought.
But I know some of you out there struggle with being in the kitchen – I know, because you've emailed me. You don't know how to change from your convenience food lifestyle…and the idea of throwing out your cream of chicken soup makes you want to seek professional counseling.  You WANT to eat healthy…but you don't know how.
My friend, and colleague, Katie has written a book just for you, my friends. Just for you. It's called Better Than A Box (yes, FTC – that IS an affiliate code, are you happy?) and it will change the way you cook forever. Better Than a Box is a cookbook that will teach you how to throw out your convenience foods and cook them yourself…from scratch. No MSG or stuffing mix here – booya.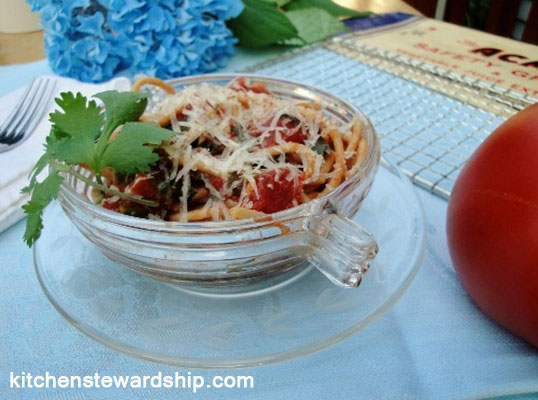 In Better Than A Box  Katie will show you how to take your old stand-by recipes and convert them to SCRATCH recipes. She has also posted remake recipes like: Stovetop Stuffing, Velveeta, and crackers. This cookbook will change the way you look at food – you'll stop buying and start making it! Easy peasy.
It also includes some ready-to-make recipes that Katie created herself – so it's a HUGE resource for you, all in one place. You'll find recipes like: Chicken Pot Pie, Homemade Chocolate Syrup, and Chicken Nuggets. I'm hungry.
I KNOW this is a much needed resource for some of you – because I've read your emails and talked to you on Facebook. I'm so thankful to Katie for providing this resource. She pretty much rocks my face off.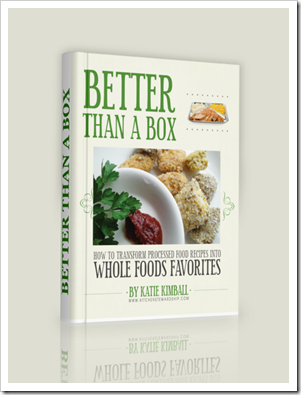 If you're on Plan to Eat, like me, then you have access to all the recipes once you buy the book – there are also some included printable recipe cards.
If you're on a special diet, she's got you included too! There are gluten free, grain free, and dairy free recipes…and I know that is much needed too. How? Because, once again, you guys ask me for that stuff…and when I find out the information I'm SO HAPPY to pass it along!

You can see a full table of contents on Kitchen Stewardship.
Also, here is a FREE printable PDF version of her Crunchy Topped Chicken Casserole so you can get a little sneak peak of just how wonderful the book is.
And let just interject something right here – I am only promoting this book because I think it's a great resource and because I love Katie. I NEVER promote a book just to make money…in fact, promoting books isn't something I make much money from – y'all are tight with your money just like me. J So, please know that I only promote what I believe in…this is one of those things. I honestly believe it's something you guys will use and enjoy. There are approximately 1.234823423 million eBooks out there, so I'm pretty choosy what I tell y'all about.
And if buying with an affiliate code really bothers you, I don't mind if you never use mine. How's that? The FTC isn't sure what to think about it. 😉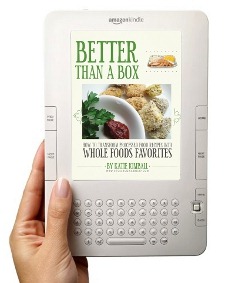 And now, because y'all rock…Katie is giving SMC readers a discount on Better Than a Box! The book is regular $14.95 but using code BTABCENTS  you can get 50% off!!!  This code expires on August 7, 2013.