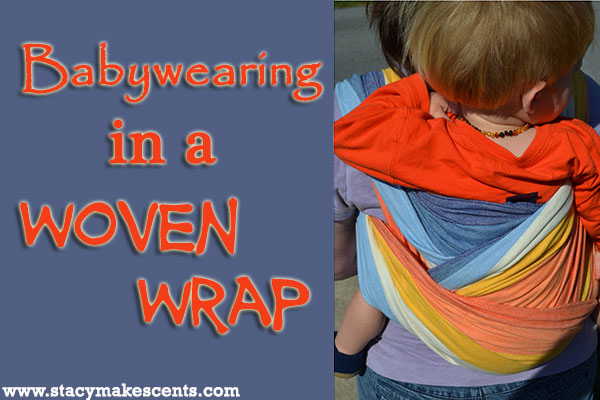 I must admit I was quite excited when Stacy told me she had a woven wrap for me to review.  I had heard of Dolcino, but hadn't seen one.  That's one of the things about woven wraps – they're not often things you can go to a brick and mortar store and pick one off the shelf.  I'm used to mail order, though.  Finding wraps in a store is much more common in Europe, where babywearing is more of the norm, but they're generally pretty expensive.
A woven wrap is long piece of fabric made specifically for babywearing.  They vary in length, anywhere from 2.7 meters to 5.7 meters (quite long!).  They're used to wrap around your baby and yourself so you can carry your child as you go about your day.  They're likely to be the most challenging carrier you can use, but also the most versatile.  They are one size fits all and can be used on the front, back or hip.  There's a perfect carry for the age and temperament of your baby (such as ones who like to lean out of a carrier).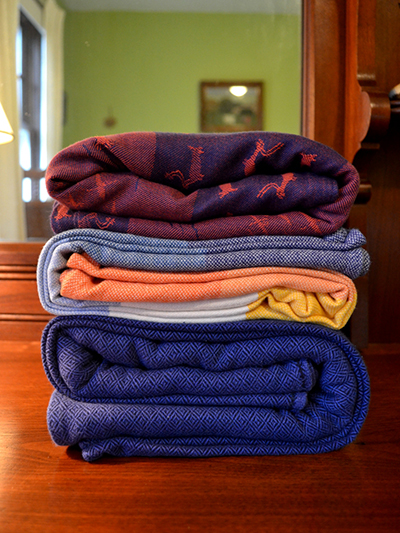 I like woven wraps because of the versatility and because I feel they fit my body best.  I have a short torso, so I generally do back carries as soon as my baby is able to tolerate it.  Otherwise, I wouldn't be able to see over his or her head!  I like that I can do the carries up high on my back, which is not often the option for soft-structure carriers like Ergos.
I also enjoy the snuggly feeling that comes from enveloping my child and myself in the soft, sturdy fabric.  I feel they give better coverage in colder weather.  I like to go hiking year round, so it's important that I am able to keep my child warm when he or she comes along.  Some wraps are thick and some are thin.  You can choose a thickness based on your climate and your preferences (like if you have really big babies).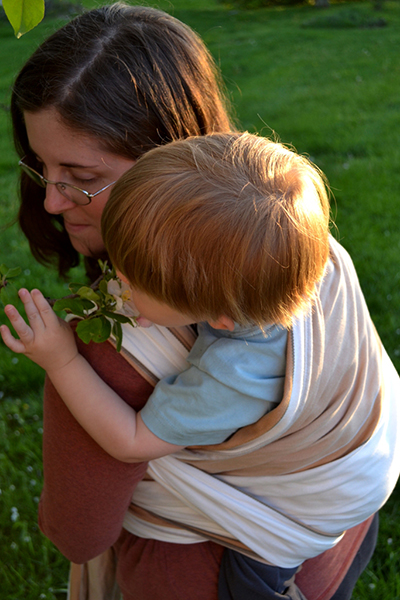 One of the best things about woven wraps is their beauty.  Each one is a work of art, even the simpler, diamond weave designs.  They come in rainbows, gradations, and endless themes (animals, nature, stars, you name it).  While my small collection is fairly simple, I still enjoy using the wraps more than I do my Ergo.  They're just plain nicer to look at.  Additionally, it is quite easy to find woven wraps that are fair trade.  The fabrics are also held to extremely high standards, since babies put everything in their mouths.
Wraps do have a fairly steep learning curve, but sites like The BabyWearer offer endless tutorials and tips.  You can also do a simple search on YouTube and find many videos showing you how to do the carry you want.  Babywearing International has groups in many major metropolitan areas so you can get assistance and even try out different kinds of carriers before taking the plunge.  Once you learn to do it right, your baby feels light and like an extension of yourself. 
You might not enjoy a woven wrap if you live in an especially wet or muddy place, since the tails will inevitably go on the ground and get wet or dirty.  But, you can put it on at the back of your car, leaving the long parts in the trunk until you get them tied.  You might not like a woven if you struggle with flexibility in moving your arms behind your back.  Then again, one of the best ways to fix that issue is to exercise them (unless it's for a medical reason).   Woven wraps aren't for everyone, but they are heavenly once you learn to use them well.
My Review of the Dolcino Wrap:
The Dolcino wrap provided by Moby is a demo wrap, meaning it's been used for instructional purposes in babywearing classes.  It seemed to have been only slightly used and never washed, so I washed it once for good measure.  Washing helps wraps to become more broken in, more grippy.  Babywearers often prefer used wraps as the fabric has softened and become easier wrap with.  All mine have been used so far.  I also ironed it once it was dry.  It was extremely soft and had no flaws or stains.
The wrap is very long, 5.4 meters, so it can do almost any carry you wish.  It came with an instructional booklet, as most good carriers do.  I do, however, find that they are not often adequate instruction for the level of use (and varying level of skill) that wraps receive.   My little boy, almost exactly two, seemed to love the wrap right away.  Putting it on made him magically snuggly.  Passing the fabric around him and me was smooth and the fabric gripped well once tied.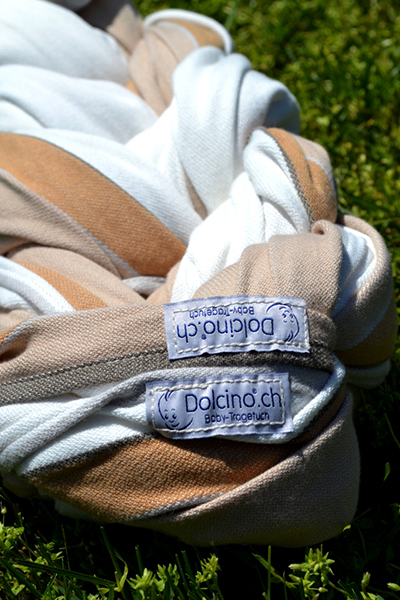 I have used it for several weeks now and it is wonderful for getting him to sleep at nap time, as he is nearing the end of his nursing days.  It has been very comfortable and soft on my shoulders.  I've used it to do yard work, cook, do laundry and simply walk around the neighborhood.  I have no complaints (though I do like brighter colors) and Dolcino gets great reviews all around from other babywearers.
If you would like to purchase a Dolcino wrap, you can get $10 off using code SPRINGBABY when checking out! Coupon code good until June 20th, 2013.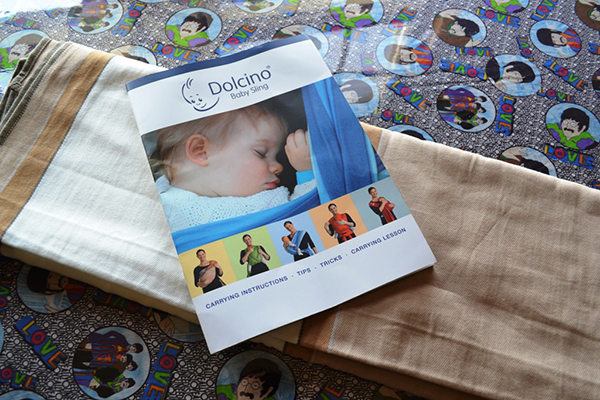 The giveaway
And now for the good stuff! Moby is allowing us to give away this Dolcino wrap. It has been used prior by Brandy but still looks BRAND NEW.  To enter, use the Rafflecopter widget below. Giveaway will run through Saturday, May 11th, 2013 at 9pm EST. Giveaway valued at $125. 
GIVEAWAY NOW CLOSED. Winner was Leah Free.
We have not been compensated in any way for this review and giveaway. All opinions, as usual, are ours.