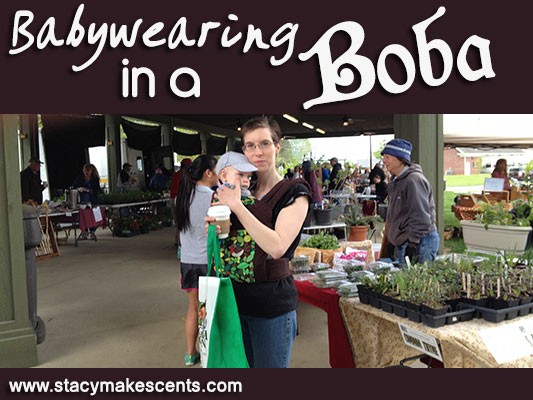 I've already told you that Moby wraps are my favorite carrier for when babies are under the age of 1 year. When I want to wear my baby on the front, I grab my Moby. When baby is big enough for back carry, I grab my soft-formed carrier (I have an Ergo Sport as well).
If I had to tell you to purchase just ONE carrier (but really, I think you should own at least two…and I've got four), I would tell you to buy a Boba. Why? Because it's SO versatile. You can do front carry or back carry (I'll show videos of both). Plus, they're pretty stinking cute.
I was sent a Boba to review by Boba Family. I will admit – I was skeptical. The Humbled Homemaker told me I would love it…and you know what? She's always right. She had already done a Boba review with a video on her site. I was skeptical because I already loved my Ergo Sport (and I DO recommend those as well)…but man, I love this Boba carrier.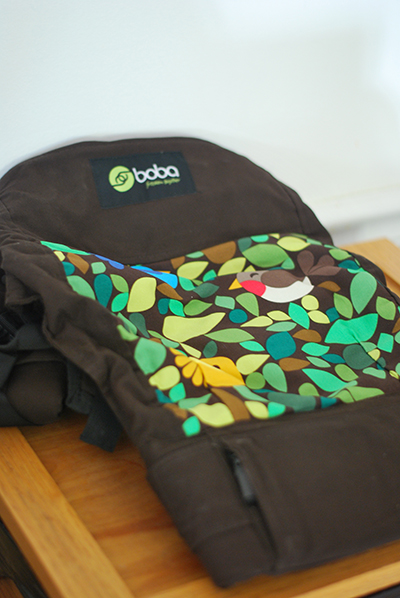 Why do I love it? It's got a cute pattern (Tweet). It's got THREE pockets for storing things – so I can keep my money and keys with me and not have a pocketbook. It's got foot-straps for when the child is larger and longer, so their feet won't have to dangle.
It's so easy to use. Once you get the straps the correct length for you, you just strap this puppy on, throw the baby in, and viola! You're ready to go. NOTE: Don't really throw your baby.
I mostly love the soft-formed carriers for back carry. I do still carry Andy on the front most of the time, and sometimes I still frog his legs and don't let them hang out. I like that no matter how I decide to carry him, I can do it in this type of carrier.
Also, if you purchase an Ergo, you have to get an infant insert in order to be able to wear an infant. In the Boba, you can carry your infant with just a few changes to how you put the carrier on. Instructions for that come in a handy-dandy owner's manual.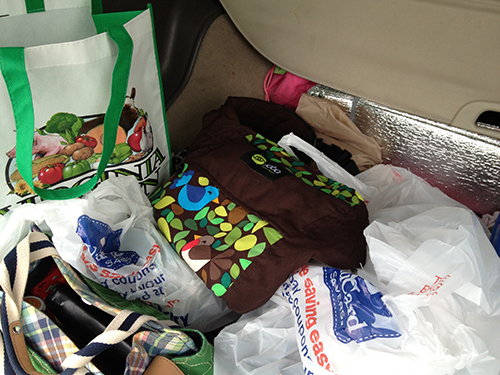 Why You Might Want A Boba Carrier:
Your husband also wants to baby-wear. It seems these carriers are the most husband-friendly
You want ONE carrier instead of a few options
You want to wear your baby as an infant and also when they're 2+
Price isn't your primary deciding factor (these cost about $125, but worth every penny)
You like pockets…I love pockets
You want something easy to tote and easy to put on
You need to get stuff done around the house and want to use back carry often to do so
Why You Might NOT Want a Boba Carrier:
You're on a very strict (and low) budget (but still, look around for used carriers)
You don't like cute patterns
You don't have plans to back carry
You don't have plans to carry your baby once they are over the age of 1
You already have a Boba and an Ergo…oh wait, there is no such thing as too many carriers. 😉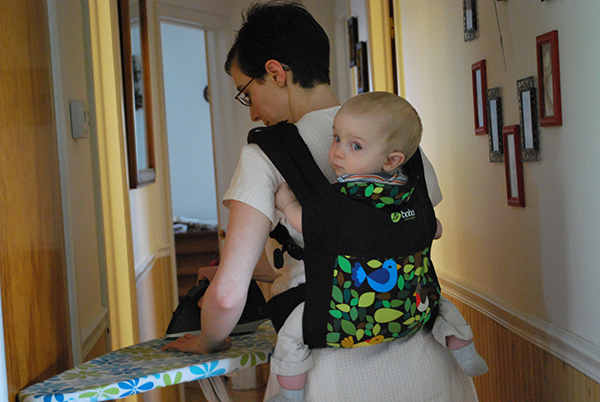 I was so glad Boba Family sent me this carrier to review. Now I'm able to let Barry use the Ergo and I can use the Boba – and we don't have to adjust the straps every time we wear it. I can honestly say the Boba is my preference.
I find the soft-structured carriers to be the ones that are the easiest to use, but they are a bit pricier than a Mei Tai or ring sling. I love my Mei Tai…I'm an advocate of having several baby wearing options based on what you're going to be doing and your budget.
Boba Family is giving a special discount code to all Humorous Homemaking readers. So, if you are considering purchasing one of these, a 10% discount will really help! Enter "StacyMakesCents10" (without the quotes) when checking out. (PS – I really love my Boba and I'm not an affiliate, so I don't get anything if you buy…I just really like telling you what I enjoy using.)
**I was sent a Boba to review from Boba Family. I was not paid for this review and all opinions are MINE.**