*UPDATE – See this post about our new eating habits.(7/10/11)

Thanksgiving is my favorite holiday; Barry's too. It's a nice, relaxed day when you just sit back, eat until you think you might have to go to the emergency room, and watch football. I'm not really a football watcher, but I do look forward to the Macy's Thanksgiving Day Parade. So, in honor of my favorite holiday, we'll dedicate this week to Thanksgiving. I'll cover an appetizer (today), a side dish, a bread, a dessert, a centerpiece, and place cards. What fun! Have some fun with me….and you might want to look into renting a dolly.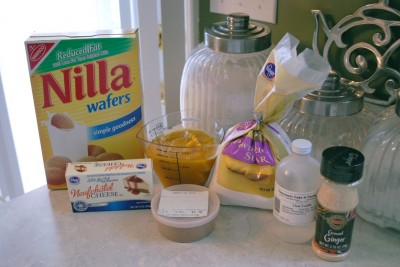 I knew this recipe was a winner when my brother-in-law enjoyed it. Let me just take a minute and tell you about Brian – usually when I cook something and I ask him if he wants some he says, "maybe later." That's code for, "not ever gonna happen."When I made this the first time he was eating and eating it…….and he LOVED it! We're talking about a man who won't eat anything unless it also includes ketchup and/or cheese. We were all chowing down on it before the main meal. When the meal came, I was full of dip. Oops. To make this, you'll need pumpkin puree (go here to read how to make your own), powdered sugar, cream cheese, pumpkin pie spice, vanilla, ginger, and cookies. You can tell it's for Thanksgiving just by the ingredients!