A few weeks ago, Stacy wrote a post about What the Bible Says About Debt and boy did it cause some "discussion" among readers.  There were a few key schools of thought based on the comments and feedback from that post:
Amen, preach it!
You're wrong. Debt is good and God wants me to be in debt.
I want to live debt free, but I don't see how you can get through ___(insert major life event)___ without debt?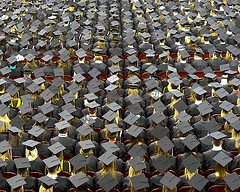 Since I don't want to try to convince those in either of camps 1 or 2 differently (hey, everybody's entitled to an opinion, right?), I want to aim this article at those who landed in camp 3.  Most who had that thought mentioned college/higher education or buying their first home as the life event that couldn't be done without taking on debt.  This week, I'll address the issue of college and student loans.  Next week, I'll get into buying a house without debt.
When I was in high school, there were two sets of my peers who were looking at college: the nerds who were going to get a college scholarship to any school they wanted and the "normal" kids who were going to get student loans.  I fell somewhere in the middle based on my grades, but I had no intentions of getting loans for college so I got a job and also started looking for grant money for college.  As I went through my Associates, Bachelors and Masters degrees, I learned a few things along the way that helped me graduate with no debt.  I believe most of you can do these things too.
Grants and Scholarships – Yes, if you have a high GPA, you've got a better chance at these, but if you're a minority or have anything unique to offer, this may be a good opportunity for you to pursue.  I joined one club at my local community college (costing me $50) and I got a half-off-tuition scholarship my first semester at the private university I transferred to (making that $50 investment worth several thousand).  There are all kinds of places to search for grants/scholarships.  Go to your guidance counselor's office or even do some internet research and you'll find all kinds of options.
Work Part-Time – I held a job throughout my high school and college career.  At one point in my second year of college, I had three part-time jobs.  It was hard, but it was possible and it gave me the much-needed income to pay for it all without debt.  Whether you work on campus (work-study or internships) or in "the real world", working during school is not nearly as bad as the people who whine about it make it out to be.
Go to Community College – I believe this is one of the best college decisions I ever made.  I spent two years at a local community college before transferring to the private university I wanted to attend.  I got a lot of the core classes out of the way, learned how to study (college is much different than high school), saved some money and worked to improve my GPA so I was a better scholarship candidate.
Ask for Community and/or Church Support – If you're active in the community and/or your church, it is not uncommon to get support from them.  I spent a summer semester in Russia, studying at the Russian-American Institute in Moscow and virtually all of it was paid for by sponsors in my community and church.  I asked for help and in return, I shared my experience by speaking to several groups on my return.  It was a great experience in fundraising, public speaking and character building.
Seek Employer Reimbursement – Time for me to fess up.  I have had one student loan.  When I went to graduate school for my MBA, I got a student loan because my employer wouldn't pay anything until after I completed the semester with a B or better average.  So I'd get the loan in the exact amount of what my employer would reimburse and then pay it off as soon as the reimbursement came in.  Good plan? NO.  I learned as I was finishing up that program that if I had simply gotten a letter from my employer stating what they would pay and under what conditions, the school would have waited to bill me until that time.  So I got a loan when I didn't even need to!  See…live and learn.  If you have an employer who will offer any type of school reimbursement, check into it.  Where I worked, I had 80% of my MBA tuition paid just by filling out five or six pages of paperwork each semester and getting decent grades.
There are lots of other ways you can avoid college debt.  Yes, there are educational programs out there that cost $100,000 or more for a degree.  Don't use those as an excuse to avoid trying to stay out of debt for school.  Even though I know some of you will chide me for saying this, I truly believe if it is important enough to you to stay out of debt, you will work hard and find ways to make it happen.
NOTE: See the comment below from Cy about CLEP exams.